An Update On Why Saved By The Bell Didn't Call Mark-Paul Gosselaar For The Reboot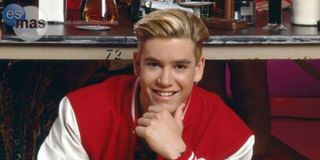 Hey, hey, hey what is going on in the land of the Saved by the Bell reboot? After it was announced that NBC was eyeing a revival of everyone's favorite high school sitcom for its new streaming service, Peacock, it was revealed that not all the original cast members had been asked to return. That included series star Mark-Paul Gosselaar. This was surprising. However, there's actually a pretty good reason for why Gosselaar wasn't approached to reprise his role as Zack.
The Saved by the Bell revival had already tapped Elizabeth Berkley and Mario Lopez to return as Jessie Spano and A.C. Slater, respectively. Several years after the end of the show, Slater is now working as a sports coach and Jessie is a guidance counselor. They'll be appearing in the revival in a parental capacity as well. Yet, Mark-Paul Gosselaar previously mentioned that none of the cast had been approached about being in the revival, including Gosselaar's onscreen wife, Tiffani Thiessen's Kelly Kapowski.
According to a recent report by TMZ, sources close to the revival confirmed that Mark-Paul Gosselaar hadn't been asked to return because he was already contracted to appear in ABC's black-ish prequel spinoff, mixed-ish. Last season, Gosselaar had been a series regular on the Fox series, The Passage, though the show was canceled after just one season.
It wasn't long after The Passage that the actor booked mixed-ish, where he'll be playing Paul Johnson, the father of Tracee Ellis Ross' black-ish character, Rainbow "Bow" Johnson. It's obvious Gosselaar's a busy guy, which explains why NBC hadn't approached him about playing Zack before. Still, the actor could return to the Saved by the Bell revival. That is, if his schedule actually lets him juggle both shows at once.
Prior to this update, Mark-Paul Gosselaar had expressed surprise that the revival was already so far along. The updated version of Saved by the Bell sounds like it'll follow a similar outline like that of Disney's Girl Meets World, the revival spinoff of the beloved ABC show, Boy Meets World. Saved by the Bell is looking to feature the beloved original characters in some capacity, but will largely center around the new kids at Bayside High.
Of course, we're ready to hear confirmation that Gosselaar will be back as Zack Morris because, get this, his character is now the Governor of California. Who would've thought Zack would grow up to be a politician? Additionally, it would be weird not to have him on the show in some capacity, especially considering how much of an important role he plays in the show's plot.
In the spring, four of the six stars (minus Lark Voorhies and the estranged Dustin Diamond) got together for a dinner and posted the reunion pictures to Instagram. Fans were thrilled. Maybe if Mark-Paul Gosselaar comes back for the revival, there can finally be confirmation about whether Zack and Kelly stayed married.
The Saved by the Bell revival doesn't have a premiere date yet, but it's set to premiere on NBCUniversal's Peacock, which will launch its streaming service in April 2020. If you're looking for other shows to watch before then, check out our complete guide to Fall TV's new and returning shows.
Your Daily Blend of Entertainment News