How Will Stranger Things Use The Upside Down In Season 4?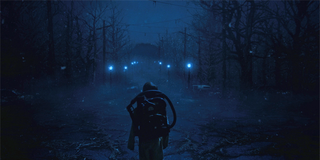 There was some recent excitement in the world of Stranger Things when an image of a clock on the show's social media led to fervent speculation (probably by millennials who watch a ton of Netflix) on what was next for the franchise. Fans didn't have to wait long for an answer as the news dropped not long after that Season 4 (which was rumored to start filming soon) was confirmed amidst frightening imagery of the Upside Down, and the tagline "We're not in Hawkins anymore" flashed across the screen.
Not in Hawkins anymore? What does that mean, and why does the Upside Down have such a dominating presence in the Season 4 announcement? Let's talk it all out below, and revisit some of the things we've learned about the Upside Down and how it may come into play in Season 4.
Knowledge Of The Upside Down Isn't Exclusive To One Group
Stranger Things Season 3 revealed that the folks running Hawkins Laboratory weren't the only group aware of the Upside Down, nor were they the only ones working to unlock its mysteries. For now, we know the Russians are conducting experiments in their homeland and were in the U.S. as well in an attempt to understand and perhaps harness the power of the mysterious zone, but are they the only ones?
That's a question worth asking ahead of Stranger Things Season 4, as the threat of Russians messing with the Upside Down may inspire the American government and other private organizations to jump further into the game as well. Why is anyone interested in the Upside Down? Who all is exploring it? What have they discovered? There's a lot to pull off this one plot point, and one has to think we'll get some answers about it if we see more Upside Down in Season 4.
The Upside Down Exists Outside Of Hawkins
Another big reveal of Stranger Things Season 3 is that Hawkins, Indiana isn't the only place one can access the Upside Down. This was made clear in the post-credits sequence which took place in Russia and confirmed at least 2 places where a portal to the Upside Down can be created. Does this mean the Upside Down is omni-present and just as big as the Earth?
That isn't explicitly confirmed, though it does feel like Season 4 will confirm that sooner or later. The Byers and Eleven moved away from Hawkins at the end of Season 3, and with Will and El tuned into that other realm, we may know pretty quickly if avoiding the Upside Down is as simple as staying out of a few key places. With that being said, why were the Russians in Hawkins if it was possible for them to open a portal in their homeland? Is it possible there are only specific conditions in which an access point can be created? Hopefully we'll find out in Season 4.
People Can Survive Inside The Upside Down
Shout out to Will Byers who is living proof since Season 1 that a human can survive within the Upside Down for a prolonged period of time without protective gear. Granted, it's not like he emerged from that experience completely normal, but after Season 3 he does seem to be a well-enough adjusted teen minus his anger issues when people don't want to play Dungeons & Dragons.
Anyway, with the tagline from the teaser paired with the Upside Down imagery, it seems like Stranger Things is trying to say viewers could be seeing more of the spooky space in the upcoming season. For that to happen, one would reckon a human character would need to be living within, or at the very least exploring the space for an extended amount of time. What's the over-under that everyone's favorite dancer Hopper is fighting for his life in there?
Time Seems To Progress The Same On Earth As It Does In The Upside Down
We've known that time appears to progress the same way in the Upside Down as it does in the real world, though it's not like it was ever explicitly made clear to audiences. Will was aware of how long he had been gone and was able to interact with Joyce in real time to indicate that he was in danger, so it seems like there's little to no time disparity.
It's not like that bit of the story was ever important, but it does seem relevant now in lieu of this new image of a grandfather clock in the Upside Down. Does time play a factor in Season 4, and will it come into play for any of the characters? I feel obligated to bring up the show's timeline has officially surpassed the release of Back to the Future.
The Upside Down Is Home To Creatures Both Highly Intelligent And Deadly
Season 3 showed the Hawkins crew defeat the Mind Flayer, and as big a deal as that was, the victory may be short lived. If Season 4 is teasing more Upside Down shenanigans, and our assumption about the vastness of the Upside Down is correct, is it possible there are creatures just as fearsome and even more clever than the Mind Flayer?
It's a scary thought and one that feels highly likely if the Upside Down is as vast as it appears to be. Season 4 could definitely expand on what the Upside Down is like, and if any other big threats like the Mind Flayer exist. We'd shudder to think of anything quite as cunning or fearsome as the Mind Flayer, and the trouble the world could be in if these creatures ever gain a real foothold in the world.
Stranger Things Season 3 Apparently Gave Netflix A Much-Needed Subscriber Boost
Do you think Stranger Things (opens in new tab) will feature more of the Upside Down than previous seasons? Vote in our poll with your answers and jump down in the comments to tell us what you think is going on with that. Stranger Things is available to binge right now on Netflix, and CinemaBlend remains the place to be for the latest and greatest news in television and movies.
This poll is no longer available.
Mick likes good television, but also reality television. He grew up on Star Wars, DC, Marvel, and pro wrestling and loves to discuss and dissect most of it. He's been writing online for over a decade and never dreamed he'd be in the position he is today.
Your Daily Blend of Entertainment News
Thank you for signing up to CinemaBlend. You will receive a verification email shortly.
There was a problem. Please refresh the page and try again.