What Does Stranger Things' New Image Mean? Our Top 6 Theories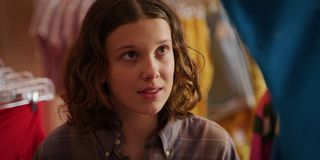 UPDATE: After this story was posted, Netflix announced its big Season 4 renewal, along with news that the Duffer brothers signed an overall deal for new projects. Still, some of the theories posted below can still fit in with the meaning behind the clock itself, so keep reading the original post below!
Prepare the Stranger Things hype train, because it seems like some big news is on the way in regards to the Netflix original. That's what many started assuming, in any case, after an image of an ominous-looking clock appeared on the show's Instagram and Twitter account.
The clock, which looks to be in the upside down, is seen ticking with either the minute or hour hand in the 12 position and the other hand somewhere around the right side of the clock? As seen below, it doesn't make much sense immediately, which is why fans are collectively losing their minds and wondering what it could mean for the future of Stranger Things.
We're in the same boat, since there aren't any concrete facts what Netflix could be teasing with this mysterious imagery, but that doesn't mean we're any less excited about it. I do have some educated guesses about the image, and some logical reasoning for our suspicions concerning what Netflix might be planning with Stranger Things.
It's A Tease For The Official Season 4 Announcement
Some of my more interesting theories further down, but let's get the most obvious one out of the way. This image could be an official confirmation of Stranger Things Season 4, which isn't necessarily the sexiest or most surprising announcement that could have come out of this, considering how popular and instantly renewable the show is. Nevertheless, it's always a crowd-pleaser to hear about more episodes on the way.
The clock's time, which we're still not entirely sure of due to the heavily filtered photo, could doubles as a premiere date. For example, a time of 12:15 would stand for December 15. If that's the case, expect to see the mystery behind this whole thing unraveled pretty early, as to not get folks too worked up with more elaborate theories. Wait, is it already too late for that? Yeah, it may already be too late for that.
Season 4 Involves Time Travel
Why would Stranger Things, a show that rarely puts clocks in focus, post an image that involves such a familiar device? Quite possibly because this season involves time in a sense, like perhaps there's some way the Upside Down can be manipulated so that its inhabitants can travel backwards and forwards through time. It sounds crazy, surely, but is it really that out of line compared to some of the other things that have happened in this series? Nope.
Considering Back To The Future is set to release theatrically in the show's timeline a year after Season 3 takes place, this would be the perfect season to introduce some crazy time-travel references that pay homage to Robert Zemeckis' franchise. I'm down for all of that, as long as there isn't a whole arc where a teen version of Mike's mom tries to get romantic with Mike or anything like that. (Though watching Eleven jam through "Johnny Be Good" might be fun.)
A Stranger Things Holiday Special
I had a theory immediately after Season 3 that Stranger Things secretly had a Christmas special in the works. The basis of that thought pattern was rooted in one of the final scenes of the season, in which Mike told El that they could meet up on the holidays when she and the Byers came back to town to visit family.
Now, while Christmas could certainly still come into play, I now think that this whole clock business – which is a working timepiece according to the show's Instagram story – could be teasing a potential special set up to focus on New Years's Eve or New Year's Day. Doctor Who broke its Christmas tradition to set up a New Year's episode, so why can't Stranger Things be the next high profile show to give this holiday a boost?
It's A Tease For A New Test Subject
Remember when Stranger Things introduced that other test subject in Season 2's bonkers bottle episode, and then and then we never heard from her again? What about other Hawkins test subjects who could be out there around the country, assuming that's the current reality? What are they up to, and are they dealing with similar situations as the kids in Hawkins?
Perhaps the numbers on the hour hand of the clock correspond to another Hawkins test subject that's relevant to the upcoming season of Stranger Things? Perhaps we're finally getting a spinoff series, which is something many thought Netflix would've pressured the Duffer Brothers into doing before Season 3 even came out. Stranger Things is a subscription pull, so it wouldn't be surprising to learn Netflix is doing all it can to specifically keep Stranger Things fans hooked for more than a weekend every couple of years.
It Has Something To Do With Hopper
Hopper's sacrifice was one of the most emotionally gutting moments of Stranger Things Season 3, so it's good that fans were given hope by a later scene that teased the Russians had an American in captivity, and had also been conducting tests to tap into the Upside Down. Lots of people seem to think the American is Hopper, and that the Russians somehow pulled him through the Upside Down through their portal.
But then what if Hopper isn't the American in captivity, but against all odds, he has found a stable dwelling to hide out in within the Upside Down? This clock might be from said dwelling, located wherever Hopper is hiding out from the various monsters that inhabit the Upside Down. This is definitely a far-reaching theory that is almost way too specific to be true, but I don't think it's too crazy to believe this clock is tied to Hopper in some way.
It's Actually A Promotion For Prank Encounters
Not to be cynical, but with Stranger Things Season 3 having only recently concluded, it's hard to believe that whatever is being teased here is going to be super-substantial. It even feels unrealistic to say that Season 4 will definitely debut in 2020, given the show's slow pace thus far. However, there is something coming to Netflix soon from a Stranger Things star. Gaten Matarazzo is the host and EP for Prank Encounters, which is due out in October, and what better way to promote it than with the Stranger Things social media?
For those that don't remember, Prank Encounters had a heap of bad PR at the time of its announcement, after which Netflix all but pretended it didn't exist. Doing something like this could boost the reality show's buzz factor with only a month to go before its premiere. Netflix has since cleared up the problems subscribers had about the show tricking people into thinking they had a job, so perhaps it can avoid further backlashes as the show gets closer to its debut.
Stranger Things Season 3 Apparently Gave Netflix A Much-Needed Subscriber Boost
For now, we have no idea when to expect the next chapter of Stranger Things (opens in new tab) on Netflix. CinemaBlend will report on the latest when we do learn however, so be sure to stick with us for the latest and greatest in television and movie news as the fall TV season continues.
Mick likes good television, but also reality television. He grew up on Star Wars, DC, Marvel, and pro wrestling and loves to discuss and dissect most of it. He's been writing online for over a decade and never dreamed he'd be in the position he is today.
Your Daily Blend of Entertainment News
Thank you for signing up to CinemaBlend. You will receive a verification email shortly.
There was a problem. Please refresh the page and try again.