It's Always Sunny In Philadelphia: The 10 Worst Things The Gang Has Ever Done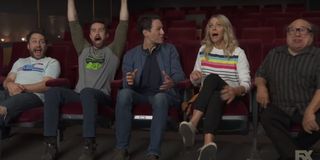 It's Always Sunny in Philadelphia Season 14 ended in November. This season of It's Always Sunny in Philadelphia was a bit light on the gang doing horrible deeds, and the final episode of the season, "Waiting for Big Mo," left It's Always Sunny fans on a hopeful note. Basically the gang declared that It's Always Sunny in Philadelphia could hit a million seasons and beyond. To celebrate It's Always Sunny in Philadelphia Season 14's end, let's look back at some of their worst actions.
Throughout the course of It's Always Sunny in Philadelphia 14 seasons, Charlie (Charlie Day), Dennis (Glenn Howerton), Mac (Rob McElhenney), Dee (Kaitlin Olson), and Frank (Danny DeVito) have done some pretty horrible things. This group of despicable people has no problem harming, offending, or manipulating anyone who happens to enter their orbit. This list of It's Always Sunny in Philadelphia bad deeds include those that either caused physical or emotional harm to someone, or break a major social taboo.
10. The Gang Does Blackface (Season 6, Episode 9)
By now, everyone should know the racial insensitivity and consequences that comes from putting on blackface, and the Paddy's Pub gang knows that blackface is wrong. They just believe that there is a tasteful way to do it. Mac and Dee in particular have worn blackface a few times. Dee wore a version of blackface as her "Latina" character, sassy reporter Martina Martinez, in It's Always Sunny in Philadelphia Season 4 (Episode 3), "America's Next Top Paddy's Billboard Model Contest" and Season 8 (Episode 2), "The Gang Recycles Their Trash."
The most prevalent incidents of blackface on It's Always Sunny in Philadelphia is when Mac plays Murtaugh (a character made famous by Danny Glover) in the gang's Lethal Weapon 5 and 6. The gang's Lethal Weapon 5 plays out in It's Always Sunny in Philadelphia Season 6 (Episode 9), "Dee Reynolds: Shaping America's Youth." When the gang makes Lethal Weapon 6 in Season 9 (Episode 9), "The Gang Makes Lethal Weapon 6," Dee gets involved in wearing blackface as she plays Murtaugh's daughter.
9. The Gang Exploits A Dumpster Baby (Season 3, Episode 1)
In the third season premiere of It's Always Sunny in Philadelphia, the gang finds a baby in a dumpster. They name the baby D.B. Realizing that D.B is cute enough to make them money, Mac and Dee decide to take the baby to a few agencies. They want D.B to become a child star. One of the booking agents tells them that she's looking for more racially diverse babies. This is no problem for Mac and Dee, because they decide, after a tan salon denies their request to tan D.B, to put some shoe polish on the child.
Luckily for little D.B, the Waitress calls Child Protective Services. They arrive right before the gang can cause more damage to the child. This episode teaches everyone that the gang should never start a babysitting business.
8. The Gang Kidnaps Multiple People (Season 4, Episodes 8 And 12)
The gang really lacks an understanding of the concept of boundaries. In particular, the gang has no problem infiltrating someone's work or home, which is why the It's Always Sunny in Philadelphia gang have multiple incidents of kidnapping or almost-kidnapping. The two worst incidents involved the Juarez family and Korman (Fisher Stevens), a bar reviewer.
In It's Always Sunny in Philadelphia Season 4 (Episode 12), "The Gang Gets Extreme: Home Makeover Edition," the gang watches way too much Extreme Home Makeover episodes, and they decide to do their best Ty Pennington impression by kidnapping a family in a misguided attempt to force a home and life makeover. Understandably, the Juarez family fears for their lives the entire time. In Season 4 episode 8, "Paddy's Pub: The Worst Bar in Philadelphia," the gang tries to force Korman to write them a favorable review. After many awkward moments, eventually the gang lets the reporter go, and he writes a new review. This time Korman lets everyone know how horrible they are as people, not just as bar owners.
7. Dee Tricks A Man Into Stripping For His Daughter (Season 12, Episode 7)
Arguably, Dee and Charlie are less corrupt than the rest of the gang, but both have had their moments of pure evil. For Dee, it came in It's Always Sunny in Philadelphia Season 12 (Episode 7), "PTSDee." Dee sleeps with a stripper (Carter MacIntyre), only to have him say that having sex with her helped him because he realized that it was his rock bottom.
Dee then pretends that she wants to improve and fix his life. Viewers realize her true intentions at the end of the episode: Dee got him a gig to strip for his daughter's sorority. Once Dee turns on the light while he's grinding, he and his estranged daughter see each other. This moment allows Dee to further ruin their relationship and traumatize two people in the process. Even the rest of the gang found themselves a little shocked by Dee's ruthless behavior, and many viewers were as well.
6. The Gang Holds A Funeral For A Fake Dead Baby (Season 7, Episode 4)
Back in It's Always Sunny in Philadelphia Season 6, Dee acts as a surrogate mother for Mac's ex-lover Carmen (Brittany Daniel) and her husband. Since giving birth, Dee has been lying to the IRS claiming the child as a dependent. Eventually, the lies catch up to Dee, and the IRS wants some proof. Next thing you know, Dee is faking the baby's death to trick the IRS and get out of her audit.
As Dennis rightfully points out, the baby funeral is probably the darkest thing they've ever done… but it's not the worst.
5. Mac And Dennis Neglect And Eat A Dead Dog (Season 11, Episode 5)
Believing that life is easier and better in the suburbs, Dennis and Mac move there. The monotony of it all eventually gets to them. To try to distract and make things better, Dennis buys Mac a dog, which Mac names Dennis Jr. Life in the suburbs doesn't improve for either man. Mac then eventually stops giving the dog attention, and Dennis Jr. dies. One day at dinner, Mac implies that he added pieces of Dennis Jr. to his infamous mac and cheese recipe.
After this moment in It's Always Sunny in Philadelphia Season 11 episode 5, "Mac & Dennis Move to the Suburbs," we kept expecting Mac to say that he was joking about adding Dennis Jr. to the meal. It was never a joke, and it becomes very clear that Mac snapped. Suburban life can be very dark for some people.
4. The Gang Breaks Sweet Dee (Season 9, Episode 1)
Throughout the entire It's Always Sunny in Philadelphia series, Charlie, Dennis, Frank, and Mac have done things to emotionally abuse Dee. They call her a bird, destroy her cars, and tell her that she's not attractive. However, eventually it breaks Dee so much that she stops fighting them back. This sparks the gang's cruelest prank against her.
Charlie, Mac, and Frank develop a plan to rebuild Dee's confidence by making her believe that her comedy career is going well. After Dee has finally regained confidence, they reveal it was all an elaborate hoax. This plan brings back Dee's fire against them, but it also breaks Dennis. Mac, Charlie, and Frank left Dennis in the dark about everything, and he really believed that Dee was becoming famous. He showed some signs of emotion and affection towards his sister, but Dee rejects his love. It was all too much for Dennis, so now the gang broke both Reynolds twins. What made this particular action so bad was it proved how heartless they are to even each other.
3. The Gang Pretends To Be Terrorists (Season 2, Episode 2)
In It's Always Sunny in Philadelphia Season 2 episode 2, "The Gang Goes Jihad," a businessman named Ari Frankel (Josh Stamberg) buys the property across the street from Paddy's Pub. He then tells them that a zoning law puts part of their property on his land, making him the true bar owner. He gives them a week to vacate Paddy's Pub. In order to save their bar, the gang tries to force him out. One strategy that Charlie, Mac, and Dennis try is to dress as terrorists to scare Ari away.
Eventually, Mac and Dennis realize that it's too dark and can result in criminal charges or death for them, so they decide to not send Ari the video. The gang pretending to be terrorists in a post-9/11 world with xenophobia being so rabid is pretty terrible, even for the gang's low standards.
2. Dee And Mac Drown A Child (Season 12, Episode 2)
In "The Gang Goes to a Waterpark" from Season 12, Dee and Mac are stuck in a waterslide tube. Soon, the apathetic lifeguards (guest stars Game of Thrones Showrunners David Benioff and D. B. Weiss) continue to toss children down the slide, which creates a major backup of bodies. To try to get some of them out of the slide, Mac pushes some children past him, including a child that either passed out or fell asleep.
When he lands in the water, he's still passed out and the lifeguard doesn't move to try to save him. We never see the child actually drown (and we definitely wouldn't want to), but the implications are clear: Dee and Mac drowned a child.
1. The Gang Ruins Cricket's Life (Season 2, Episode 7)
Poor Matty "Cricket" Mara (David Hornsby), who only wanted to become a priest, but then Dee and the gang tempted him away from a holy life. Since then, his life continued to get progressively worse. Cricket is now a disfigured, drug addicted, prostitute homeless man. Talk about a fall from grace.
The It's Always Sunny in Philadelphia crew have done a lot of messed up things, so it was hard to narrow it down to only ten. Therefore, we want to give a special honorable mention to all the times Dennis may have killed someone (R.I.P Maureen Ponderosa (Catherine Reitman)), the D.E.E and D.E.N.N.I.S systems, Charlie pretending to love a woman just to break her heart, running a sweatshop, attacking Santa Claus, and faking cancer multiple times.
It's Always Sunny in Philadelphia Season 15 is coming sometime next year, so we can expect more terrible things from the gang. Past seasons of It's Always Sunny in Philadelphia are available to stream on Hulu.
Spent most of my life in various parts of Illinois, including attending college in Evanston. I have been a life long lover of pop culture, especially television, turned that passion into writing about all things entertainment related. When I'm not writing about pop culture, I can be found channeling Gordon Ramsay by kicking people out the kitchen.
Your Daily Blend of Entertainment News
Thank you for signing up to CinemaBlend. You will receive a verification email shortly.
There was a problem. Please refresh the page and try again.