Watch Jimmy Kimmel Hilariously Prank Coworkers With Lifelike Wax Figure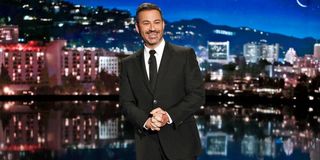 On the latest episode of Jimmy Kimmel Live!, the host revealed that his wax statue will now be on display at the Madame Tussauds Hollywood museum. In light of this news, Jimmy Kimmel decided it was as good a time as any to hilariously prank his coworkers with his lifelike wax figure. He had too much fun doing it, too.
It may not be time for an April Fool's Day joke, but Jimmy Kimmel didn't care. He brought his new wax statue to work and put it in strange places around the building to surprise his staff, "with special emphasis on my cousin Micki," Kimmel said. Watch the host prank his coworkers from a segment of Jimmy Kimmel Live! below!
Jimmy Kimmel found the best places for his wax figure, with several members of his staff jumping in fear at the sight of him right outside the elevator doors, in the reception area, the writers room, and the staff kitchen. Kimmel left no location untouched!
It's not hard to see why everyone was running scared in the video. After all, Jimmy Kimmel's wax statue was very true to life. There was a lot of cursing and laughter, so the prank obviously worked. And just as Kimmel wanted, the statue proved most effective scaring his cousin Micki, who claimed that the wax figure was "haunting" everyone.
At the end of the video, poor Micki threw her phone and cowered in fear after Jimmy Kimmel, who decided to play his own wax statue, turned toward his cousin just as she was ready to take a picture with what she believed to be the statue.
Jimmy Kimmel Live! has always delivered the laughs, though there was a time the host had very opinionated monologues as well. The more serious topics ranged from politics to the health of his son, who went through major heart surgery while just an infant. Jimmy Kimmel said the tonal change cost him "commercially" at the time, though he didn't regret anything he said.
Despite some of the seriousness, which helped boost the show's ratings during the 2016 election, there's still a lot of fun to be had on the variety show. The wax statue segment further proves how silly Jimmy Kimmel can get to elicit laughter and it's not about to change, even though the host has thought about retiring from late night TV. His contract with ABC is almost up, but the network's boss Karey Burke hopes Kimmel and his team will "be around for a few more years."
Jimmy Kimmel Live! airs weeknights on ABC at 11:45 p.m. ET. For more on what to watch, be sure to check out our guide to find out which of your favorite shows are returning in the winter and spring of 2020.
Your Daily Blend of Entertainment News
Thank you for signing up to CinemaBlend. You will receive a verification email shortly.
There was a problem. Please refresh the page and try again.