2020 Netflix Schedule: Premiere Dates For New And Returning TV Shows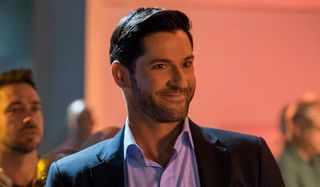 Despite the new and impending arrivals of such powerhouse streaming services as Disney+, HBO Max and Peacock, the world of quality streaming media still belongs squarely to Netflix, and the company is showing no signs of backing down from pressure. In fact, 2020 will be another breakthrough year for Netflix, with a slew of big-budget shows to complement its growing number of less-pricy projects.
With follow-up seasons to popular shows such as Stranger Things and 13 Reasons Why, 2020 is going to be a huge year for Netflix, which will also boost up its feature side with Eddie Murphy's long-awaited Beverly Hills Cop 4 and other noteworthy acquisitions. Combine those with lots of big-named comedy specials, killer docu-series and franchise-connecting animated series, and there might be little time to focus on other streaming services in 2020.
Check out our monthly rundown below, noting that all release times are at 3:01 a.m. ET (12:01 a.m. PT), and that all brand new series will be listed in ALL CAPS.
January 2020 Netflix Premieres
To kick off the new year, Netflix is bringing the final seasons for two of its popular shows: the long-running BoJack Horseman, which will wrap up the final episodes of Season 6, and Anne with an E, which was recently cancelled ahead of its Season 3 premiere. But those aren't the only ones out there, of course, so check out what else is coming.
Wednesday, January 1
THE CIRCLE
MESSIAH
NISMAN: THE PROSECUTOR, THE PRESIDENT AND THE SPY
SPINNING OUT
Thursday, January 2
THIEVES OF THE WOOD
Friday, January 3
Saturday, January 4
DRACULA
GO! GO! CORY CARSON
Wednesday, January 8
CHEER
Friday, January 10
AJ AND THE QUEEN
MEDICAL POLICE
GIRI/HAJI
JAMTARA: SABKA NUMBER AYEGA
Harvey Girls Forever! Season 4
The Inbestigators Season 2
Zumbo's Just Desserts Season 2
Monday, January 13
THE HEALING POWERS OF DUDE
Tuesday, January 14
KIPO AND THE AGE OF WONDERBEASTS
LESLIE JONES: TIME MACHINE
Wednesday, January 15
Grace & Frankie Season 6
KILLER INSIDE: THE MIND OF AARON HERNANDEZ
Friday, January 17
Hip Hop Evolution Season 4
ARES
NAILED IT! GERMANY
Monday, January 20
Family Reunion Part 2
Tuesday, January 21
FORTUNE FEIMSTER: SWEET & SALTY
Jim Henson's Word Party Season 4
Wednesday, January 22
PANDEMIC: HOW TO PREVENT AN OUTBREAK
Thursday, January 23
GHOST BRIDE
OCTOBER FACTION
Saint Seiya: Knights of the Zodiac Part 2
Friday, January 24
Chilling Adventures of Sabrina Season 2 Part 1
The Ranch Season 4 Part 2
RISE OF EMPIRES: OTTOMAN
Tuesday, January 28
ALEX FERNÁNDEZ: EL MEJOR COMEDIANTE DEL MUNDO
Wednesday, January 29
NEXT IN FASHION
NIGHT ON EARTH
OMNISCIENT
Thursday, January 30
AINORI LOVE WAGON: AFRICAN JOURNEY
THE STRANGER
Friday, January 31
BoJack Horseman Season 6 Part 2
RAGNAROK
Diablero Season 2
I Am a Killer Season 2
LUNA NERA
February 2020 Netflix Premieres
February is usually one of the poorest months for big screen fare, with weather issues also playing into the reasons why it's often better to just sit back on the couch and stream. Netflix will no doubt have customers glued to their seats when February starts, with the long-awaited debut of Joe Hill and Gabriel Rodriguez's masterpiece comic series Locke & Key debuting after a nine-year multimedia struggle.
Tuesday, February 4
TOM PAPA: YOU'RE DOING GREAT
Wednesday, February 5
THE PHARMACIST
THEY'VE GOTTA HAVE US
Thursday, February 6
CAGASTER OF AN INSECT CAGE
Friday, February 7
Dreamworks Dragons: Rescue Riders Season 2
MY HOLO LOVE
Sunday, February 9
THE EPIC TALES OF CAPTAIN UNDERPANTS: EPIC CHOICE-O-RAMA
Thursday, February 13
Narcos: Mexico Season 2
LOVE IS BLIND
Friday, February 14
Cable Girls Season 5 Part 1
Wednesday, February 19
The Chef Show Season 3
Thursday, February 27
FOLLOWERS
Thursday, February 20
SPECTROS
Friday, February 21
GENTEFIED
GLITCH TECHS
BABIES
PUERTA 7
HYENA
Tuesday, February 25
PETE DAVIDSON: ALIVE FROM NEW YORK
Wednesday, February 26
I AM NOT OKAY WITH THIS
THE TRIALS OF GABRIEL FERNANDEZ
Thursday, February 27
Altered Carbon Season 2
FOLLOWERS
Friday, February 28
Babylon Berlin Season 3
Always a Witch Season 2
Formula 1: Drive to Survive Season 2
QUEEN SONO
RESTAURANTS ON THE EDGE
AMIT TANDON: FAMILY TANDONCIES
UNSTOPPABLE
TOY BOY
March 2020 Netflix Premieres
Tuesday, March 3
TAYLOR TOMLINSON: QUARTER-LIFE CRISIS
Thursday, March 5
Castlevania Season 3
Friday, March 6
Paradise PD Season 2
The Protector Season 3
Ugly Delicious Season 2
Tuesday, March 10
CARMEN SANDIEGO: TO STEAL OR NOT TO STEAL
MARC MARON: END TIMES FUN
Wednesday, March 11
Dirty Money Season 2
On My Block Season 3
Thursday, March 12
HOSPITAL PLAYLIST
Friday, March 13
Kingdom Season 2
Elite Season 3
100 HUMANS
BLOODRIDE
VALHALLA MURDERS
WOMEN OF THE NIGHT
BEASTARS
Monday, March 16
The Boss Baby: Back In Business Season 3
Tuesday, March 17
BERT KREISCHER: HEY BIG BOY
SHAUN THE SHEEP: ADVENTURES FROM MOSSY BOTTOM
Thursday, March 19
ALTERED CARBON: RESLEEVED
FEEL GOOD
Friday, March 20
Archibald's Next Big Thing Season 2
SELF MADE: INSPIRED BY THE LIFE OF MADAM C.J. WALKER
TIGER KING
LETTER FOR THE KING
Monday, March 23
FREUD
SOL LEVANTE
Thursday, March 26
7Seeds Season 2
UNORTHODOX
Friday, March 27
Ozark Season 3
Car Masters: Rags To Riches Season 2
DREAMWORKS DRAGONS: RIDERS RESCUE: HUNT FOR THE GOLDEN DRAGON
April 2020 Netflix Premieres
Wednesday, April 1
DAVID BATRA: ELEFANTEN I RUMMET
THE ILIZA SHLESINGER SKETCH SHOW
HOW TO FIX A DRUG SCANDAL
Nailed It Season 4
Sunderland 'Til I Die Season 2
Friday, April 3
La Casa De Papel Season 4
MONEY HEIST: THE PHENOMENON
SPIRIT RIDING FREE: RIDING ACADEMY
STARBEAM
Friday, April 6
THE BIG SHOW SHOW
Saturday, April 7
Terrace House: Tokyo 2019-2020 Part 3
Thursday, April 9
Hi Score Girl Season 2
Friday, April 10
BREWS BROTHERS
Tuesday, April 14
CHRIS D'ELIA: NO PAIN
Wednesday, April 15
THE INNOCENCE FILES
OUTER BANKS
Thursday, April 16
Fary: Hexagone Season 2
Fauda Season 3
MAURICIO MEIRELLES: LEVANDO O CAOS
Friday, April 17
#BLACKAF
The Last Kids on Earth: Book 2 (Season 2)
TOO HOT TO HANDLE
Monday, April 20
COOKING WITH CANNABIS
THE MIDNIGHT GOSPEL
Tuesday, April 21
MIDDLEDITCH & SCHWARTZ
Wednesday, April 22
ABSURD PLANET
WIN THE WILDERNESS
Thursday, April 23
The House of Flowers Season 3
Friday, April 24
After Life Season 2
YOURS SINCERELY, KANAN GILL
Hello Ninja Season 2
Sunday, April 26
The Last Kingdom Season 4
Monday, April 27
NEVER HAVE I EVER
Wednesday, April 29
EXTRACURRICULAR
NADIYA'S TIME TO EAT
SUMMERTIME
Thursday, April 30
DRIFTING DRAGONS
THE FOREST OF LOVE: DEEP CUT
THE VICTIM'S GAME
May 2020 Netflix Premieres
Friday, May 1
ALMOST HAPPY
Go! Go! Cory Carson: The Chrissy (Special)
INTO THE NIGHT
Medici: The Magnificent Season 3
RECKONING (U.S. Premiere)
Tuesday, May 5
JERRY SEINFELD: 23 HOURS TO KILL
Wednesday, May 6
Workin' Moms Season 4
Thursday, May 7
Scissor Seven Season 2
Friday, May 8
THE EDDY
The Hollow Season 2
Restaurants on the Edge Season 2
Rust Valley Restorers Season 2
VALERIA
Monday, May 11
TRIAL BY MEDIA
Bordertown Season 3
Tuesday, May 12
Unbreakable Kimmy Schmidt: Kimmy Vs. the Reverend (Interactive Special)
TRUE: TERRIFIC TALES
Friday, May 15
She-Ra and the Princesses of Power Season 5
Magic for Humans Season 3
CHICHIPATOS
INHUMAN RESOURCES
WHITE LINES
Saturday, May 16
LA REINA DE INDIAS Y EL CONQUISTADOR
Monday, May 18
THE BIG FLOWER FIGHT
Tuesday, May 19
PATTON OSWALT: I LOVE EVERYTHING
SWEET MAGNOLIAS
Wednesday, May 20
BEN PLATT LIVE FROM RADIO CITY MUSIC HALL
Friday, May 22
Trailer Park Boys: The Animated Series Season 2
Selling Sunset Season 2
CONTROL Z
HISTORY 101
Tuesday, May 26
HANNAH GADSBY: DOUGLAS
Friday, May 29
Somebody Feed Phil Season 3
June 2020 Netflix Premieres
Tuesday, June 2
Fuller House Season 5 Part 2
Thursday, June 4
Baki Season 3
CAN YOU HEAR ME?
Friday, June 5
13 Reasons Why Season 4
Queer Eye Season 5
Wednesday, June 10
LENOX HILL
CURON
REALITY Z
Thursday, June 11
WHISPERS
Friday, June 12
F is for Family Season 4
Pokémon The Series: Sun & Moon Season 23
Kipo and the Age of Wonderbeasts Season 2
Dating Around Season 2
Crime Diaries Season 3
THE WOODS
FRANK ELSTNER: JUST ONE LAST QUESTION
Saturday, June 13
Alexa & Katie Season 3 Part 2
Sunday, June 14
Marcella Season 3
Tuesday, June 16
EXPLAINED: CORONAVIRUS: THE RACE FOR A VACCINE
Wednesday, June 17
Mr. Iglesias Season 2
Thursday, June 18
The Order Season 2
Friday, June 19
The Politician Season 2
Babies Season 2
Most Beautiful Thing Season 2
Tuesday, June 23
ERIC ANDRE: LEGALIZE EVERYTHING
Wednesday, June 24
CRAZY DELICIOUS
Lenox Hill: Pandemic (Special Presentation)
Friday, June 26
AMAR Y VIVIR
HOME GAME
TWOGETHER
Saturday, June 27
Dark Season 3
Tuesday, June 30
GEORGE LOPEZ: WE'LL DO IT FOR HALF
BNA: BRAND NEW ANIMAL
June 2020 Netflix Premieres
Wednesday, July 1
SAY I DO
UNSOLVED MYSTERIES
Chico Bon Bon: Monkey with a Tool Belt Season 2
Deadwind Season 2
Thursday, July 2
WARRIOR NUN
THIAGO VENTURA: POKAS
Friday, July 3
JU-ON: ORIGINS
SOUTHERN SURVIVAL
Cable Girls Season 5 Part 2
Wednesday, July 8
STATELESS
WAS IT LOVE?
Thursday, July 9
JAPAN SINKS: 2020
THE PROTECTOR
Friday, July 10
DOWN TO EARTH WITH ZAC EFRON
THE TWELVE
The Epic Tales of Captain Underpants in Space Season 4
Hello Ninja Season 3
Tuesday, July 14
URZILA CARLSON: OVERQUALIFIED LOSER
Wednesday, July 15
DARK DESIRE
SKIN DECISION: BEFORE AND AFTER
Thursday, July 16
INDIAN MATCHMAKING
Friday, July 17
CURSED
Monday, July 20
The Expanding Universe of Ashley Garcia Part 2
Tuesday, July 21
JACK WHITEHALL: I'M ONLY JOKING
STREET FOOD: LATIN AMERICA
How to Sell Drugs Online Season 2
Wednesday, July 22
SIGNS
FEAR CITY: NEW YORK VS THE MAFIA
LOVE ON THE SPECTRUM
Norsemen Season 3
Friday, July 24
DRAGONS: RESCUE RIDERS: SECRETS OF THE SONGWING
Tuesday, July 28
LAST CHANCE U: LANEY
Wednesday, July 29
Inside the World's Toughest Prisons Season 4
Thursday, July 30
TRANSFORMERS: WAR FOR CYBERTRON TRILOGY
Friday, July 31
GET EVEN
LATTE AND THE MAGIC WATERSTONE
Sugar Rush: Extra Sweet Season 3
August 2020 Netflix Premieres
Saturday, August 1
SUPER MONSTERS: THE NEW CLASS
Sunday, August 2
CONNECTED
Monday, August 3
IMMIGRATION NATION
Tuesday, August 4
A GO! GO! CORY CARSON SUMMER CAMP (Special)
MYSTERY LAB
SAM JAY: 3 IN THE MORNING
Wednesday, August 5
WORLD'S MOST WANTED
Thursday, August 6
The Rain Season 3
THE SEVEN DEADLY SINS: IMPERIAL WRATH OF THE GODS
Friday, August 7
High Seas Season 2
The Magic School Bus Rides Again Season 3
Nailed It Mexico Season 2
The New Legends of Monkey Season 2
Selling Sunset Season 3
SING ON! GERMANY
TINY CREATURES
WIZARDS: TALES OF ARCADIA
WORD PARTY SONGS
Monday, August 10
GAME ON: A COMEDY CROSSOVER EVENT
Tuesday, August 11
ROB SCHNEIDER: ASIAN MOMMA< MEXICAN KIDS
Wednesday, August 12
(UN)WELL
Friday, August 14
3% Season 4
THE GREAT HEIST
Glow Up Season 2
OCTONAUTS & THE CAVES OF SAC ACTUN (Special)
TEENAGE BOUNTY HUNTERS
Saturday, August 15
Rita Season 5
Stranger Season 2
Monday, August 17
Glitch Techs Season 2
Wednesday, August 19
DEMARCUS FAMILY RULES
HIGH SCORE
Thursday, August 20
BIOHACKERS
GREAT PRETENDER
Friday, August 21
ALIEN TV
HOOPS
Lucifer Season 5
Rust Valley Restorers Season 3
Tuesday, August 25
EMILY'S WONDER LAB
Trinkets Season 2
Wednesday, August 26
MILLION DOLLAR BEACH HOUSE
Thursday, August 27
Aggretsuko Season 3
Friday, August 28
Cobra Kai Seasons 1-2 (Now a Netflix Original)
I AM A KILLER: RELEASED
September 2020 Netflix Premieres
Tuesday, September 1
BOOKMARKS
The Boss Baby: Get That Baby! Interactive Special
FELIPE ESPARZA: BAD DECISIONS
True: Friendship Day Special
Wednesday, September 2
CHEF'S TABLE: BBQ
BAD BOY BILLIONAIRES
Thursday, September 3
YOUNG WALLANDER
Friday, September 4
AWAY
Spirit Riding Free: Riding Academy Season 2
Sunday, September 6
Undercover Season 2
Tuesday, September 8
Starbeam Season 2
Wednesday, September 9
GET ORGANIZED WITH THE HOME EDIT
LA LÍNEA: SHADOW OF NARCO
Thursday, September 10
JULIE AND THE PHANTOMS
THE IDHUN CHRONICLES
The Gift Season 2
Friday, September 11
THE DUCHESS
POKÉMON JOURNEYS Season 23 Fall Premiere
Family Business Season 2
Tuesday, September 15
Taco Chronicles Season 2
IZZY'S KOALA WORLD
Wednesday, September 16
Criminal: UK Season 2
Maneater Season 9
Baby Season 3
SING ON!
CHALLENGER
Thursday, September 17
DRAGON'S DOGMA
THE LAST WORD
Friday, September 18
JURASSIC WORLD: CAMP CRETACEOUS
RATCHED
AMERICAN BARBECUE SHOWDOWN
Tuesday, September 22
Jack Whitehall: Travels with My Father Season 4
Chico Bon Bon: Monkey with a Tool Belt Season 3
MIGHTY EXPRESS
Thursday, September 24
The Chef Show Season 2
Friday, September 25
THE SCHOOL NURSE FILES
SNEAKERHEADS
COUNTRY-ISH
Monday, September 28
WHOSE VOTE COUNTS, EXPLAINED
Tuesday, September 29
MICHELLE BUTEAU: WELCOME TO BUTEAUPIA
October 2020 Netflix Premieres
Thursday, October 1
Carmen Sandiego Season 3
The Worst Witch Season 4
OKTOBERFEST: BEER & BLOOD
GOOD MORNING, VERÔNICA
Friday, October 2
A Go! Go! Cory Carson Halloween
EMILY IN PARIS
SONG EXPLODER
Tuesday, October 6
Starbeam: Halloween Hero
Wednesday, October 7
TO THE LAKE
Friday, October 9
The Haunting of Bly Manor Season 2
Fast & Furious Spy Racers: Rio Season 2
Super Monsters: Dia de los Monsters
DEAF U
Monday, October 12
Kipo and the Age of Wonderbeasts Season 3
Tuesday, October 13
THE CABIN WITH BERT KREISCHER
Thursday, October 15
SOCIAL DISTANCE
Friday, October 16
The Last Kids On Earth Book 3
GRAND ARMY
DREAM HOME MAKEOVER
LA RÉVOLUTION
SOMEONE HAS TO DIE
Monday, October 19
Unsolved Mysteries Season 2
Tuesday, October 20
The Magic School Bus Rides Again: The Frizz Connection
Wednesday, October 21
My Next Guest Needs No Introduction with David Letterman
Friday, October 23
THE QUEEN'S GAMBIT
MOVE
BARBARIANS
PERDIDA
Tuesday, October 27
Chico Bon Bon: Monkey with a Tool Belt Season 4
BLOOD OF ZEUS
Friday, October 30
Somebody Feed Phil Season 4
Suburra Season 3
November 2020 Netflix Premieres
Sunday, November 1
Can You Hear Me? Season 2
Tuesday, November 3
FELIX LOBRECHT: HYPE
Wednesday, November 4
LOVE AND ANARCHY
Thursday, November 5
CARMEL: WHO KILLED MARIA MARTA?
PARANORMAL
Friday, November 6
COUNTRY EVER AFTER
Monday, November 9
Undercover Season 2
Tuesday, November 10
DASH & LILY
TRASH TRUCK
Wednesday, November 11
AUNTY DONNA'S BIG OL' HOUSE OF FUN
THE LIBERATOR
A QUEEN IS BORN
Friday, November 13
THE MINIONS OF MIDAS
Sunday, November 15
The Crown Season 4
Tuesday, November 17
The Boss Baby: Back In Business Season 4
WE ARE THE CHAMPIONS
Wednesday, November 18
HOLIDAY HOME MAKEOVER WITH MR. CHRISTMAS
Friday, November 20
Flavorful Origins: Gansu Cuisine Season 3
VOICES OF FIRE
Tuesday, November 24
Dragons: Rescue Riders – Huttsgalor Holiday Special
WONDEROOS
Wednesday, November 25
Great Pretender Season 2
Friday, November 27
A Go! Go! Cory Carson Christmas
Sugar Ruse Christmas Season 2
OVER CHRISTMAS
Virgin River Season 2
Saturday, November 28
THE UNCANNY COUNTER
Sunday, November 29
Wonderoos: Holiday Holiday!
Monday, November 30
A LOVE SO BEAUTIFUL
December 2020 Netflix Premieres
Tuesday, December 1
THE HOLIDAY MOVIES THAT MADE US
NATALIE PALAMIDES: NATE – A ONE MAN SHOW
Wednesday, December 2
ALIEN WORLDS
ARI ELDJÁRN: PARDON MY ICELANDIC
HAZEL BRUGGER: TOPICAL
Thursday, December 3
CHICO BON BON AND THE VERY BERRY HOLIDAY
Friday, December 4
BHAAG BEANIE BHAAG
Big Mouth Season 4
CAPTAIN UNDERPANTS MEGA BLISSMAS
The Great British Baking Show: Holidays Season 3
Pokémon Journeys: The Series Season 3
SELENA: THE SERIES
Saturday, December 5
DETENTION
MIGHTY EXPRESS: A MIGHTY CHRISTMAS
Tuesday, December 8
LOVESTRUCK IN THE CITY
Mr. Iglesias Season 3
SPIRIT RIDING FREE: RIDE ALONG ADVENTURE
SUPER MONSTERS: SANTA'S SUPER MONSTER HELPERS
Wednesday, December 9
ASHLEY GARCIA: GENIUS IN LOVE: CHRISTMAS
THE BIG SHOW SHOW: CHRISTMAS
THE SURGEON'S CUT
Thursday, December 10
ALICE IN BORDERLAND
Friday, December 11
A TRASH TRUCK CHRISTMAS
THE MESS YOU LEAVE BEHIND
Monday, December 14
Hilda Season 2
TINY PRETTY THINGS
Tuesday, December 15
Song Exploder Season 2
Wednesday, December 16
HOW TO RUIN CHRISTMAS: THE WEDDING
RUN ON
VIR DAS: OUTSIDE IN – THE LOCKDOWN SPECIAL
Friday, December 18
Home for Christmas Season 2
SWEET HOME
Tuesday, December 22
LONDON HUGHES: TO CATCH A D*CK
RHYME TIME TOWN SINGALONGS
Friday, December 25
BRIDGERTON
Saturday, December 26
Fast & Furious Spy Racers Season 3
Go! Go! Cory Carson Season 3
THE MAGIC SCHOOL BUS RIDES AGAIN IN THE ZONE
Wednesday, December 30
BEST LEFTOVERS EVER!
EQUINOX
Transformers: War for Cybertron Trilogy Season 2
Thursday, December 31
BEST OF STAND-UP 2020
Chilling Adventures of Sabrina Season 4
More 2020 Netflix Premieres Yet To Be Announced
Understandably, Netflix has a ton of projects that are either still unable to go back into production, or are on their way to begin filming again. As such, the streaming service has yet to provide official release dates for many of the shows that we already know are getting new seasons. Netflix has, by and large, kept premiere dates close to its vest, so expect for that to remain the case in 2020.
BEHIND HER EYES
Big Mouth Season 4
Black Summer Season 2 (Possibly)
Dear White People Season 4 (Final Season)
Disenchantment Season 3
Family Reunion Season 2
I Think You Should Leave with Tim Robinson Season 2
Love, Death, & Robots Season 2
Mr. Iglesias Season 2
PACIFIC RIM
Ultraman Season 2
Stay tuned for more updates on not only better ideas of when the above shows will be popping up on Netflix, but also to see what other projects will be added to the streaming service throughout the new year. Please do bookmark this page and return every so often to see what new goodness has been announced.
For now, this is everything that Netflix currently has on the docket, but you can be sure that in the months to come, the streaming service will go public with news of many more premiere dates to come. For those wondering about all the other new and returning shows coming to TV that aren't just relegated to streaming on Netflix, check out our Fall 2020 premiere schedule.