How James Holzhauer Paid Tribute To Alex Trebek With His Final Jeopardy! Answer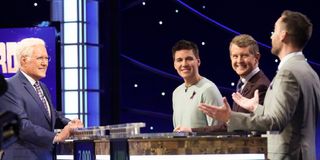 Warning! Spoilers ahead for Jeopardy! Greatest of All Time Night 3.
While Night 3 of the Jeopardy! Greatest of All Time tournament (a competition between the three greatest champions) saw Ken Jennings win the night, James Holzhauer may have come out on top by winning over social media in two ways. The first being with a joke involving Jennings and roleplay, and the second with his final Jeopardy! answer, which paid tribute to host Alex Trebek in the best way possible.
Here's how it all went down. In the final round of Jeopardy! all three of the Greatest of All Time contestants, including Brad Rutter, whose gameplay wasn't as strong as opponents James Holzhauer and Ken Jennings, had one final chance to earn some points. While Rutter and Holzhauer couldn't catch up to Jennings in the final round, Holzhauer, not knowing the answer to the final question, still managed to give a clever and memorable response.
In a genius play on words, James Holzhauer's response included a tribute to Alex Trebek being the GHOST: The Greatest Host of Syndicated TV. Hilariously, Holzahuaer had begun writing in Wheel of Fortune host Pat Sajak's name before crossing it out and writing in Alex Trebek's name instead. The response elicited laughter from the audience. Trebek, on the other hand, didn't miss a beat and told Holzhauer that he wished that he'd at least "risked more points."
You can watch a clip from the episode below!
James Holzhauer's response was heartfelt and thoughtful. Even Alex Trebek seemed amused that Holzhauer would think to put in Pat Sajak's name in there as a jab before concluding that Trebek was actually the best host. Though Holzhauer didn't have the correct response and didn't win the night, he wasn't without his sense of humor, choosing to make his wrong answer worthwhile.
Though there wasn't enough time for Alex Trebek to fully respond to the answer before time was up, it surely meant a lot to him. The tribute from James Holzhauer is even more meaningful knowing that Trebek is undergoing treatment for stage IV pancreatic cancer and that he's brought up exactly how he would want to say goodbye to Jeopardy! when the time comes. It's hard not to get emotional just thinking about it.
Thankfully, the Jeopardy! Greatest of All Time tournament is far from over and will be back on primetime on Tuesday, January 14 at 8 p.m. ET. The competition will continue until one of the talented contestants has won three matches, so settle in for more great moments to come. For more on what to watch in the coming months, be sure to check out our 2020 midseason schedule of winter and spring premieres.
Your Daily Blend of Entertainment News