Drew Carey Shares Tearful Tribute To Murdered Ex-Fiancée Amie Harwick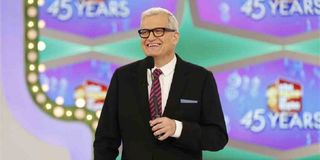 In the wake of Dr. Amie Harwick's death, The Price is Right host Drew Carey shared a tearful tribute to his ex-fiancée during his SiriusXM show. The famed Hollywood family and marriage therapist, who appeared in the documentary Addicted to Sexting, was murdered by ex-boyfriend Gareth Pursehouse in the early hours of February 15. Carey chose to honor and remember her with a set of music they both listened to when they were together.
Drew Carey and Amie Harwick confirmed their engagement back in 2018 before breaking it off shortly after. Still, Carey called the love he and Harwick shared as being "once in a lifetime." While the former Whose Line is it Anyway? host is currently grieving the loss of his ex-fiancée, he took a moment at the end of his SiriusXM show, Drew Carey's Friday Night Freak-Out, to dedicate a set of songs to her. Here's what he had to say in tribute to Harwick:
During the SiriusXM broadcast, Drew Carey tearfully recalled telling Harwick about the music set he made for her at the time and how they'd sing the words of the songs to each other. The host mentioned that he's not in the right headspace to entertain anyone at the moment, but that he felt the need to share the music that meant so much to him and Harwick before signing off. In his words:
Drew Carey, who took over hosting The Price Is Right in 2007, is taking the loss of Amie Harwick incredibly hard, with production on the game show suspended in respect for his grief. His tribute to Amie Harwick was heartfelt, poignant, and touching, and it's clear she meant a lot to him.
Stay tuned to CinemaBlend for more news and be sure to check out our midseason schedule for details on when and what to watch in the coming months.
Your Daily Blend of Entertainment News
Thank you for signing up to CinemaBlend. You will receive a verification email shortly.
There was a problem. Please refresh the page and try again.