The Magicians Finale Ending: What Happened And Why Quentin Wasn't In The Last Episode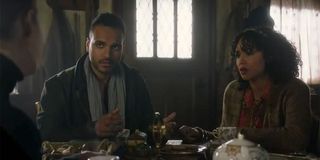 The Magicians ended on Syfy this week just a few short weeks after the network announced the series had been cancelled. Luckily, the showrunners previously stated the series had been set up in a way that would work as both a season finale or a series finale and so the fact it ended as the latter was not as big of a deal as it may have been. Yet for fans hoping for a particular character return, those hopes were not fulfilled. Here's what happened and why Jason Ralph's Quentin never popped up.
Per usual, we're about to get into more specific spoilers. So, if you, unlike me, have been able to hold on to the last couple of episodes of The Magicians so you can watch on your own time, please come back at a later time
How The Magicians Ended On Syfy
The last few episodes have had many of the members of the main cast sorting through whether or not they are the villains for having a plan to destroy Fillory so the Takers didn't effect other worlds.
Ultimately, in the final episode quite a few things happened. Santa returned to give gifts to our main cast. Cheliot became a thing the fans can speculate on for some time to come, and the Chatwin family story was seemingly wrapped up.
However, the big news was that our main characters ultimately ended up separated at the end of The Magicians. First and foremost, Eliot was left at Brakebills along with Penny and Julia. Meanwhile, Margo, Alice and Fen and Josh took the people of Fillory into a new world complete with bacon fields and more.
Although the cast was separated at the end and plenty of threads were left open in case there would be more episodes, this all felt like a fairly satisfying ending for the magical series, but there was certainly one character that was noticeably missing given the episode was a series finale: Jason Ralph's Quentin Coldwater.
Why Jason Ralph's Quentin Doesn't Show Up In The Magicians Finale
"Will Quentin Coldwater return to The Magicians?" has been a commonly asked question from the fandom. His character is not in the finale, and I almost didn't even mention Quentin in the headline as him not being there is sort of spoilery, however, there was plenty of evidence prior to the finale that Quentin was not coming back after his exit in Season 4.
First and foremost, the showrunners have been open about Jason Ralph not wanting to come back, previously telling TV Line Season 4 was "the last you will see of Jason playing Quentin." The Magicians actually skirted around this notably when Alice brought back a younger version of the character, so it's theoretically possible something like that could have happened in the finale, but it didn't.
Secondly, the Season 5 finale worked as a series finale, but it was also open-ended enough and was planned as a season finale before Syfy cancelled the show; therefore, there wouldn't necessarily have been a big reason to go for a lead character's return such as that one. With those ideas in mind, it's not really a huge surprise the show didn't bring Jason Ralph back for the finale. I'm sure there was every hope the show would get a Season 6 until there wasn't.
Still, though The Magicians has often worked to upend our ideas about heroes, villains and the points of view shows have, Jason Ralph was still a very popular character on The Magicians. showrunner John McNamara graciously explained to TV Guide why it really wouldn't have worked for the series even if the actor had wanted to come back.
Interestingly, Season 5 Did Bring One Major Character Back
The last season of Syfy's The Magicians did bring back one major character in The Beast, Martin Chatwin, whom we thought had exited for good some time ago on The Magicians. As it turns out, this whole time it was Martin Chatwin posing as the Dark King's love Lance, whom Seb had been pining for which set off a chain of events leading to the Takers overrunning Fillory through Season 5.
Meanwhile The Dark King aka Seb aka Rupert Chatwin was finally able to find some happiness with his sister Jane and both were able to continue to exist. There were a lot of Chatwin connections in Season 5, from Jane to Rupert and Plum too. The addition of the Beast is something Sera Gamble also told TV Guide was a "no brainer." She can't remember who brought it up in the writers room, but once it was bandied about, it stuck.
I had wondered if The Magicians would be able to continue on in a post-Jason Ralph world. As it turns out, ratings were down this season and it's not a massive shocker the show ended this spring. However, I'd still say this series finale in particular is about as good as a show can get for a midseason cancellation and I hope you enjoyed it as much as I did.
Meanwhile, if you're wanting to get your binge on, the first few seasons of The Magicians are available on Netflix.
This poll is no longer available.
Your Daily Blend of Entertainment News
Reality TV fan with a pinch of Disney fairy dust thrown in. Theme park junkie. If you've created a rom-com I've probably watched it.
Your Daily Blend of Entertainment News
Thank you for signing up to CinemaBlend. You will receive a verification email shortly.
There was a problem. Please refresh the page and try again.