How To Watch Ken Burns' Jackie Robinson Documentary Streaming For Free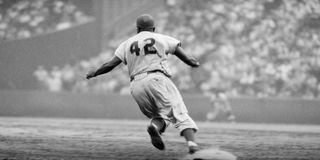 With the start of the 2020 Major League Baseball season being postponed due to the novel coronavirus, MLB and its 30 teams won't be able to honor the late Jackie Robinson in the traditional manner that has become a staple of the baseball season since 2004. Fear not, as PBS has made Ken Burns' 2016 baseball documentary miniseries on the integrationist and groundbreaking civil rights icon free to anyone who wishes to stream it.
But there may be some of you out there who either don't know about the informative and highly entertaining two-part documentary series or how you can go about watching it for free. So in honor of the 73rd anniversary of Robinson breaking baseball's color barrier, here's all you need to know about the documentary are how to watch it.
Stream Jackie Robinson For Free On PBS
Watching Jackie Robinson for free is easier than you might think. All you have to do is go to the Jackie Robinson section on the PBS website, and click the "Now Streaming" link to open up the documentary and a number of other special features and clips about the former Brooklyn Dodger and his life before and after he took the field 73 years ago this April.
Both parts of the nearly four-hour documentary can be streamed in their entirety, just as they were viewed upon the film's debut in 2016. Any baseball fan or historian will surely find enjoyment in watching this special documentary, especially now since it's free.
About Ken Burns' Jackie Robinson Documentary
Jackie Robinson, which was directed by Ken Burns, Sarah Burns, and David McMahon and originally premiered on PBS on April 11, 2016, tells the complete story of the man who would go down as one of the most important figures of American sports and culture in the 20th Century. Narrated by one of Ken Burns' longtime collaborators, Keith David, and featuring the voice of Jamie Foxx as Jackie Robinson, this two-part documentary miniseries offers an in-depth look at the man, his past, and his legacy.
The first part of the documentary starts with Robinson's humble beginnings in rural Georgia and follow's the athlete's life and career up through his first season with the Brooklyn Dodgers in 1947. This includes everything from escaping the hardships of the American South to his phenomenal collegiate career at UCLA, his time in the U.S. Army, and time spent in the Negro and minor leagues. The second part of the miniseries picks up with Robinson's second season in Brooklyn and follows the man through the rest of his baseball career, his retirement from the game, his impact on the Civil Rights movement, and concludes with his death in 1972.
The story of Robinson's life is helped told through a number of commentators, including former United States President Barack Obama, political and sports historian George Will, Robinson's widow and children, and a who's who of civil rights and sports figures.
If you're still looking for more about Jackie Robinson after watching this tremendous documentary series, I suggest renting the 2013 biopic 42 on Amazon or watching Ken Burns' groundbreaking 1994 documentary Baseball, which is streaming on Amazon Prime.
Your Daily Blend of Entertainment News
Philip grew up in Louisiana (not New Orleans) before moving to St. Louis after graduating from Louisiana State University-Shreveport. When he's not writing about movies or television, Philip can be found being chased by his three kids, telling his dogs to stop barking at the mailman, or yelling about professional wrestling to his wife. If the stars properly align, he will talk about For Love Of The Game being the best baseball movie of all time.