Why Alex Trebek Decided To Write A Memoir About His Life And Time On Jeopardy!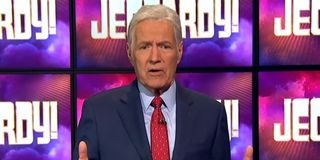 Alex Trebek has been a comforting presence on television for over three decades. Last year, the Jeopardy! host announced that he had been diagnosed with Stage 4 pancreatic cancer, but his medical battle has barely stopped him from working. Now, the game show icon is finally writing a memoir about his life and time on Jeopardy!, and there's a specific reason behind his decision to finally write a book.
That's right, Alex Trebek is putting his story on paper for the first time with a memoir titled The Answer Is…: Reflections on My Life, which is scheduled for a July release by publishers Simon & Schuster. It's been a long time coming, too. Trebek has fielded and denied requests to publish a book about his life for years, but says that the inspiration to finally jot down his story was influenced by the responses from fans following his cancer diagnosis. Here's what Trebek wrote about the influence behind his memoir:
That's an incredibly sweet reason to finally share his story. I'm sure many fans have waited a long time to pick Alex Trebek's brain about a variety of topics, including what prompted him to shave off his mustache, as well as his deeper thoughts about all-time Jeopardy! champions Ken Jennings and James Holzhauer — both of whom appeared in the game show's Greatest of All Time primetime tournament.
The structure of the book is influenced by the Jeopardy! format, with each chapter's title posed in the form of a question. The Answer Is… will also include previously unreleased pictures from Alex Trebek's life, and will be filled with countless stories from Trebek's personal life, including thoughtful insight about marriage, parenthood, education, success, spirituality and philanthropy. Beyond that, the memoir is simply a fantastic way to learn more about the man behind the Jeopardy! podium and should prove to be a great read no matter what. I'm personally most excited to know what Trebek really thinks of Will Ferrell's Saturday Night Live impersonation.
Due to the coronavirus pandemic, Jeopardy! initially went the way of so many other shows like The Tonight Show Starring Jimmy Fallon and Last Week Tonight with John Oliver and dropped the live studio audience during tapings. However, that only lasted for a short while before all of the productions shut down.
For the moment, there's no telling when new episodes of Jeopardy! are expected to get back to filming, but stay tuned to CinemaBlend for updates. In the meantime, fans of the series can binge watch the game show on Netflix. The Answer Is…: Reflections on My Life is scheduled to be published on July 21.
For more on what to watch, be sure to check out our list of all the big TV finales coming up this spring and summer.
Your Daily Blend of Entertainment News