Shailene Woodley Shares Blunt Thoughts About Being 'Stuck' On Secret Life Of The American Teenager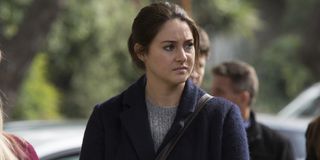 The Secret Life of the American Teenager ended in 2013, but it helped launch Shailene Woodley's career. The actress eventually took on roles in other coming-of-age stories like The Spectacular Now and The Fault in Our Stars before moving on to more mature content like HBO's award-winning Big Little Lies. Looking back on her time on the show, Woodley shared some blunt thoughts about why she felt "stuck" on The Secret Life of the American Teenager.
The Freeform series, which was created by 7th Heaven's Brenda Hampton, centered Shailene Woodley's Amy Juergens, a teenager who had to contend with an unexpected pregnancy and its impact on not only her, but the lives of her family and close friends. The series was popular in its heyday and ran for five seasons before it was cancelled. However, when thinking about the show and its message about sex, Woodley recalled her displeasure with certain episode scripts, specifically in later seasons, and how the show pushed ideologies she didn't agree with. Here's what Woodley told Bustle about it:
Shailene Woodley went on to joke that she'd lost her virginity several times onscreen simply due to the fact that the characters she was playing were at that point in their lives. At the time, playing characters in coming-of-age stories proved to be "therapeutic" for Woodley.
The actress also revealed that she spent years in an open relationship that taught her a lot about her own emotional connection with sex. Whereas The Secret Life of the American Teenager promoted abstinence later on in its five-season run, exemplified by characters wearing promise rings. Shailene Woodley revealed that she has a healthy relationship with her sexuality and enjoys sex. In her words:
The American Life of the American Teenager had a good run when it aired on Freeform, but it definitely sounds like Shailene Woodley has moved on from that point in her life and the show. The network has since gone on to produce a number of other youth-centered shows like Pretty Little Liars and its spin-off show The Perfectionists, The Bold Type, and Shadowhunters among several others.
Stay tuned to CinemaBlend for updates and other TV news. For more on what to watch in the coming weeks, be sure to check out our guide to all the big TV finales airing soon, as well as our 2020 summer premiere schedule.
Your Daily Blend of Entertainment News