Angry Pretty Little Liars Fans Blast Freeform For Cancelling The Perfectionists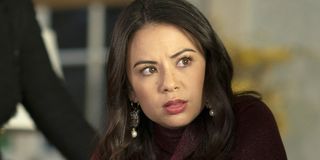 For all that Pretty Little Liars was immensely popular and ran for multiple seasons on Freeform, its spinoff show Pretty Little Liars: The Perfectionists didn't seem to connect the same way with its audience and was cancelled after just one season. Naturally, fans of the series weren't happy about the abrupt cancellation (on a cliffhanger!) and expressed their disappointment with Freeform.
Pretty Little Liars: The Perfectionists followed Sasha Pieterse's Alison and Janel Parrish's Mona as they moved from Rosewood, Pennsylvania to Beacon Heights, Oregon to start new lives -- which was understandable. After all, they lived through a lot of trauma and murder on Pretty Little Liars. Of course, a new place didn't mean a peaceful life and it wasn't long before Alison and Mona were once again entangled in a new murder mystery. It didn't help that the series was cancelled after a new mystery — who was the Professor? — reared its head and left fans wanting more.
Over on Twitter, several fans called out Freeform for cancelling The Perfectionists just as it was getting good. The bitterness is embedded in every sentence.
Another fan expressed disappointment over the cancellation, but claimed that Freeform waited far too long for the spinoff to air and that's why it wasn't as well-received.
Meanwhile, this fan was angry because The Perfectionists was not only cancelled, but it was left on a major cliffhanger. I get it. I'd be frustrated, too.
Some fans have already started a hashtag to help bring back the show, though that doesn't seem very likely at this point. Meanwhile, The Perfectionists showrunner, I. Marlene King, who also served as the showrunner for Pretty Little Liars, took to Instagram to thank fans for watching the show.
Alongside the caption, Marlene King posted a group photo of the cast with the classic Pretty Little Liars hush pose.
Sasha Pieterse also shared a post following the news of cancellation, addressing her character as a friend who's been on this journey with her for so many years.
It really is the end of the Pretty Little Liars era.
On Twitter, Sasha Piertese expressed her love for co-star Janel Parrish and she responded in kind. These two have shared a lot together over the course of two shows and their onscreen friendship will be missed.
Though The Perfectionists is no more, Fall TV has officially begun. If you're not sure when your other favorite shows will return to your screens, check out our complete guide to every new and returning show and their premiere dates through November.
Your Daily Blend of Entertainment News