The Secret Life Of The American Teenager Will End After Season 5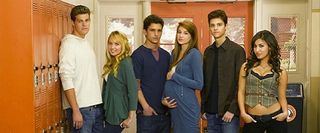 ABC Family's The Secret Life of the American Teenager is headed into its final season. Word went out today that the fifth season of the long-running series (which I think totally changed the network's image) is officially set to be the last.
With the teenagers that make up the focus of the storyline--and are central to the title itself--headed into adulthood, it doesn't come as much of a surprise that producers have decided to wrap things up. Plus, it looks like fans of the show can look forward to loose ends being tied up as well as some happy endings. Season 5 is promising a proposal as well as a wedding, and all of the characters will move forward into life after high school.
Secret Life hit the milestone 100 episode mark this past June and has reached the status of the longest running scripted series on ABC Family. The show received its fifth season renewal back in February and is set to premiere the final 12 episodes beginning in March of 2013. This November, fans can also catch an all-new holiday episode; the special will air following an all-day Secret Life marathon on November 19th.
Among the guest stars lined up for the final season are The Wonder Years' Chaz Bono and Danica McKellar, who are set to appear as themselves, as well as The Drew Carey Show's Kathy Kinney and 7th Heaven's Beverly Mitchell. It's likely we'll see more names added to the guest star roster as the series gears up to go out with a bang.
Your Daily Blend of Entertainment News
Thank you for signing up to CinemaBlend. You will receive a verification email shortly.
There was a problem. Please refresh the page and try again.