Why Criminal Minds' A.J. Cook Still Gets 'Nervous' Thinking About J.J. And Reid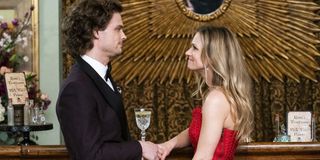 The Season 14 finale of Criminal Minds gave viewers some closure on the long-standing romance between J.J. and Reid. After going out on one date back in Season 1, J.J. finally told Reid that she had always loved him while at gunpoint. It was a high-stakes situation. However, the series ended without either of them acting on their feelings. While it's only been a few months since Criminal Minds wrapped, A.J. Cook recently revealed that she still gets "nervous" thinking about J.J. and Reid.
Not every potential couple gets a happy ending, and the same could be said of J.J. and Reid. The Season 14 finale was a turning point for them, but they didn't get together in Season 15. J.J. was married and had children with Will LaMontagne, and Reid, who reciprocated her feelings, understood that she wasn't about to give all that up to be with him so he was able to move on. Speaking with TVGuide, A.J. Cook looked back on the beloved Criminal Minds relationship between her character and Matthew Gray Gubler's Reid. Here's what she said:
A.J. Cook sounds very protective of her character, though I think viewers wouldn't hesitate to say she did J.J. justice. That said, I do believe J.J. and Reid's relationship would have definitely been a lot different had they acted on any feelings they had for each other back in Season 1. It's possible J.J. wouldn't have gotten married to Will at all, but it's all water under the bridge now.
The actress' nervousness ultimately stemmed from J.J. revealing her feelings to Reid in the Season 14 finale. Would J.J. have ruined her marriage because she shared her secret? Maybe, but the writers didn't go down that route. In the end, A.J. Cook explained that she was ultimately pleased with the reveal. In her words:
Criminal Minds may have ended, but viewers can relive all 15 seasons on WeTV, where the series will air back-to-back episodes every Saturday and Monday, from 10:00 a.m. to 1:00 p.m. ET and 4:00 p.m. to 8:00 p.m. ET, respectively. For more on what to watch, be sure to check out our 2020 summer TV premiere guide.
Your Daily Blend of Entertainment News
Thank you for signing up to CinemaBlend. You will receive a verification email shortly.
There was a problem. Please refresh the page and try again.