Bobo Brazil: 6 Things To Know About One Of Wrestling's First Black Superstars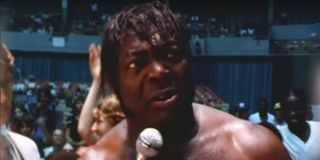 There are fewer names in all of professional wrestling that mean more than Bobo Brazil. Often credited as one of the first African American wrestlers to break the color barrier, Brazil, real name Houston Harris, traveled all around the world perfecting his craft while entertaining and inspiring millions of diehard wrestling fans. Whether it be his matches with titans of wrestling like André the Giant, Bruno Sammartino, or "Nature Boy" Buddy Rogers, the 1994 WWE Hall of Fame inductee had one of the most successful and groundbreaking careers in all of wrestling.
However, you may not be familiar with the name Bobo Brazil, his accomplishments, or the legacy he left behind upon his death in January 1998. And with now being as good a time as any to highlight one of the most prolific grapplers to grace the squared circle, let's take a look at the life and career of one of wrestling's first black superstars.
Bobo Brazil Is Often Called The "Jackie Robinson Of Professional Wrestling"
Before he became the phenomenal Bobo Brazil, Houston Harris was a gifted baseball player who liked to attend wrestling the matches in his free time. His life, and the sport of professional wrestling, would forever change on a fateful night when he had an encounter with "Jumping" Joe Savoldi, who took the young athlete in under his belt and trained in him grappling. And although he was met with some resistance in the early goings of his career, Bobo Brazil would later be considered the "Jackie Robinson of Professional Wrestling," as wrestling historian David Shoemaker put it in his book The Squared Circle: Life, Death, and Professional Wrestling:
And over time, the six-foot-six giant not only broke racial barriers in professional wrestling, he completely destroyed them, opening the door for many more wrestlers of color in the decades following his debut.
Boxing Icon Joe Frazier Once Named Bobo Brazil Among His Sports Idols
For about as long as professional wrestling has been a major form of entertainment it has blossomed in the city of Detroit, Michigan. Long before Hulk Hogan and André the Giant created one of the most iconic moments in wrestling history at WrestleMania 3 in 1987, the likes of the Sheik (not the Iron Sheik who later became popular) and Abdullah the Butcher, but none really compared to the career and legacy of Bobo Brazil.
The impact of Bobo Brazil went beyond the city of Detroit in the years following his debut in professional wrestling; in fact, it went further than professional wrestling. In a February 1970 New York Times (via Grantland) article profiling then up-and-coming boxer Joe Frazier, the one-day heavyweight champion talked about his early idols, which included Brazil among some legendary names:
Bobo Brazil Is Considered The First "Unofficial African American World Champion"
The great Ron Simmons is technically the first African American World Champion after he secured the WCW World Heavyweight Championship in August 1992, but he wasn't the first black wrestler to win a Heavyweight Championship. That honor goes to none other than Bobo Brazil, who technically won the NWA World's Heavyweight Championship after defeating "Nature Boy" Buddy Rogers in 1962.
In a career retrospective on Bobo Brazil on Last World On Pro Wrestling, it was stated that Brazil refused to accept the title due to his opponent being injured (all part of a storyline) and instead wanted to have a rematch once Buddy Rogers was fit to wrestle. That happened the very next day when Rogers regained his title in a rematch. And although the local promotion honored Brazil's victory, the NWA as a whole never recognized his title reign.
The Wrestling Trailblazer Was One Of The First African American Wrestlers To Make It Big In Japan
Besides here in America, there is no place on the planet that loves professional wrestling as much as Japan. For decades, "The Land of the Rising Sun" has produced some of the greatest wrestlers like Antonio Inoki, Giant Baba, Mitsuharu Misawa, and Jushin Thunder Liger, but the nation has also become the second home for many western wrestlers, often called "gaijin." With everyone from the Road Warriors, Eddie Guerrero, and even Brock Lesnar finding success, there's a long history of gaijin's becoming "big in Japan."
That can also be said for Bobo Brazil, who began wrestling in Japan as early as the 1950s, even becoming the Japan Pro Wrestling Alliance NWA International Heavyweight Champion on one occasion. When professional wrestling historian and publisher of the Wrestling Observer Newsletter (the journalist with the insanely messy office in Beyond The Mat) Dave Meltzer was asked if asked by a Twitter follower if Abdullah the Butcher was the first black wrestler to get over huge in Japan, Meltzer simply replied: "Bobo Brazil."
Bobo Brazil Mentored "Soulman" Rocky Johnson, The Late Father Of The Rock
As Bobo Brazil's career began to slow down in the 1970s, he started mentoring younger wrestlers and helped them build themselves up to reach their full potential. One of Brazil's most notable friends and proteges was none other than "Soulman" Rocky Johnson, the late father of future WWE Champion Dwayne "The Rock" Johnson.
Much like his son would do later in the 20th Century, the elder Johnson, with the help of Bobo Brazil, helped further break down racial barriers in all corners of the squared circle and helped open doors for future superstars of color in all territories. Rocky Johnson, along with his tag team partner Tony Atlas, secured the WWF World Tag Team Championship in 1983, making them the first black champions in the promotion's history.
Bobo Brazil Became The First African American Wrestler To Be Inducted Into The WWE Hall Of Fame
In 1993, WWE (then-WWF) created a hall of fame to honor the recent passing of André the Giant, and continued the tradition the following year with a full-fledged ceremony. The WWE Hall of Fame class of 1994 included Arnold Skaaland, Buddy Rogers, Chief Jay Strongbow, "Classy" Freddie Blassie, Gorilla Monsoon, James Dudley, and Bobo Brazil.
With his induction into the Hall of Fame, Bobo Brazil became the first of many African American wrestlers to join the prestigious group of wrestlers and managers, further opening the door for people like Ernie Ladd, Junkyard Dog, Rocky Johnson, and countless other wrestlers of color over the years.
I sincerely hope this has opened your eyes to the life, career, and legacy of Bobo Brazil and what he means to not only professional wrestling, but all of sports in general. He may not get as much recognition for his contributions as those to come after him, but the gentle giant with his signature "Coco Butt" head-butt and larger-than-life demeanor is someone all wrestling fans should get to know. It doesn't hurt that he has thousands of great matches to watch as well.
Philip grew up in Louisiana (not New Orleans) before moving to St. Louis after graduating from Louisiana State University-Shreveport. When he's not writing about movies or television, Philip can be found being chased by his three kids, telling his dogs to stop yelling at the mailman, or yelling about professional wrestling to his wife. If the stars properly align, he will talk about For Love Of The Game being the best baseball movie of all time.