What To Watch On Netflix If You Love Wrestling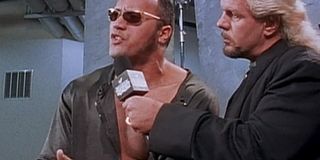 Back in the days before the WWE Network, Netflix was one of the premiere streaming platforms to watch collections of old matches and wrestling documentaries from the McMahon family's vast empire. And although the extensive library of classic WrestleMania moments and other WWE-produced content has shifted away from the streaming giant in the past six years, Netflix still has an impressive collection of wrestling content, consisting of original shows as well as one of the most in-depth and controversial documentaries on the subject.
And in a time when finding new, or at least unseen, wrestling programming is as important as ever, I've put together a short list of some of the best shows, movies, and documentaries about life in and around the squared circle that I think every wrestling fan will enjoy. So, without wasting any more time, here's what to watch on Netflix if you love wrestling.
GLOW (2017)
I was pretty bummed to hear that GLOW, the Netflix original drama series about the formation of the Gorgeous Ladies Of Wrestling promotion was getting the can following the fourth season, but at least we got four seasons of action from Alison Brie, Betty Glipin, Marc Maron, and the rest of the cast before the plug was pulled.
Why It's A Good Option For Wrestling Fans: The series, which primarily focuses on Alison Brie's character, Ruth "Zoya the Destroya" Wilder, offers an in-depth look at formation of the famous all-female GLOW promotion. Each of the first three seasons do a tremendous job of balancing in-ring action with the behind-the-scenes dramatics that provide for an engaging story told through believable characters, despite them coming off as larger than life stereotypical wrestling personas.
Stream it on Netflix here.
Beyond The Mat (1999)
If you thought Darren Aronofsky's 2008 drama The Wrestler was about as emotional and depressing as a movie about an old washed up wrestler could get, then you should probably watch Barry W. Blaustein's 1999 documentary Beyond The Mat, which takes a look at the life of wrestlers like Jake "The Snake" Roberts and Terry Funk at the end of their respective careers (at least at the time), as well as big names like The Rock, who made his film debut with this production.
Why It's A Good Option For Wrestling Fans: Any obsessive wrestling fan has probably watched this shocking piece of film at one point or another in the past 20 years, but there's a good reason for that. Never before had the lives of wrestlers been exposed like this, and it helped open the door for similar films in the years following. It's even harder to watch the scenes following Darren "Droz" Drozdov considering he became paralyzed after sustaining a neck injury just weeks before the film was released.
Stream it on Netflix here.
The Main Event (2020)
A little more lighthearted than the previous entry on this list, the WWE Studios Netflix film The Main Event tells the story of Leo Thompson (Seth Carr), a young boy with a dream of being a WWE superstar who finds a magical luchador mask in an old house after being chased by a group of bullies. This family comedy follows the young boy as he enters a wrestling tournament at the WWE Performance Center (the location of WrestleMania 36) in hopes of making his dream come true.
Why It's A Good Option For Wrestling Fans: Like I said, it's more lighthearted than Beyond The Mat, and probably anything else for that matter, but The Main Event features enough wrestling action and WWE superstars like The Miz, Kofi Kingston, Otis, and Keith Lee to make fore a fun, action-packed family movie.
Stream it on Netflix here.
The Big Show Show (2020)
In April 2020, Netflix launched The Big Show Show, an eight-episode sitcom about WWE star Big Show and his fictionalized family. There are several wrestling references peppered throughout the first half of the season, but it really picks up after a few Attitude Era stars make a surprise run-in.
Why It's A Good Option For Wrestling Fans: Although there isn't too much actually wrestling in the show, it's still fun for longtime wrestling fans to pick up on all of the callbacks to some of Big Show's best moments inside the ring.
Stream it on Netflix here.
The Toys That Made Us - Wrestling Figures (2019)
The Netflix documentary series The Toys That Made Us has spent the past three years exploring the origin stories and legacies of some of the most popular lines of toys in pop culture history. It was only a matter of time before the series took a look at all the great wrestling toys, specifically those manufactured by legendary toy companies LJN, Hasbro, and Galoob.
Why It's A Good Option For Wrestling Fans: Part wrestling history lesson and part toy documentary, this particular episode takes a very in-depth look at the fandoms' shared history through interviews with wrestlers, collectors, and fans.
Stream it on Netflix here.
Nobody Speak: Trials Of The Free Press (2018)
Less of a traditional wrestling documentary and more of deep dive into the legal battle surrounding the infamous Hulk Hogan sex tape that brought down the Gawker Media empire, Nobody Speak: Trials Of The Free Press offers an inside look at one of the most crucial legal decisions regarding free press in the 21st Century. With courtroom footage of Terry Bollea (Hulk Hogan) trying to argue that he and his wrestling persona are two different people, it's easy to lose track of the danger of the lawsuit.
Why It's A Good Option For Wrestling Fans: Nobody Speaks isn't your typical wrestling documentary, it isn't really a wrestling documentary at all, but sometimes it's crazy to see how different areas of media overlap into a crazy, glorious mess that is the United States legal system. It has a more somber tone than other entries on this list, but seeing Hulk Hogan in his iconic bandana in on the witness stand is pretty wild.
Stream it on Netflix here.
Tiger King (2020)
If wrestling fans don't like the Netflix sensation Tiger King then I don't know what to believe anymore. This seven-part docuseries is the closest thing to a wrestling show you'll see outside of the ring. With a cast of characters that includes wild cat owners like Joe Exotic, Bhagavan Antle, and Carol Baskin, as well as an assortment of grifters and drifters, this insane piece of television plays out like a low-rent wrestling promotion you'd watch every Saturday night on a public access station.
Why It's A Good Option For Wrestling Fans: Surprise, surprise, according to Vice, Joe Exotic hosted two wrestling show at his infamous Oklahoma zoo in the years prior to his murder for hire plot gone awry.
Stream it on Netflix here.
Nacho Libre (2006)
It might not be the best Jack Black movie or film about wrestling, but the 2006 comedy Nacho Libre helped spread the word of lucha libre wresting south of the border in Mexico. In the film, Black plays Ignacio, a cook for an orphanage who dreams of becoming a luchador. To get around the orphanage's ban on wrestling, Ignacio dons a mask and the Nacho moniker.
Why It's A Good Option For Wrestling Fans: Although not loved by critics, Nacho Libre does feature some pretty humorous wrestling scenes, especially the ones featuring the famed luchador Silver King, who plays Ramses in the movie.
Stream it on Netflix here.
Ronda Rousey Story: Through My Father's Eyes
Wrestling fans might be upset with Ronda Rousey after the former UFC champion made some controversial remarks about fans and the way they treated her during her brief WWE run a couple of years back, but that's no reason to not check out the athlete's documentary Ronda Rousey Story: Through My Father's Eyes. This personal and intense documentary primarily focuses on Rousey's training during her MMA days, but it does explore the intense athlete's motivations.
Why It's A Good Option For Wrestling Fans: Although the documentary focuses on Ronda Rousey's Olympic and MMA fighting careers, it's nice to see the work the athlete and former WWE Raw Women's Champion put into her intense training program leading up to her big fights.
Stream it on Netflix here.
Nuestra: Lucha Libre
And then there's the insanely in-depth wrestling documentary series Nuestra: Lucha Libre, which looks into the lives of some of the most famous and infamous luchadors the sport has ever seen. Over the course of five episodes, this miniseries explores the daily lives of wrestlers like Negro Casas, Atlantis, Ultimo Guerrero, and many more.
Why It's A Good Option For Wrestling Fans: This is a great watch for fans who are familiar with the lucha libre style of wrestling as well as those who want to know more about the variation of the sport. Through enlightening interviews and wrestling segments, Nuestra: Lucha Libre is worth a watch.
Stream it on Netflix here.
Those are just a few of the great wrestling shows, movies, and documentaries you can watch on Netflix. Make sure to check back because Netflix is constantly adding new titles to its library. And in the meantime, make sure to check back for more wrestling news and features here on CinemaBlend.
Your Daily Blend of Entertainment News
Philip grew up in Louisiana (not New Orleans) before moving to St. Louis after graduating from Louisiana State University-Shreveport. When he's not writing about movies or television, Philip can be found being chased by his three kids, telling his dogs to stop barking at the mailman, or yelling about professional wrestling to his wife. If the stars properly align, he will talk about For Love Of The Game being the best baseball movie of all time.