Doctor Who Actor Highlights Industry Racism After Being Mistaken For Another Black Actor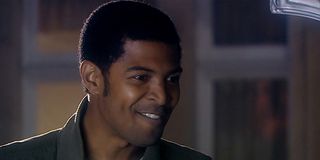 While many celebrities have come forward in solidarity with the Black Lives Matter movement, more and more Black actors have been opening up about racism, toxic work environments, and the microaggressions they've experienced in Hollywood. In that same vein, Doctor Who vet Noel Clarke recently highlighted industry racism he faced after being mistaken for another Black actor.
Noel Clarke, who played Mickey Smith in the early seasons of the 2005 Doctor Who revival, recently shared a racist experience. According to Clarke, he received an email from a Hollywood agent complimenting him on his work in the British crime drama Top Boy. However, there was a clear issue with the recognition of Clarke's work: he never appeared in Top Boy. Check out the actor's tweet below detailing what happened and the email sent by the unknown agent.
While the first few lines of the email are simply praising Top Boy for "telling the story of marginalisation and struggle," the email ends with the agent off-handedly complimenting Noel Clarke for his performance in it. Clarke noted that he'd met this "high level Agent" several times before and that they've been working in the film and TV industry just as long as Clarke has.
So, it's incredible that an email was sent mistaking the actor for the talent in Top Boy, which stars Ashley Walters, Kane Robinson, and Shone Romulus. Noel Clarke's tweet is just another example of how Black actors can face various forms of racism, which is not always the direct kind. Clarke even replied to one person urging the actor to do something about the incident. Clarke assured the commenter that he had personally "dealt with it when it happened" instead of making it public.
Microaggressions are buried in language and Noel Clarke and many others have been calling it out when they've seen it happen in recent weeks. Glee alum Samantha Ware outed former co-star Lea Michele for "traumatic microaggressions" she allegedly experienced on the set of the Fox show. The Bachelor's Rachel Lindsay said it was "embarrassing to be affiliated" with the show after 40 seasons and only one Black lead. Meanwhile, America's Got Talent alum Gabrielle Union is suing the show and NBC for not caring enough to "promptly investigate" her allegations of racially offensive conduct while she was a judge on the show, among other issues.
Noel Clarke's final Doctor Who episode aired in 2010 and he's since starred in the miniseries Chasing Shadows, Bulletproof, as well as several films. Stay tuned to CinemaBlend for updates and be sure to check out our list of TV shows premiering this summer.
Your Daily Blend of Entertainment News
Thank you for signing up to CinemaBlend. You will receive a verification email shortly.
There was a problem. Please refresh the page and try again.