When Hollywood Thinks Movie Productions Will Finally Start Filming Again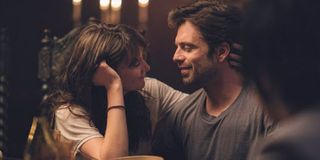 When is Hollywood opening back up? When will films and TV shows be able to start filming again? What will that look like? These are all questions that have been on people in the industry's minds, not to mention in the fans' minds, in recent weeks. While there's still no specific date for when movies will become a thing again, the industry as a whole has been eyeing a timeframe for when projects could start going back into production.
On one side of things, July or August is looking like a good time to start moving forward. However, it's worth noting that even if movies start getting off the ground again in late summer, bigger tentpole movies such as (but maybe not specifically) The Batman or Uncharted may have to wait even longer.
According to a report from THR, people working for multiple studios reached out to the outlet and were "hopeful" about July or August return dates, although there's clearly a lot of uncertainty when it comes to what is happening and what the timeline will look like. In fact, while people are hopeful about the summertime, the report also notes it could be fall before productions get back to normal, or at least the new normal.
Another big thing to takeaway from this report is that things will likely move forward in phases and with restrictions, which is similar to what we've heard could and likely will happen with theme parks opening with limited capacity and other restrictions. FilmLA president Paul Audley told the outlet:
A lot of shows and movies already film on sound stages, but that also could become more of a norm rather than shooting on location. In addition, the way that tools are used on set and the way craft services currently works are likely going to have to change as well.
According to the article, big studios, the guilds and even famous places for filming like Pinewood Studios all seem intent on working together to find a solution.
What will be most interesting to me is when TV can get back into production, honestly. From a movies standpoint, I'm sure Disney, Paramount, Warner Bros. and others are all champing at the bit to start moving forward again. However, there's already a backlog of movies that will be able to come out (and should mostly hit theaters) after people can slowly stop emerging from the hunkered down state.
On the other hand, in particular for network television, but also for some cable networks, shows are in limbo. Fall TV series usually pick up in late summer and start filming programming for a late September release. If there's no new TV moving forward by late summer, the networks are going to have to get creative with filling the schedule. Seemingly, streaming services like Netflix has more of a programming backlog, along with supporting repeats of shows like Waco or Good Witch that some audiences haven't yet seen.
The good news for television is those productions are typically smaller than major movies and are often filmed on sound stages. The good news for movies is there are a lot of movies that have already filmed that can be spaced out later in 2020 and 2021 and we've already seen dates shuffle around quite a bit on that front.
I don't anticipate we've seen the end of the date shuffling, as well. Luckily, there are a lot of really cool movies that were on the docket for the early part of 2020 and for 2021 and I'm hopeful once people start getting out and about that they will all get their moments to shine.
As for sex and kissing scenes between actors in upcoming projects? We'll have to wait and see when and how a vaccine ultimately shakes out…
Your Daily Blend of Entertainment News
Reality TV fan with a pinch of Disney fairy dust thrown in. Theme park junkie. If you've created a rom-com I've probably watched it.
Your Daily Blend of Entertainment News
Thank you for signing up to CinemaBlend. You will receive a verification email shortly.
There was a problem. Please refresh the page and try again.