What These Former Doctor Who Cast Members Are Doing Now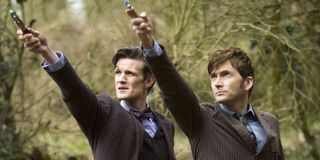 For nearly 60 years (including some extended breaks), the BBC science-fiction spectacle Doctor Who has provided some of the most highly regarded and well-versed actors to ever grace television sets around the world. People like Matt Smith, David Tennant and Karen Gillan all became international superstars after they appeared on the global phenomenon. But what are they up to now?
Actually, you could ask that question for any number of the former Doctor Who cast members, whether they played one of the Doctors or their trusty companions. And while it would be ideal to catch up with all of the previous Doctors (the ones who are still alive, that is) and the rest of the cast, there simply isn't enough time in the world or a TARDIS large enough to handle the dozens upon dozens of actors who have taken part in Doctor Who over the years. But that doesn't mean we can't highlight some of the most notable figures from the sci-fi/fantasy show. So without wasting any more time, let's get started, shall we?
Matt Smith (Eleventh Doctor)
Perhaps one of the most popular actors to take on the role of The Doctor since the 2005 Doctor Who revival, Matt Smith played the titular from 2010 and 2014 before handing things off to his successor. Since leaving the BBC series, Smith has gone on to have a successful career on television with his turn as Prince Philip on Netflix's The Crown, as well as on stage with Lungs. The English actor has two major film projects set to hit theaters in 2021: the Marvel movie Morbius and Edgar Wright's next feature Last Night In Soho, both of which had their releases delayed in the last several months.
David Tennant (Tenth Doctor)
Despite handing of the role of The Doctor to Matt Smith in 2010, David Tennant has remained attached to the franchise in a number of ways since then. He appeared in the 2013 special The Day of the Doctor alongside several other incarnations of the iconic character, as well as in several Doctor Who radio dramas over the years, with the most recent coming out in 2019. In the years following his departure from the series, Tennant has made a name for himself with his depictions of more villainous roles, like Kilgrave in Jessica Jones and the upcoming Dennis Nilsen biographical miniseries Des, which will follow the Scottish serial killer's reign of terror. Oh, and I'd be remiss if I didn't mention his time as Scrooge McDuck on the new DuckTales.
Peter Capaldi (Twelfth Doctor)
Peter Capaldi found himself in the unenviable position of replacing Matt Smith as The Doctor in 2013, a role he would fill until 2017, when he his successor and current Doctor, Jodie Whittaker, joined Doctor Who. A veteran actor of theatre, television and film, Capaldi has continued providing engaging and powerful performances since leaving the BBC series. With appearances in films ranging from the Paddington franchise to The Personal History of David Copperfield, Capaldi has done a little bit of everything. The Scottish actor will next appear in James Gunn's The Suicide Squad, but the identity of Capaldi's character has yet to be revealed.
Christopher Eccleston (Ninth Doctor)
Rounding out this first secton section of this list is Christopher Eccleston, who had the distinction of being the first Doctor when the series was brought back to television in 2005. Even though he only served as the Time Lord for 13 episodes before David Tennant stepped in, Eccleston is still fondly remembered for the charm and wit he brought to the role. We still don't know when or if Eccleston will ever return to Doctor Who for a one-off appearance, but the actor who brought the Ninth Doctor to life has remained quite busy in the decade and a half since leaving the series. With appearances on The Leftovers, Thor: The Dark World, and most recently in 2019: A Year in the Life of a Year, Eccleston is busy to say the very least.
Karen Gillan (Amy Pond)
In terms of recent companions, there is arguably none more well-regarded and popular as Karen Gillan's Amy Pond. Since leaving the show in 2012, Gillan has gone on to have one of the most successful careers out of anyone tied to the Doctor Who franchise since its return in 2005. Starting with 2014's Guardians of the Galaxy, Gillan has portrayed Thanos' cybernetic daughter Nebula in multiple Marvel Cinematic Universe movies. With momentum from her successful MCU run, the Scottish actress has gone on to headline the rebooted Jumanji franchise and will next appear in the female-led assassin film Gunpowder Milkshake, where she will star alongside Lena Headey and Angela Bassett.
Jenna Coleman (Clara Oswald)
From 2012 to 2015, and briefly popping up again two years later, Jenna Coleman played the Doctor's companion, Clara Oswald, making her the longest-serving character and actor to accompany the time-traveling alien since the show's 2005 revival. Since leaving the BBC program, Coleman has gone on to appear in a number of television series (most notably leading Victoria), stage productions, films and even video games. Coleman's next confirmed project is the upcoming Netflix serial killer drama The Serpent, where she will play Marie-Andrée Leclerc, a known accomplice of the French serial killer Charles Sobhraj.
Billie Piper (Rose Tyler)
Billie Piper primarily appeared on Doctor Who in the first two seasons of the show's 2005 revival, where she played the Ninth and Tenth Doctor's companion, Rose Tyler. Piper would go on to portray the character in a number of specials all the way to 2013, but she has since moved on to shows like Penny Dreadful and Collateral, as well as films like Eternal Beauty and Rare Beasts. In addition to keeping busy with her various acting roles, Piper is politically vocal in her native England, especially when it comes to British Prime Minister Boris Johnson.
John Barrowman (Captain Jack Harkness)
Although he has only appeared on a total of 12 episodes of Doctor Who over the years, John Barrowman's portrayal of Captain Jack Harkness remains one of the most popular performances on the long-running series. Captain Jack is so popular in fact that he got his own spinoff series, Torchwood, one year after the character appeared on the 2005 Doctor Who revival. Fans of the series were delighted to see Captain Jack return for "Fugitive of the Judoon" in early 2020, but who knows if Barrowman is back for good. And in addition to his acting (which includes his stint as Malcolm Merlyn on Arrow), Barrowman has quite a successful music career, with his latest album A Fabulous Christmas being released in 2019.
Alex Kingston (River Song)
Alex Kingston has gone on the record stating that she still can't watch the final episode featuring her character River Song, but she isn't against the idea of returning to Doctor Who as the Time Lord's wife one of these days. Since leaving the BBC series, Kingston has remained busy with a number of different projects including Arrow, The Widow and Gilmore Girls: A Year in the Life. The actress is currently on the television series A Discovery of Witches, where she portrays Sarah Bishop, the aunt of the show's main character, Diana Bishop.
Matt Lucas (Nardole)
Matt Lucas came into fame with appearances on shows like Little Britain and Rock Profile, but portraying Nardole on Doctor Who didn't hurt at all. An alien from the far future with some pretty impressive cybernetic implants, Nardole is one the Twelfth Doctor's companions. Since leaving the show in 2017, Lucas has gone on to further his career with notable performances in the 2019 production of Les Misérables, where he portrayed Thénardier. In 2020, the English actor, comedian, and writer was named co-host of The Great British Bake Off.
Pearl Mackie (Bill Potts)
Pearl Mackie's portrayal of Bill Potts, one of the Twelfth Doctor's companions on Doctor Who, is one of the most memorable in recent memory. With an offbeat energy not seen by many of The Doctor's previous companions, Potts was a breath of fresh air. Since leaving the show in 2017, Mackie, who is a singer, actor, and dancer by trade, has continued to have small roles in a number of projects, including the Urban Myths episode about Donald Trump meeting Andy Warhol, as well as the upcoming film Horizon Line, which is currently in production.
Arthur Darvill (Rory Williams)
Arthur Darvill may be known as Rory Williams from his time as the Eleventh Doctor's companion on Doctor Who, but the actor/musician has done much more than that. Darvill appeared on the show from 2010 to 2012, but has since gone on to portray Paul Coates in Broadchurch, Rip Hunter in Legends of Tomorrow, Guy in the 2013 stage production of Once and a number of other roles. In addition to acting, Darvill is also an accomplished musician and was part of the #zoologicalsociety album that was released in early 2020.
Freema Agyeman (Martha Jones)
Freema Agyeman first appeared as Torchwood One tech Adeola Oshodi in the 2006 episode "Army of Ghosts," but would go on to play the character's cousin and the Doctor's companion Martha Jones after Adeola's death. Agyeman would remain on the show through 2010, during which time she also appeared in three episodes of the Torchwood spinoff series. The English actress then focussed her time on Law and Order: UK, The Carried Diaries, and Sense8 over the following decade. She is currently on the main cast of the medical drama New Amsterdam, where she portrays Dr. Helen Sharpe. And no one ever truly leaves Doctor Who as Agyeman recently appeared in the Torchwood: Dissected audio drama.
Catherine Tate (Donna Noble)
English actress, comedian, and writer Catherine Tate appeared on Doctor Who from 2006 to 2010 during which time she portrayed Donna Noble, one of the many companions of the Tenth Doctor. Initially terrified by the time-traveling Doctor, Donna quickly became one of the Time Lord's most trusted companions. After leaving Doctor Who in 2010, Tate jumped over to The Office where she became one of the show's stars until its 2013 finale. In addition to that, Tate has produced her own stage show, The Catherine Tate Show: Live! as well as voicing Magica De Spell in the 2017 DuckTales reboot.
Noel Clarke (Mickey Smith)
And then there is Noel Clarke, who portrayed Mickey Smith on Doctor Who from 2005 to 2010. Introduced as Rose Tyler's (Billie Piper) boyfriend, Mickey later became a companion of the Ninth and Tenth Doctors before Clarke left the franchise. Since then, Clarke has gone on to take on a number of roles in television and film, including Parenthood, an ongoing project in which the actor also serves as writer and director, and Star Trek Into Darkness.
Those are just a few of the former Doctor Who cast members. Like I said at the beginning, this list could have been much longer and included literally dozens upon dozens of actors, but maybe there'll be time for that in the future.
Your Daily Blend of Entertainment News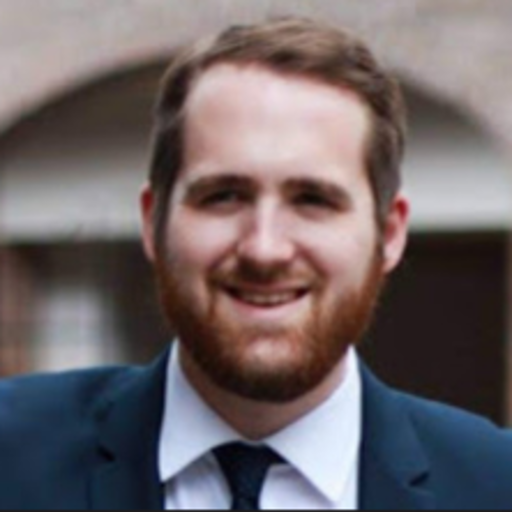 Philip grew up in Louisiana (not New Orleans) before moving to St. Louis after graduating from Louisiana State University-Shreveport. When he's not writing about movies or television, Philip can be found being chased by his three kids, telling his dogs to stop barking at the mailman, or yelling about professional wrestling to his wife. If the stars properly align, he will talk about For Love Of The Game being the best baseball movie of all time.