Ken Jennings Responds To Hater Not Happy He's Guest Hosting Jeopardy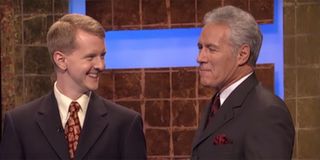 Following the death of beloved longtime Jeopardy lead Alex Trebek, the popular game show announced it would be having a series of guest hosts until it settled on a permanent replacement. The first to take control of the board will be Ken Jennings. The initial response among fans was mostly positive, as Jennings is a well-liked former contestant who has experience reading clues, but the pick, of course, also brought out some haters, some of whom feel he's too bland. In fact, one user said Jeopardy may as well have hired a loaf of bread, and instead of getting offended, Jennings tweeted out a picture of the comment and went back and forth a few times with fans making bread jokes.
The original comment, which is admittedly kind of funny, was posted following the initial announcement that Jennings would be the first guest host. He screenshotted the picture and responded that he couldn't stop laughing. Here's a look at his tweet…
Celebrities on Twitter handle negative feedback in very different ways. Some ignore it. Some get in the mud and wrestle with the haters, and some, like Jennings here, pick out the occasional funny piece of negative feedback to respond to. Jennings also got busy a little in the comment section underneath his post and responded to several additional users, all with the same goofy and self-deprecating perspective. He even got in references to Joni Mitchell and weird Costco bread.
What exactly the long-term plan is on Jeopardy is a bit unclear. Right now, we know it will move forward with a series of guests hosts, starting with Jennings, for an unknown length of time, and assumedly, at some point, a permanent host will be slotted in. The show has been very clear about wanting to move forward without Alex Trebek, and the departed host was also very clear before he died that he wanted the show to continue. Fans recently circulated a position pushing for LeVar Burton, but at this point, we don't know if Jeopardy is focused on casting a former contestant (or someone associated with the show like Sarah or Jimmy from the Clue Crew) or whether they would be open to a random celebrity or even another game show host.
As a longtime Jeopardy fan who watches the show every day, my only strong preference here is that whoever is hired is smart enough to be able to offer little comments after interesting wrong answers. Alex Trebek was always great at editorializing just the right amount. Ken Jennings would obviously be able to do the same thing, but in addition to that, the host also needs to be able to keep the show moving and paced out for time, read the answers in a straight forward, well-enunciated manner and banter with the contestants when they offer personal anecdotes.
I will always remember Alex Trebek and his incredible work on Jeopardy!, but the show is too good and means too much to too many people to not carry on. Here's to hoping, whether it's Ken Jennings or someone else, that the show finds the right host and is able to connect with a new generation for decades to come.
Enthusiastic about Clue, case-of-the-week mysteries, the NBA and cookies at Disney World. Less enthusiastic about the pricing structure of cable, loud noises and Tuesdays.
Your Daily Blend of Entertainment News
Thank you for signing up to CinemaBlend. You will receive a verification email shortly.
There was a problem. Please refresh the page and try again.