Battlestar Galactica Ending: Stars Share Feelings About Katee Sackhoff Character's Infamous Farewell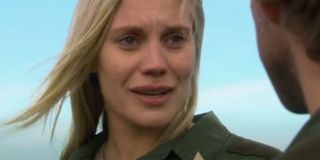 Battlestar Galactica was one of the most notable shows of the early 2000s during its initial run, but it's also one of those shows where the ending didn't sit well with everyone. Part of the problem -- and obviously we're getting into spoilers -- is that Starbuck disappeared only to come back later in the series in a mysterious and very much not straightforward manner. Now, some of the original cast have spoken to Marc Bernadin about Katee Sackhoff's infamous farewell on the series whilst playing Kara Thrace.
Speaking to Marc Bernadin as part of the Battlestar Galacticast podcast, leads Tricia Helfer and Mary McDonnell both weighed in on Kara Thrace's ending on the series, as well as how weird it was to simply film the finale. Touching on Starbuck specifically, Bernadin spoke out about what happened to her at the end of the series "required a leap of faith," also noting that the character's ending grew on him as he watched it later in life, though McDonnell disagreed with Bernadin's take.
According to Mary McDonnell, "It wasn't asking them to take a leap of faith, it was demonstrating faith." She further explained her feelings about the end of the series and, in fact, it seems she was a fan of how that particular storyline panned out, as was Tricia Helfer.
On the 10-year anniversary for Battlestar Galactica, Katee Sackhoff herself touched on the fate of Kara Thrace, noting it's the question she gets asked most by the fanbase. Ultimately, she says she knows that Starbuck was "gone," but otherwise she's as out of the loop as the fans are, telling TV Insider previously:
Also touching on the finale itself, Mary McDonnell and Tricia Helfer noted that some of the episodes were shot in a beautiful setting in Canada, but later some of the finale had to wrap on a soundstage, so nothing was neat or tidy about saying goodbye to BSG. According to Mary McDonnell, for her this was the most unsatisfying part of the finale. Her character Laura Roslin -- and again, spoilers -- notably dies in the final minutes of the three-part finale, and I guess McDonnell thought she'd have a few more days on set than she actually ended up having to say goodbye. Instead, the scene -- and McDonnell's final moments on the show -- ended earlier than she anticipated. So, it's a little bittersweet all around.
We may not all be able to agree on whether the Starbuck stuff or the final moments of Battlestar Galactica, which feature the "Inner" versions of Tricia Helfer's 6 and Gaius Baltar, play out perfectly or even as well as could be expected. However, I will say the final scene between Laura Roslin and Captain Adama was satisfying for me from both an emotional and storytelling standpoint, so hopefully, no matter your overall feelings on the finale, there's at least something each fan was able to take away from what Ron Moore and co. did.
Certainly, the characters have lived on in an iconic way, even if the finale isn't its best moment. You can revisit it yourself by watching Battlestar Galactica's four seasons (and specials), which are currently streaming on Peacock. Or for a primer on the ending, here's a reminder of what happened and where the characters left off.
This poll is no longer available.
Amazing Race & Top Chef superfan with a pinch of Disney fairy dust thrown in. Theme park junkie. If you've created a rom-com I've probably watched it.
Your Daily Blend of Entertainment News
Thank you for signing up to CinemaBlend. You will receive a verification email shortly.
There was a problem. Please refresh the page and try again.