What The Battlestar Galactica Cast Is Doing Now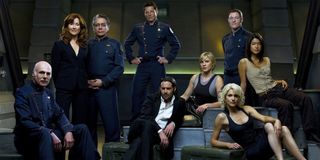 Among the most acclaimed shows in the golden age of television, Battlestar Galactica is considered one of the best sci-fi shows ever made. Featuring a number of talented stars, including Edward James Olmos, Katee Sackhoff, Tricia Helfer, Lucy Lawless, and several more, top-notch TV visual effects, and smart, celebrated writing and direction, Battlestar Galactica was praised as it aired and it only continues to find respect and admiration among TV lovers. Nevertheless, the military sci-fi series wrapped in 2009. While there was a spin-off and a web series that followed, most of the cast had moved on to different projects once the show came to a close. More than 10 years later, let's find out what the Battlestar Galactica cast has worked on since.
Edward James Olmos (William Adama)
As William Adama, the commanding officer of the BS Galactica, Edward James Olmos played the lead role in Battlestar Galactica. An accomplished, well-established actor-director-producer of both the stage and screen, Olmos is best known for appearing in Miami Vice, Stand and Deliver, Blade Runner, and American Me, which he also produced and directed, before he boarded this space ship. Since Battlestar Galactica, Olmos has appeared in many movies and shows. Notably, Olmos plays one of the leads in FX's Mayans MC, a spin-off of Sons of Anarchy, and he starred in Dexter, The Green Hornet, 2 Guns, Agents of S.H.I.E.L.D., Narcos, Coco, A Dog's Way Home, and reprised his role in Blade Runner 2049, to name only a few titles. He also starred in and directed last year's drama, The Devil Has a Name. Olmos will next be seen in Walking with Herb and Emu Plains.
Mary McDonnell (President Laura Roslin)
As President Laura Roslin, Mary McDonell won a Saturn Award for her leading performance in Battlestar Galactica. An Academy Award-nominated actress known for her work in Passion Fish, Dances with Wolves, Independence Day, and Donnie Darko prior to her work on this acclaimed series, McDonnell is a celebrated actress of the stage and screen, and Battlestar Galactica only furthered her success. Since the show came to an end, she has most notably been seen in The Closer, for which she secured an Emmy nomination, and its spin-off series, Major Crimes. McDonell also starred in Scream 4, Margin Call, FX's Fargo, and, most recently, the newest season of Veronica Mars on Hulu.
Katee Sackhoff (Kara "Starbuck" Thrace)
Playing the part of Kara "Starbuck" Thrace, Katee Sackhoff found her breakout role in Battlestar Galactica. Her Saturn Award-winning performance paved the way for Sackhoff to appear in TV shows like CSI, Nip/Tuck, 24, Star Wars: The Clone Wars, and Robot Chicken. She also starred in A&E's Longmire, and had recurring roles in The Flash and The Big Bang Theory. Prior to Battlestar Galactica, Sackhoff starred in Halloween: Resurrection. The actress has also since starred in Batman: Year One, Riddick, Call of Duty: Black Ops III, and Oculus. Currently, Sackhoff has a main role in Netflix's Another Life.
Jamie Bamber (Lee "Apollo" Adama)
In Battlestar Galactica, Jamie Bamber played Lee "Apollo" Adama, a renowned Viper pilot, CAG of BS Galactica, and the son of William Adama. Since his time on the ship, Bamber has continued to find a lot of work on television. Notably, shortly after Battlestar Galactica's conclusion, Bamber starred in Law & Order: UK. He later starred in the TNT medical drama, Monday Mornings, and Sky 1 series, The Smoke. He also played an extended role in Marcella, as well as supporting roles in Body of Proof, Perception, Rizzoli & Isles, and NCIS. Most recently, Bamber plays an extended role in the newest season of Strike Back.
James Callis (Dr. Gaius Baltar)
Playing the part of Dr. Gaius Baltar, James Callis gave his best-known performance in Battlestar Galactica. That said, the English actor is also known for his work in the Bridget Jones trilogy playing the part of Tom, the title character's best friend. He appeared in all three films, including 2016's Bridget Jones' Baby. Since appearing in Battlestar Galactica, Callis notably appeared in Eureka, as well as Key & Peele, Arrow, CSI, Gallipoli, Rick & Morty, and Austenland. Nowadays, Callis is best known for lending his voice to Alucard in Netflix's Castlevania. He also stars in MacGyver and Blood & Treasure. Next, Callis will be seen in Break Even.
Tricia Helfer (Number Six/Caprica-Six)
Playing Cylon model Number Six, Tricia Helfer was given her claim-to-fame through Battlestar Galactica. The model-turned-actress is best known for her work on this acclaimed series, though she continues to work as an actress and voice artist. Since the show wrapped, Helfer has been heard as the voice of Sarah Kerrigan in the Starcraft games. She notably played a prominent role on Fox/Netflix's Lucifer and a recurring role in Power. Also, Helfer appeared in Authors Anonymous, Criminal Minds, Community, Tron: Uprising, Rick & Morty, Key & Peele, It's Beginning to Look A Lot Like Christmas, and last year's Bombshell. She is also soon set to play Dracula in an upcoming TV production.
Grace Park (Number Eight/Boomer/Athena)
As Cylon model Number Eight, Grace Park gave one of her most well-known performances in Battlestar Galactica. Prior to this role, the Canadian actress played a main role on Edgemont. Since her time in Battlestar Galactica, Park had main roles in The Cleaner and The Border, and she was seen in CSI, Human Target, Hawaii Five-0, Freaks, Adventures in Public School, Run Rabbit Run, and MacGyver, and she was heard on American Dad. Presently, Park plays a main role on the ABC drama series, A Million Little Things.
Michael Hogan (Colonel Saul Tigh)
An accomplished Canadian actor of the stage and screen, Michael Hogan provided one of his most well-known roles as the gruff but loyal Col. Tigh in Battlestar Galactica. In addition to this hit TV series, Hogan was also known for his role in The Peanut Butter Solution. Since his time in Battlestar Galactica, the actor has most notably been seen in Teen Wolf and heard in the Mass Effect video game series. He also appeared in Red Riding Hood, The Mentalist, Criminal Minds, The Man in the High Castle, The Tomorrow People, The Magicians, Supernatural, The Chilling Adventures of Sabrina, and, most recently, Sonic the Hedgehog. He also appeared in The Devil Has a Name, which was directed by Edward James Olmos. Up next, Hogan will star in the series, When Calls the Heart.
Aaron Douglas (Galen Tyrol)
In the role of Galen Tyrol, a.k.a. "Chief," Aaron Douglas provided his most recognizable role. The acclaimed series gave the TV actor a great deal of exposure, although he hasn't reached that same success with any following projects. Notably, Douglas headlined the short-lived series, The Bridge. By short-lived, I mean CBS only aired three episodes before the show was pulled altogether. He played supporting parts in Smallville, Eureka, The X-Files, The Flash, Supernatural, Once Upon A Time, Girlfriends' Guide to Divorce, iZombie, and The Twilight Zone. He also had recurring roles in Hemlock Grove and Hellcats, and he played a main role in Dirk Gently's Holistic Detective Agency. So, it should be noted that he continues to be a hard-working actor. Prior to Battlestar Galactica, Douglas had small roles in The L Word, Stargate SG-1, Dark Angel, I, Robot, X2, Final Destination 2 and more.
Tahmoh Penikett (Karl "Helo" Agathon)
Through Battlestar Galactica, Canadian actor Tahmoh Penikett got his best-known role by playing Karl "Helo" Agathon, an Electronic Countermeasures Officer. Since his time on Battlestar Galactica, Penikett played a series regular on the short-lived Joss Whedon show, Dollhouse. Additionally, the actor appeared in Man of Steel, Justice League: Gods and Monsters, Arrow, Supernatural, Criminal Minds, Altered Carbon, Castle, Continuum, The Killing, Mortal Kombat: Legacy, and BH90210. He also starred in The Devil Has a Name, directed by Edward James Olmos. He'll next be seen in Supposition, The Last Victim, 2 Hearts, and Kiri and the Dead Girl.
Alessandro Juliani (Felix Gaeta)
In the role of Felix Gaeta, Alessandro Juliani found his breakout role on the bridge of Galactica. The actor-singer made small appearances in MacGyver and Final Destination before his role in the series, and he continued to build his career as an actor and voice artist during and after his time on the program. Since the show aired, Juliani has been seen in Watchmen, Smallville, Man of Steel, The X-Files, The Magicians, The 100, Girlfriends Guide to Divorce, War For The Planet of The Apes, Limetown, The Chilling Adventures of Sabrina, and Altered Carbon. And his voice has been heard in several films and TV shows, including (but not limited to), Hot Wheels: Battle Force 5, Wolverine vs. Sabretooth, Pirate Express, Ratchet & Clank, Super Dinosaur, Super Monsters, Nexo Knights, and, most recently, Ninjago. He'll next be seen in Needle in the Timestack and the TV series, Away.
Kandyse McClure (Anastasia Dualla)
A South Africa-born Canadian actress, Kandyse McClure played one of her most recognizable roles in Battlestar Galactica as the dedicated Anastasia Dualla. With a resume that previously included Romeo Must Die, See Spot Run, The Outer Limits, Dark Angel, and the TV movie, Carrie, Battlestar Galactica remains the actress' most well-known property, though she has since been seen in The Client List, The Good Doctor, and Supernatural. McClure also played recurring roles in Hemlock Grove, Arctic Air, Limetown, and V Wars, and she had a main role in Ghost Wars. The actress also starred in 2010's Mother's Day and Seventh Son. She was most recently seen in Charmed.
Lucy Lawless (Number Three/D'Anna Biers)
Best known for playing the title role in Xena: Warrior Princess, Lucy Lawless secured another role in a fan-favorite series when she joined Battlestar Galactica in the role of the spiritual Cylon, sometimes known as D'Anna Biers. Since the show's run, the New Zealand actress has most prominently been seen in Spartacus: Blood and Sand, as well as its prequel and sequel series. Additionally, Lawless had a recurring role in Parks and Recreation and Salem and she also had a main role in Ash vs. Evil Dead. She also appeared on Agents of S.H.I.E.L.D., Top of the Lake, Adventure Time, American Dad, Flight of the Conchords and more. Next, Lawless lends her voice to the newest season of Star Wars Resistance, which is expected to come out this year, and Minions: The Rise of Gru.
Michael Trucco (Samuel Anders)
As Samuel "Longshot" Anders, Michael Trucco played a prominent supporting role in Battlestar Galactica. After he appeared on this beloved TV series, Trucco played a recurring parts on How I Met Your Mother and Revenge. He was also seen in Psych, Scandal, Criminal Minds, Chicago PD, The Good Doctor, Castle, The Bye Bye Man, Hush, The Rookie, and Hunter Killer. Next, Trucco will star in Through the Glass Darkly, Big Shot, and Midnight Mass.
Who is your favorite Battlestar Galactica cast member? Let us know in the comment section below. Also, it should be noted that Battlestar Galactica is currently now available in its entirety — and for free — on Syfy.com. Happy watching!
Your Daily Blend of Entertainment News
Will is an entertainment writer based in Pittsburgh, PA. His writing can also be found in The Playlist, Cut Print Film, We Got This Covered, The Young Folks, Slate and other outlets. He also co-hosts the weekly film/TV podcast Cinemaholics with Jon Negroni and he likes to think he's a professional Garfield enthusiast.
Your Daily Blend of Entertainment News
Thank you for signing up to CinemaBlend. You will receive a verification email shortly.
There was a problem. Please refresh the page and try again.