Why Zoey's Extraordinary Playlist Actor Views His Surprising Exit As 'Inspirational'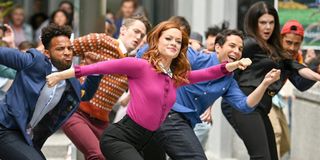 Zoey's Extraordinary Playlist has seen a lot of changes since its second season started earlier this month. If you haven't seen the latest episode, turn back now, because we're about to spoil a major character loss. First it was announced that Lauren Graham would only be returning in a tiny way for just the first episode of the new season, and now we've lost Harvey Guillen's character, George, due to not one but TWO firings. Guillen explains how his soft spoken character switched gears in his final musical number, and how his exit from the show was a strong farewell full of emotion and even inspiration.
Harvey Guillen's character was written off with a double firing - Zoey had to fire George due to low productivity, but she drunkenly hired him back because she felt bad for firing her friend. Once she sobered up, she, of course, had to fire George again and for good. The firing then turned George from a personally shy character to a break out one with an inspirational musical number. This is how Guillen described it to Entertainment Weekly:
While it was refreshing to see George break out of his shell in such a bold way, it is a shame we don't get to enjoy this new side to the character. That's kind of the point Harvey Guillen is trying to make, though: endings make for great new beginnings.
If you've got to leave, though, it's best to leave in style. His rendition of Brittney Spears' "Stronger" definitely had George doing exactly that. In the same interview, Harvey Guillen talks about how psyched he was about the choice for George's final performance. Here it is in his own excited words:
It would seem that there is fun and inspiration to be had in even the most bittersweet goodbyes. Even though George won't be returning to Zoey's Extraordinary Playlist, you can catch the rest of the musical gang Tuesday's at 8 p.m. EST, on NBC. Season two will take a hiatus in a couple of episodes, but will be back in the spring.
If waiting is too hard, though, you can check out our list of similar streaming options.
Your Daily Blend of Entertainment News
Thank you for signing up to CinemaBlend. You will receive a verification email shortly.
There was a problem. Please refresh the page and try again.