8 Best Zoey's Extraordinary Playlist Performances So Far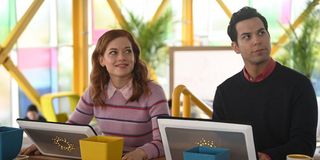 Zoey's Extraordinary Playlist is probably one of the most joyfully unique shows on television right now. The NBC series is chock-full of musical performances that explore the innermost feelings of its characters and, in the vein of Glee and Smash, has them break out into song and (sometimes) dance.
The musically-inclined series capably balances more light-hearted fare with emotionally moving drama. Zoey's Extraordinary Playlist follows Jane Levy's Zoey Clarke, a manager at an elite San Francisco tech firm whose biggest challenges include coming to terms with her crush on engaged colleague Simon and dealing with her father Mitch's progressive supranuclear palsy (PSP) diagnosis. After Zoey goes for a MRI, an earthquake occurs while she's inside the machine and when she comes out, she can hear people sing their feelings.
While the series occasionally deals with some heavy themes, the series cleverly tackles pent-up emotions and storylines through song. And so, in no particular order, here are the eight best performances from Zoey's Extraordinary Playlist Season 1 so far.
Zoey First Hears San Franciscans Sing "Help!" By The Beatles
This performance had to make the list because it's the first time Zoey learns of her new abilities. After leaving the doctor's office, Zoey turns a street corner and is met with a man singing the first few lyrics to the beloved Beatles song, "Help!"
Before long, a group of at least 70 join in, singing collectively to Zoey and pleading for her to "please, please help me." It's not often that a large group of people break out into song on the show and, as the singers dance and follow Zoey up and down the streets of San Francisco, it sets the tone for the rest of the series and leads Zoey to finally befriend her neighbor Mo.
Max Comes To Zoey's Rescue While Singing "I'm Gonna Be (500 Miles)"
Zoey's Extraordinary Playlist wastes no time revealing that Skylar Astin's Max, Zoey's co-worker and best friend, is in love with her. In the pilot episode, he sings "I Think I Love You" by The Partridge Family and Zoey freaks out and immediately sets him up with the cute barista at their favorite coffee shop to avoid him.
However, his best showcase is arguably when he belts "I'm Gonna Be (500 Miles)" by The Proclaimers in Episode 6. When Zoey discovers that her dad's in the hospital, she panics and tries to leave a co-worker's party but can't find a ride. Max immediately takes her by the hand and assures her that he will get Zoey to her dad as fast as possible, sidling down the street with a spring in his step. The performance is not only fun, but it proves that he's always there for Zoey no matter what.
Mo Embraces Who He Is At Church And Sings "This Little Light of Mine"
Alex Newell's gender fluid Mo is one of the highlights of Zoey's Extraordinary Playlist. However, while he was shown to be very confident and comfortable with himself as a person, Zoey discovered that it wasn't always rainbows and sunshines for Mo after she heard him internally sing "Great Pretender," which alerted her that something was off.
It turns out that Mo was presenting as male at church — specifically during choir rehearsal — for fear of being discriminated against. Mo explains to Zoey that being his true self isn't so simple, even despite his minister being open-minded. In the end, however, Mo sings an inspiring and moving rendition of "This Little Light of Mine" without having to identify as male and it's beautiful.
David And Emily Voice Marital Issues Singing "Just Give Me A Reason"
Zoey's abilities often find her meddling a bit too much in other people's affairs. Such was the case after hearing her brother David and his wife Emily's rendition of Pink and Nate Ruess' "Just Give Me A Reason" to express their tumultuous feelings.
It's also the first time Zoey had experienced a duet being sung before, which is part of what makes it memorable. However, the performance itself is beautifully crafted, intricately choreographed by La La Land and Dancing With the Stars' Mandy Moore. It sees Andrew Leeds and Alice Lee dancing expressively, reaching out to each other across the dining room table to simultaneously convey a physical closeness, but an emotional distance.
Zoey Finally Breaks Out In Song With Gnarls Barkley's "Crazy"
Zoey's abilities often leave her as a bystander of other people's inner thoughts, but she finally lets loose and works through her own emotions, finally singing in Season 1's "Zoey's Extraordinary Glitch." After hearing the doctor tell her family that the medicine is no longer slowing her father's PSP, she bolts to avoid dealing with what it all means.
By the time she makes it to her office building, she breaks down and starts singing "Crazy." It's a major turning point for Zoey, who hasn't been given the chance to sort through her own complicated feelings before and Jane Levy nails the emotion and confusion. However, she realizes pretty quickly that her performance isn't in her head and everyone can see her, but at least it's fun while it lasts.
Zoey Is Left In Tears While Singing "How Do I Live" To Her Dad
After getting to the core of the reason her powers were acting up, Zoey finally heads home to be with her family, confronting Peter Gallagher's Mitch about the fear of losing him now that his meds aren't slowing down the progression of his PSP.
And so, "Zoey's Extraordinary Glitch" ends with Zoey's poignant and heartfelt rendition of LeAnn Rimes' "How Do I Live." The moment is deeply emotional and pivotal. Stripped of the dancing and fanfare of Zoey's other songs throughout the episode, this performance is at the core of her grief and exemplifies the close relationship she has with her father.
Silence Speaks Volumes During ASL Performance Of "Fight Song"
Not every musical number in Zoey's Extraordinary Playlist is sung. On the show's most recent episode, "Zoey's Extraordinary Silence," Mitch's caregiver Howie ropes Zoey into speaking with his daughter in the hopes that she'll help them resolve their rift. As it turns out, Howie is being overprotective of his daughter Abigail, who is deaf, and doesn't want her to take on an out-of-country project.
Frustrated, Abigail performs Rachel Platten's "Fight Song" with only an orchestral accompaniment. The performance combines American Sign Language (ASL) with a dance routine that is equally as powerful as it is moving. It's a breathtaking and touching scene that reflects Abigail's fierce independence and feelings of resentment all at once.
Simon and Jessica Call It Quits While Singing Bastille's "Happier"
Simon faced a tough decision throughout Season 1. While he is clearly in love with his fiancée Jessica, he also shares a deep emotional connection with Zoey. After Zoey tells Simon she can no longer keep up the back and forth so long as he's with Jessica, he and Jessica seemingly decide to break up.
It's never confirmed with words, however. Rather, Zoey witnesses the pair sing the lyrics of "Happier" to each other, passionately conveying their pain and love for one another in one fell swoop. The dance choreography is simple and beautiful, employing lifts and ballroom dance-style movements to express the depth of their emotions through song.
Zoey's Extraordinary Playlist returns with new episodes on Sunday, April 19 at 9 p.m. ET on NBC. For more on what to watch, be sure to check out our midseason schedule and stay updated with our list of TV delays and shutdowns.
Your Daily Blend of Entertainment News