6 Reasons Why Zoey's Extraordinary Playlist's Season 2 Renewal Is The Best News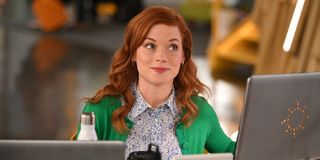 It's been over a month since Zoey's Extraordinary Playlist wrapped its first season with an emotional rendition of the cast singing Don McLean's "American Pie." Since then, fans of the musical series have been clamoring for NBC execs to get it together and renew the beloved series for Season 2.
It's time to rejoice because Zoey's Extraordinary Playlist has finally been renewed! Over the course of the first season, the musical series garnered quite the dedicated fanbase. Now that Season 2 is officially a go at NBC, here are six reasons why Zoey's Extraordinary Playlist's renewal is the best news.
6. Season 2 Can Explore Life After Mitch's Death
There's no doubt that Peter Gallagher's Mitch was a major part of Zoey's Extraordinary Playlist Season 1. He was at the center of several storylines, most of which revolved around his family handling his deteriorating health and readying themselves for a life without him in it. Jane Levy's titular character was especially anguished over the possibility of losing her dad.
Mitch did eventually die and the Season 1 finale spent a lot of time on the immediate aftermath. But, what does life look like after Mitch? How will the family cope without him around? It's definitely hard to imagine the series without him. That said, one of the most extraordinary things about the NBC show was its handling of grief in Season 1 and I have no doubt that Zoey and her family's post-Mitch life will be explored with the same amount of depth and nuance in Season 2.
5. We'll Get To See Max At A New Job
There was a lot going on in Max's work life in Season 1. He went from working alongside Zoey to being her subordinate. Then, when things were starting to get weird with them romantically, he was promoted to manager and moved to the sixth floor of SPRQ Point headquarters.
After he was fired, Zoey was able to get him his job back but he realized that he didn't want to work there anymore. He liked being a manager and thinks leaving the company behind after several years was good for his growth and confidence. Season 2 may finally explore Skylar Astin's Max in an entirely new environment. Perhaps he'll get to meet new people who could then be incorporated into the show. Either way, some distance from SPRQ Point is good. He's finally starting to come into his own, a journey which truly began taking shape in the Season 1 finale, and this is just the next step.
4. More Time Spent With Alex Newell's Mo
Alex Newell is fabulous as Mo, Zoey's genderfluid neighbor and friend. Season 1 showcased Mo coming into his own. After struggling a bit with his identity at church, Mo finally starts feeling comfortable in all aspects of his life and begins a serious relationship with Eddie.
However, there can always be more Mo. Seriously, this character is amazing. Season 2 opens the door for more opportunities to showcase the Glee alum's talents. I'm hoping that the series takes it a step further and explores Mo's family life for a bit. Mo spoke highly of his mother in Season 1 and it would be wonderful if we at least got to meet her next season.
3. More Phenomenal Musical Numbers
This is a no-brainer, of course. Zoey's Extraordinary Playlist Season 1 was chock-full of musical numbers that ranged from fun and entertaining, to raw and emotional. The cast does all of their own singing and dancing as well. But, what separates Zoey's Extraordinary Playlist from other musical shows, like the recently cancelled Perfect Harmony, is that the songs are tailored to the characters and story.
I often find myself thinking about the cast's performance of "American Pie" — the scene was seven minutes of perfection — and wondering what else the show's creative team has up their sleeves. Zoey's ability to hear people's "heart songs" is something that has been so well-implemented and masterfully executed. I truly can't wait to see what's in store for Season 2.
2. Zoey Can Cultivate A Relationship With Her Brother and Sister-In-Law
Zoey Clarke has pretty strong relationships with almost everyone on this show. From her mother and boss to Max, Mo, and Simon, Zoey has proven that her heart's open to everyone. That said, Zoey spends the least amount of time with her brother David and his wife, Emily.
Season 2 would be the perfect opportunity to explore what their sibling dynamic is like. Zoey could spend some more of her free time with Emily beyond meddling in their marriage. Plus, now that David and Emily are parents, what's Aunt Zoey going to look like? Will she and David become closer after Mitch's death? Inquiring minds want to know.
1. Love Triangle Progress
Zoey had a lot on her plate in Season 1. In addition to her dad's deteriorating health, work stress and hearing people singing their internal thoughts, Zoey was caught in the middle of a love triangle between best friend Max and work colleague Simon. While Jane Levy shared her thoughts on who she thinks Zoey will end up with, Zoey's Extraordinary Playlist showrunner Austin Winsberg decided to leave the love triangle open-ended ahead of Season 2.
I don't expect Zoey to make a decision so soon after her dad's death, but I suspect she will have come to some sort of conclusion by the end of Season 2. What's more, the renewal gives the writers a chance to expand upon her relationships with both Max and Simon, romantically and otherwise. The show has already done a great job with the love triangle so far and I think it'll be just as thoughtfully explored and handled in Season 2.
Zoey's Extraordinary Playlist Season 2 does not yet have a scheduled premiere date, but stay tuned to CinemaBlend for updates. In the meantime, fans can relive the magic of Season 1, which is currently streaming on Hulu. For more on what to watch in the coming months, be sure to check out our 2020 summer TV premiere guide.
Your Daily Blend of Entertainment News