Jeopardy Featured An Extremely Rare Ending During Ken Jennings' Second Week As Guest Host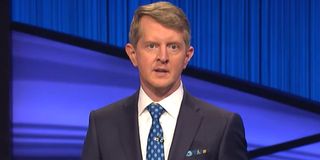 Jeopardy! is moving right along in the new year, as Ken Jennings continues his stint as the first of several guest hosts. While his debut on the popular game show has stirred up feelings in fans regarding late host Alex Trebek, many seem to be pleased with Jennings in the role. So far, things have been pretty normal on the show, though Jennings did experience something very rare as host. During his second week in the position, Jennings presided over a rare ending to a Jeopardy! game.
At the end of a recent episode, the three contestants were each faced with the usual Final Jeopardy! question, which typically determines the winner of the game. However, this particular question led to a draw, as two of the players both answered correctly and ended up with the same amount of cash.
With this, Ken Jennings had no other choice than to impose a rare tie-breaker question. When a tie must be broken in a game of Jeopardy!, the host will offer a final question, and whoever buzzes in first and answers correctly wins the game. In the case of this particular episode, it was Brian Chang who won the day, making him a four-day champion.
Jeopardy! can get intense under normal circumstances, but a tie-breaker can definitely add a lot more suspense to the game. The fact that such an event doesn't happen that often certainly makes it exciting for viewers at home. Ken Jennings can definitely count this tie-breaker as a memorable moment from his hosting stint. Well, this and the time he was trolled by a contestant during Final Jeopardy!.
As mentioned, Ken Jennings has been mostly well-received as an interim host of Jeopardy!, which makes sense given that a number of viewers expressed interest in seeing him become the permanent host. Jennings doesn't appear to be listening to the chatter, though, as he's mostly focused on just conducting the game and honoring Alex Trebek's memory. He seems to take the game very seriously and even kept a special good luck charm handy when hosting his first show.
Jeopardy! has still given no indication as to when a permanent host might be announced but, in the meantime, viewers can expect a number of other big names to take over hosting duties as time goes on, ranging from veteran journalist Katie Couric to NFL quarterback Aaron Rodgers.
Ken Jennings has already managed to bring his unique presence to Jeopardy!, and it'll be interesting to see how the other hosts handle the job as well. Fans will also likely be looking out for more of these rare moments as time goes on. As usual, We'll just have to wait and see how things play out.
Jeopardy! is available to watch in syndication daily.
Covering superheroes, sci-fi, comedy, and almost anything else in film and TV. I eat more pizza than the Teenage Mutant Ninja Turtles.
Your Daily Blend of Entertainment News
Thank you for signing up to CinemaBlend. You will receive a verification email shortly.
There was a problem. Please refresh the page and try again.