YA Author R.L. Stine Reveals Favorite Adaptation From One Of His Books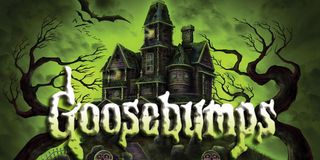 Perhaps one of the best book series to read while growing up is R.L. Stine's Goosebumps. Each book featured a different terrifying story, whether it'd be the iconic Slappy the Dummy, an old camera that isn't what it seems or a headless ghost, the Goosebumps books are arguably some of the most horrifying works of art, even when you're older. There have been multiple adaptations of Goosebumps; a TV series, video games and various films, and author R.L. Stine is revealing his favorite one.
On Twitter, a fan asked R.L. Stine what has been his favorite adaption of one of his stories and the author replied:
The Haunted Mask is the eleventh book in the Goosebumps series and follows Carly Beth, a girl who buys a Halloween mask from a store. However, after putting on the mask, she starts to act differently and realizes that the mask has become her face and is unable to take it off. R.L. Stine says the episode based on the book was one of the best in the series.
The original Goosebumps TV show ran from October 1995-1998 for four seasons on FOX Kids in the United States. The series reran on FOX Family until September 1999 and September 2001. Then every October from 2007-2009, Cartoon Network aired the episodes. All 74 episodes have been streaming on Netflix since 2013.
Last year, it was announced that Goosebumps would be making a live-action TV comeback after the franchise has been making waves in the box office with a film in 2015 and a sequel in 2018, both starring Jack Black as R.L. Stine. The TV series will reportedly be produced by the movie's producer, Neal H. Mortiz. Stine shared more information on Twitter about the new series, saying that a producer and a director have signed on:
R.L. Stine revealed in 2018 that before Jack Black stepped into the role of R.L. Stine in the Goosebumps movies, none other than Tim Burton nearly produced a movie based on the book series. Stine said he had a deal with Fox and Burton was signed on to produce but then nothing ever happened.
The original Goosebumps books were published between 1992-1997, with 64 titles total. Tales to Give You Goosebumps were published between 1994-1997 and contained short stories with six different books. Several more Goosebumps series were published over the next couple of decades, and the books that were used in the Goosebumps TV show were rereleased in 1996-1998 in a series called Goosebumps Presents.
R.L. Stine is also working on a new series for Disney+ that will be an adaptation of his graphic novel Just Beyond and will be written and produced by Seth Grahame-Smith, who wrote Tim Burton's 2012 film, Dark Shadows. Just Beyond is slated to come out on Disney+ later this year.
Your Daily Blend of Entertainment News
Passionate writer. Obsessed with anything and everything entertainment, specifically movies and television. Can get easily attached to fictional characters.