When Nathan Fillion's The Rookie Will Return To ABC With New Episodes After Hiatus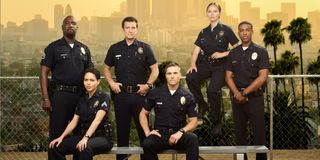 ABC's cop drama The Rookie, starring Nathan Fillion, is moving right along in its third season. However, things are going to be brought to a bit of a stop, as the show will be going on another hiatus. Luckily, we know when the show is set to return, and it won't be too long a break.
The Rookie will be back for new episodes on Sunday, March 28, making the hiatus exactly a month long. While the series has taken a couple weeks off in between some episodes already this season, this marks the longest hiatus yet for Season 3. However, fans will surely be able to hold on for that long as the break doesn't come close to the nearly eight-month gap between Seasons 2 and 3.
The most recent episode, "True Crime," featured former child star and Malcolm In the Middle alum Frankie Muniz as former child star Corey Harris. The episode was different as part of the format was shot like a true crime docuseries, with our favorite LAPD rookies and cops being interviewed for a documentary about Corey Harris, who has now become a cult leader. The episode doesn't necessarily set up the next one, as it was all mostly a standalone story. However, it does give fans a sense of how creative the show could get with the remainder of the series. You can check out what's to come down below:
In the trailer for Episode 8, "Bad Blood," Lucy asks out a fellow officer and John and Nyla work a kidnapping case. John finds the suspects and victim, telling Nyla he thinks they're running out of time. The two go in, with guns up. Meanwhile, Jackson and Sergeant Grey are responding to a call, but something happens to Sergeant Grey and he goes down, Jackson frantically goes on the radio to say there's an officer down. It's not clear exactly what happens to Sergeant Grey, but he's been more prominent this season since he and Jackson teamed up to take down Officer Stanton. We'll have to wait and see what happens to Sergeant Grey, but fans now have something to theorize over for the next few weeks.
But until that new episode arrives, ABC will be airing Who Wants to Be A Millionaire? in The Rookie's timeslot. The network has been taking a similar approach with Station 19 and Grey's Anatomy, airing the celebrity edition of Wheel of Fortune while the series have been on a winter hiatus. The TV schedule for the 2020-2021 season has been all over the place for all networks, due to COVID. Many shows have been taking a week or two off in between episodes in order to keep up with production delays, and many shows had delayed premieres, including The Rookie.
While fans have likely been disappointed by the many breaks their shows are taking, it does make sense that a break does happen every so often to factor in delays and stretch out the season. And by the time The Rookie is back with new episodes, fans will be more than eager to dive back in.
Season 3 of The Rookie returns on Sunday, March 28 at 10 p.m. ET on ABC.
Passionate writer. Obsessed with anything and everything entertainment, specifically movies and television. Can get easily attached to fictional characters.
Your Daily Blend of Entertainment News
Thank you for signing up to CinemaBlend. You will receive a verification email shortly.
There was a problem. Please refresh the page and try again.