The Blunt Reason One Former Survivor Contestant Is In 'Limited Communications' With His Cast Now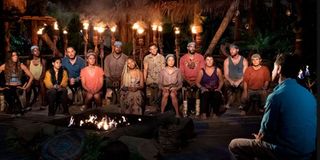 Survivor: Island of the Idols remains one of the more controversial seasons of the reality competition show to date. The island, the idols and the dramatic twist of veteran players as mentors pale in comparison to what eventually played out. In fact, one of the season's former contestants revealed an incredibly blunt reason why he has "limited communications" with his cast now.
Vince Moua only lasted 8 days in Survivor: Island of the Idols. But in that time, he still managed to swipe a hidden immunity idol from the rival camp in the middle of the night and get precious tutelage from veteran players Sandra Diaz-Twine and Boston Rob Mariano. He was ultimately voted out by his tribe but that is not the reason why he doesn't speak to his former castmates these days. Their "limited communications" have a lot more to do with what happened behind the scenes following the Dan Spilo sexual harassment allegations. Moua told EW:
Survivor: Island of the Idols was incredibly provocative from the outside looking in, but it is shocking to learn that the huge conversation surrounding boundaries and gender dynamics was also going on between the cast at the time. Even more astonishing is that the conversation has prevented Vince Moua from pursuing further contact with his former castmates.
During their season, player Dan Spilo was accused of inappropriate touching by several female players and CBS was subject to harsh criticism for not having protocols in place to take him out of the game sooner than he was. During the height of the MeToo movement, these occurrences solidified the always true adage that Survivor is a microcosm, or reflection, of life.
The scandal also created a widely polarizing reaction from fans that clearly is reflected in Vince Moua's own experience with his cast. His claims that some members of the cast were more willing to show forward support for Dan Spilo over the women who accused him is the proverbial cherry atop a season that seemed unprepared to tackle the nuances of the issue with any sort of grace.
Freelance writer. Favs: film history, reality TV, astronomy, French fries.