Will Grey's Anatomy Finally Wake Meredith Up For Good In The Next Episode?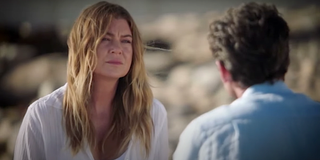 Spoiler alert! This article contains spoilers for Grey's Anatomy, Season 17, Episode 12, "Sign O' the Times" as well as the promo for Episode 13, "Good as Hell."
After Meredith regained consciousness in Episode 11's crossover event "Sorry Doesn't Always Make It Right," the last thing fans like myself were expecting on Grey's Anatomy this week was to not see Meredith at all — awake or on her beach — in Episode 12, "Sign O' the Times." But the promo for next week promises more MerDer, and it appears Grey's might finally be ready to answer the question we've been waiting for for a long time — will Meredith wake up?
"Sign O' the Times" focused primarily on police brutality and the protests that followed the death of George Floyd. Just as the show has brought the real-life COVID pandemic to our screens, it's taking on the equally poignant and emotionally devastating subject of racial tensions the country has been fighting. Grey's Anatomy and Station 19 — which also touched on Floyd's death at the end of the episode "Here It Comes Again" — should come with trigger warnings at this point.
So in exploring how many of the doctors were responding to the marches, while still fighting the pandemic, there was little time made for Meredith. We were told she was stable, and she spent some time in the hyperbaric chamber, but honestly, after last week and "the moment we'd all been waiting for," when she successfully came off the ventilator, I thought we might be getting back to normal, if "normal" is able to still exist at this point.
Take a look at the promo for "Good as Hell," to see Meredith and Derek getting cozy on the beach — for better or worse.
As with most of Meredith's beach conversations, it seems like she's talking to Derek about if she wants to go back or stay on the beach with him (which, of course, means she dies). There don't seem to be a whole lot of rules to the beach, and nobody's even sure if Meredith has a say in the matter. But I feel it's gone on long enough (too long?) and this episode will finally either wake Meredith up for good, or (I hesitate to even type the words) she'll die.
Strangely, even though Meredith and Derek are the full focus of the "Good as Hell" promo, the episode description doesn't even mention them.
I don't understand the disconnect between Mr. and Mrs. McDreamy being the sole focus of the promo, but not mentioned at all in the episode description. Is it possible MerDer will have a smaller part in "Good as Hell" than the promo would lead us to believe? Grey's Anatomy has definitely been guilty of over-dramatizing its promos, but there's absolutely no way the show doesn't devote a healthy chunk of the episode to Meredith and Derek, in what is possibly our last dose of McDreamy. Right?
Have your ferry boat caps, Post-Its and plenty of tissues ready next week, when Grey's Anatomy returns at 9 p.m. ET Thursday on ABC, following Station 19 at 8 p.m. ET. And in the meantime, check out our 2021 TV schedule so you don't miss your other favorites!
Mom of two and hard-core '90s kid. Unprovoked, will quote Friends in any situation. Can usually be found rewatching The West Wing instead of doing anything productive.
Your Daily Blend of Entertainment News
Thank you for signing up to CinemaBlend. You will receive a verification email shortly.
There was a problem. Please refresh the page and try again.