Fuel Your Passions With CuriosityStream, The Top Streaming Service For Inquisitive Minds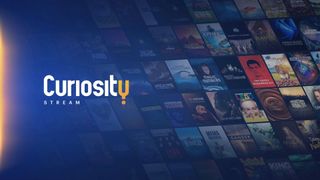 The wonderful thing about streaming services is that they grant you instant access to a vast library of TV and movies. The downside is that you often end up bingeing on lightweight boxsets and attention-grabbing blockbusters. And while there's nothing wrong with good old-fashioned entertainment, wouldn't you sometimes like to take in something a little more thought-provoking?
What you need is CuriosityStream: a streaming service packed exclusively with documentaries that'll tickle your inquisitive nature, fire your imagination and show you things you never dreamed existed. Whether you're intrigued by history, excited by space, thrilled by the natural world or captivated by science, CuriosityStream has thousands of shows to inform and entertain you, presented by passionate experts who know their subjects and want to share them with you.
Unlike other streaming services, CuriosityStream will barely dent your wallet. A subscription will cost you just $20/year or $1.67 per month, and with new content added weekly you'll never run out of series, shows, feature-length deep dives and bite-size shorts to quench your thirst for knowledge.
Want a taste of what's waiting for you on CuriosityStream? We've picked out a few of our favorites from across a range of subjects; whatever your tastes there should be something here to pique your interest, and there's much more where that came from.
History Comes Alive
From digging around ancient ruins through to getting a clear view of more recent events, there's a lot of history out there to explore on CuriosityStream. So why not start with the big man himself, George Washington? Obviously you already knew that the thing about the cherry tree was completely made up, but there's plenty more about him that you didn't know, and over four episodes George Washington: Father of a Nation, produced by Mount Vernon will take you through his part in the revolutionary war and on to his role in creating the US Constitution.
Need something lighter? The History of Home, narrated by Nick Offerman, takes you on an entertaining journey to discover exactly what makes a house a home. And if you want to look further back in time, The History of Weapons examines how the technology of weapons has advanced since the beginning of human existence, while Out of the Cradle explores how humanity's earliest ancestors became the most successful species on Earth. Beyond that there's so much more to explore; just browse CuriosityStream's History collection and you'll be sure to strike gold in short order.
Race Into Space
Space has intrigued us ever since we've had the capacity to look into the sky and wonder what's out there, and it's amazing to think that it's only been able to start physically exploring it for the past 60 years. It was the Space Race and the 1969 moon landing that really seized the public's imagination, and with eyes on a return to the moon you'll definitely want to check out Destination: Moon, a five-part series that looks at the challenges – and the potential rewards – of heading back there.
Beyond the moon, why not take in A Traveler's Guide to the Planets, which over the course of six episodes tells you everything you need to know about our neighbors throughout the solar system. Cosmic Front, meanwhile, takes a wider view, looking at everything from terraforming Mars through to black holes, dark matter and even the possibility of extraterrestrial life. And CuriosityStream's own Curious Minds: Space talks to top space experts to bring you stories looking at space exploration from all manner of angles. Find even more in CuriosityStream's Space collection.
Explore The World Of Nature
Whether you're looking for adorable animals, fabulous flora or simply breathtaking locations, CuriosityStream's nature documentaries are guaranteed to deliver. And yes, there are plenty of shows featuring the grandpa of nature docs himself, Sir David Attenborough. Why not start out with David Attenborough's Light On Earth, which neatly answers the question: what are fireflies all about? If you've ever wondered how animals can produce their own light, get ready for an illuminating trip into the weird world of bioluminescence.
Another weird aspect of the natural world that you might not think about is fungus, and yet it accounts for some of the oldest and biggest life forms in existence. Now you're intrigued; find out more in The Kingdom: How Fungi Made Our World. Elsewhere, Mike Rowe takes you on a two-part journey to a remote volcanic archipelago with its own unique wildlife in Wild Galapagos, while CuriosityStream's seven-part series, The Secret Lives Of Big Cats, gets you close up and personal with lions, tigers, snow leopards and more fantastic felines. And there's so much more nature to discover; head for CuriosityStream's Nature collection.
Let's Do Science
What kind of science are you into? CuriosityStream is packed with documentaries covering pretty much every scientific discipline you can think of. But for science at its most explosive, you can't go wrong with Nigel Latta Blows Stuff Up. Over eight episodes Nigel Latta subjects himself to an assortment of experiments that you really shouldn't try at home, all to find out about subjects like gravity, fire, weather and of course explosions. Science doesn't get much more dramatic than this..
Does math count as a science? Find out with Dr Hannah Fry in Magic Numbers, in which she explores the mystery of math and what it can tell us about the universe. If that's not challenging enough for you, how about some quantum physics? Over three episodes of Exploring Quantum History With Brian Greene you'll learn about the discovery of quantum physics, how theories have evolved and where it's all going. And in The Genetic Revolution you can follow a group of scientists who are using gene-editing technology to rewrite the source code of life. It's guaranteed to stir the grey matter; find even more in CuriosityStream's Science collection.
And there's more...
That's just a tiny taste of what you can find on CuriosityStream. As well as science, nature and history, you'll find titles covering technology, society, lifestyle and much more, with many titles in Ultra HD 4K. CuriosityStream is available worldwide to watch on TV, desktop, mobile and tablets, over the web and via plenty of Smart TV platforms. To find out more and sign up, head for the CuriosityStream site.
The above article was produced in paid consultation with CuriosityStream. That being said, we checked out the streaming service and really liked it; so, if you're looking for thought-provoking programming, please consider giving it a try.
Your Daily Blend of Entertainment News
Thank you for signing up to CinemaBlend. You will receive a verification email shortly.
There was a problem. Please refresh the page and try again.