Dancing With The Stars Pro Keo Motsepe Picks His Worst Partner - And Has A Really Good Reason For His Pick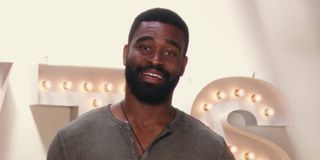 While we still have a while until the 30th season of Dancing With The Stars, we're still learning more about the show, like Cheryl Burke's recent apology to Ian Ziering about some particularly nasty comments she made about him years ago. Now we have some juicy news from longtime pro dancer Keo Motsepe, who recently spoke about who he considers his "worst" partner on the ABC show.
Keo Motsepe spilled some secrets recently and while talking about which of his partners has struggled the most, he revealed to US Weekly that it was legendary singer Chaka Khan. (Does anyone else start spontaneously singing I Feel For You when hearing Chaka Khan's name?) He touched on the challenges of that particular season, Season 21, saying:
Starting rehearsals at 11 p.m. certainly does sound like a challenge! It must have been exhausting dancing through the late hours of the night, especially right before camera blocking and the live show. The two dancers didn't make it too far into the season, though; they were the first couple eliminated, finishing in 13th place.
The Dancing with the Stars pro also touched on other challenging seasons, like Season 20 (his second season as a pro) when he was paired with model Charlotte McKinney. He said McKinney hated rehearsals the most out of all his partners, as she didn't realize how much preparation actually had to go into the process each week. Those two finished in 11th place that season.
The pro dancer has certainly had more successful seasons, such as with Full House's Jodie Sweetin and Harry Potter's Evanna Lynch. In fact, Keo Motsepe made it all the way to the finale with Lynch, finishing in 3rd place (though, in my opinion, they should have at least finished in 2nd).
We'll have to wait until Dancing With The Stars premieres this fall to see Keo Motsepe and his fellow pros back in the ballroom, though the pro dancers haven't yet been announced for Season 30, and the show has certainly made some shocking omissions from the pro line-up (and hosting line-up!) in the past. But fingers crossed, we'll see him back. Though, I, for one, would still like to see Tom Bergeron return as a host, like he teased recently (but he then dashed those hopes a few days later).
So will Tyra Banks be returning as host? And Derek Hough as a judge? We don't have those answers yet. We also don't yet know exactly when Season 30 will debut, but if Dancing With The Stars sticks to a similar schedule as past years, it should be back on our screens on Monday nights in September.
Your Daily Blend of Entertainment News
Thank you for signing up to CinemaBlend. You will receive a verification email shortly.
There was a problem. Please refresh the page and try again.