The Cool Connection Between 9-1-1: Lone Star's Season 2 Finale And American Horror Story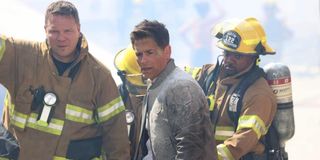 Spoilers ahead for the 9-1-1: Lone Star Season 2 finale, "Dust to Dust."
The Season 2 finale of 9-1-1: Lone Star brought in a lot of action to Fox's primetime lineup, even if most of it got quite dirty. A massive dust storm made its way to the city of Austin, Texas, and the massive event raised the question of just how the crew managed to make it look like a 35-mile wide dust storm was causing chaos in the Texas capital, all while filming in sunny Los Angeles. Co-creator and showrunner Tim Minear revealed the crew member largely responsible for the episode, and the surprising connection it has to fellow Ryan Murphy series American Horror Story.
Ryan Murphy, who made his rise as the co-creator of shows such as Glee and American Horror Story (along with an extensive filmography of movies and other series), is also behind both 9-1-1 and its spinoff 9-1-1: Lone Star. So while fans might not think it too odd for both 9-1-1 series to share props and equipment, it might be more surprising to learn that finale director Bradley Buecker used the same smoke machine to create Lone Star's dust-filled Austin that he'd used in adding atmosphere to the exterior shots in American Horror Story: Apocalypse. Now there's a crossover event I'd like to see.
Showrunner Tim Minear told TVLine why Bradley Buecker, who helmed 22 different episodes of American Horror Story (including Apocalypse's premiere and finale), was perfect to direct this particular Season 2 ender.
While the original 9-1-1 series is known for its big and crazy season premieres and finales, 9-1-1: Lone Star did not hold back with its own sophomore capper. As the majority of the 126 was split up following an explosion at the firehouse, the team came together during the aforementioned dust storm that engulfed the city. It was like nothing they'd ever seen before and the flying dust kept things intense from beginning to end.
Knowing how the crew managed to make the dust storm might make fans appreciate everyone's efforts even more, knowing how much hard work they've put in, and not just in making off-screen connections to other Ryan Murphy shows. The tie-in to AHS: Apocalypse is also a major plus, of course. Meanwhile, the real star of the hour had to be Mateo, the 126's probie. He not only took charge and set up a triage in the middle of the street by himself, but he also stood up to his temporary captain of the 129, proving that he is a hardcore firefighter through and through.
The ending of 9-1-1: Lone Star's finale was a different change of pace, and thankfully not because AHS' son of Satan was causing trouble. After the dust storm, the 126 went back to the firehouse to try to clean things up, since city workers had been pushing back on it. However, that's when Billy Tyson came up and announced that due to financial cutbacks, the 126 would be shutting down permanently. The news came as a shock to not only the team, but also to fans watching. And, of course, everybody became angry at Billy, even as some thought he was finally coming around to being a good person. Now, though, fans won't know what happens next until Season 3 pops up somewhere during midseason 2022.
What will happen to the 126 and will there be any more connections to AHS or other Ryan Murphy series? (My money's not on Popular.) Find out when 9-1-1: Lone Star returns next year on Fox. In the meantime, the first two seasons are streaming on Hulu, and the upcoming 2021 Summer TV schedule has tons of great options to keep one busy in the interim.
Your Daily Blend of Entertainment News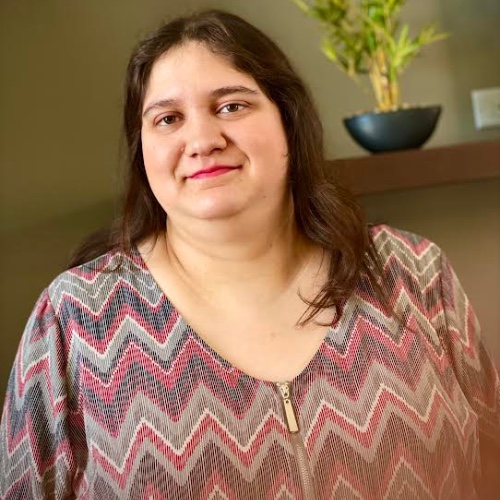 Passionate writer. Obsessed with anything and everything entertainment, specifically movies and television. Can get easily attached to fictional characters.