How Many Viewers Ellen DeGeneres Truly Lost Between This TV Season And Last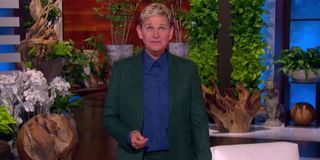 It's been a long year for most, but perhaps an especially long year for Ellen DeGeneres, who faced backlash followed by a loss of viewership eyeballs and advertising revenue during the most recent TV season. Toward the end of it all, Ellen DeGeneres decided to call it quits on The Ellen Show, though she has one more year in her contract. However, if you've wondered just how bad things got during this season, show many viewers Ellen truly lost has been revealed.
Reports over the last several, several months have noted dips in Ellen's ratings, but numbers from just a week here or there don't really give the full picture. Now that the season has progressed on, we're getting a firmer picture of the numbers. According to a recent report over at the New York Times, Ellen DeGeneres' daytime talk show has only averaged about 1.4 million total viewers an episode during the 2020-2021 TV season.
That's a whopping 44% decline from her 2.6 million viewership average the season before. Even a bout with COVID-19 didn't stem the tide.
Earlier this past year, The Ellen Show kicked off its return to television down 38% in overall viewership and average about 1.66 million total viewers that week. The numbers continued to fall as the season progressed and while the drop leveled out somewhat, by the spring, Ellen DeGeneres' show was averaging about 900,000 viewers an episode during the first two weeks of April.
Honestly, given the recent April numbers and given The Ellen Show average only 1.66 million viewers during premiere week -- when hype for TV's return is typically huge, I actually was expecting slightly worse averages than what I'm seeing here. What may be even more interesting, however, is the loss in revenue.
According to the report, advertising revenue on The Ellen Show is also majorly down, though that hasn't seen quite the same decline, percentage-wise, that the ratings have. Per numbers from Kantar, The Ellen Show is down 22% in ad revenue during the most recent TV season compared to last season.
Last season, the daytime series brought in $163.8 million. This TV season, the show only brought in $127.6 million -- still a hefty chunk, just not quite as hefty as before. We've seen advertisers paying more for smaller viewership shares in recent years as a percentage of the audience switches to streaming and another switches to DVR. Plus, The Ellen Show has a popular YouTube page and a popular EllenTube site in which additional advertising can be directed at consumers, which could both help explain why viewership losses don't match revenue percentage losses. Still The Ellen Show did see layoffs this season.
Regardless of all of this, there had been hints Ellen DeGeneres was thinking about retiring even before a wave of bad press wafted her way in 2020. (After 3,000+ shows, even if she was on the top of her game it would be hard to blame her.) Yet, it's difficult to tell how much this long past year impacted the longtime host's decision to leave after her contract is up. In the meantime, the narrative surrounding her exit, I would have to guess, is not exactly what Ellen was hoping for.
The (maybe) good news? She has one year left to turn things around or go gentle into that good night. We'll keep you posted.
Reality TV fan with a pinch of Disney fairy dust thrown in. Theme park junkie. If you've created a rom-com I've probably watched it.
Your Daily Blend of Entertainment News
Thank you for signing up to CinemaBlend. You will receive a verification email shortly.
There was a problem. Please refresh the page and try again.