Why I'm Kind Of Bummed Out About Loki's Wednesday Releases On Disney+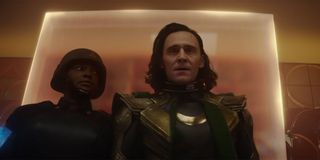 Disney+ may not be the binge-watching disrupter that Netflix is, but that's actually one of the reasons I love the streaming service so much. One of the best things about television for me is becoming a fan of a series and being able to talk about its water cooler moments. Projects like Disney+'s Loki definitely fit the bill, but after Week 1's "Glorious Purpose" I'm finding myself bummed out one aspect of the series: the show's Wednesday release.
Disney previously has released its original Marvel programming on Friday mornings in the early a.m. and I mean really early-- 12 a.m. PT. So the only people catching new episodes of Falcon and the Winter Soldier and WandavVision right when they were released were the night owls. Essentially, now Disney+ has shifted the release for Loki from Fridays to Wednesdays at the same time. It's really not a huge change but I hate it for two reasons:
1. It feels like this change was at least partially made so Disney wasn't releasing Black Widow on the same day as a key Loki episode, which, at least to me, gives off the appearance Black Widow is the prestige property, which I disagree with.
2. Wednesday is a much higher competition TV day, and I liked the Marvel shows giving us an appointment television show on a Friday.
Let's address the appointment TV comment first. There are shows we all DVR and casually watch at our leisure, and there are shows we build into our weekly schedule. Like Game of Thrones or Breaking Bad or whatever your favorite is, WandaVision, Falcon And The Winter Soldier and now Loki have become appointment TV for many. Having something I was so excited about watching on Fridays was a delight. Now that Loki has moved to Wednesdays, it's competing with more programming, including fellow streamer The Handmaid's Tale, and if Marvel keeps its Wednesday release schedule moving forward, its shows are going to be competing with some of the most popular network TV offerings like Survivor, The Conners and The Masked Singer. That's not to say Loki won't compete on Wednesdays. It will. But the TV conversations on Fridays have been dominated by Disney+ for awhile now, and I'm going to miss that (no offense to The Bad Batch, the Star Wars animated show currently running on Fridays).
Then of course there's the movie element. Disney has not outright said Loki is shifting because movies are coming back, but that feels like it has to be part of the explanation here. Black Widow is set to be released on July 9. Given Loki consists of six episodes, that will put the penultimate episode and the finale episode out the Wednesday before and the Wednesday after Marvel's new big screen adventure starring Scarlett Johansson and Florence Pugh hits theaters.
I get why Marvel didn't want to possibly overshadow the Black Widow buzz with some key moment that happened in Loki, but it's frustrating to me that the solution to that problem means moving Loki to Wednesdays. Disney had control over when it slotted Black Widow in. I realize release dates at the box office are a mess right now because of Covid and Black Widow itself moved, but by moving Loki to Wednesdays, it gives off the appearance, at least in my mind, that movies are the main attraction and the TV shows are the filler content to get us there. I don't think that's going to be the case long-term, and I'm not even sure it's the case now. Anecdotally, I know more people who were excited about Loki than the upcoming Black Widow, though even if that's the case, Marvel obviously has its reasons for moving the show. Let's discuss those.
The Advantage Of Running Loki On A Weekday
The first and most obvious reason for moving Loki is the competition with other Disney properties. I definitely agree it would have been a weird move to throw a key episode of Loki up the same day as you're asking people to hit up theaters to see Black Widow. Fans, especially the type of casual fans who Marvel needs to see Black Widow, only have a limited amount of time they prioritize for entertainment. You don't want to be competing with yourself. Also, Star Wars content has also historically run on Fridays with The Mandalorian; so, it makes some sense that you would put The Bad Batch there, especially as Disney+ is betting big on Star Wars shows moving forward.
In addition, Wednesday, while filled with way more competition, is also a night more people traditionally watch television. I loved having Loki on Marvel's old TV release schedule because it created appointment television on Friday. That doesn't typically exist because most networks prefer not to put prestige programming on Friday or Saturday because more people are out and about and less are watching TV. It's entirely possible Marvel sees the same thing, and while it was able to generate a lot of conversation on the weekend, maybe it thinks it'll generate even more during the week, especially during the summer when there are less total shows airing. That might be frustrating for me personally, but I can't blame Marvel for recognizing the same trend so many other networks have.
Of course what exactly is going through Disney's mind is unclear because the powers that be haven't said a ton about the decision. They have released a promo and Bob Chapek has talked a little, though not in as much detail as we would like. Here's a sense of what Disney has revealed publicly...
What Disney Has Said About Loki Shifting On Disney+'s Streaming Schedule
Initially, Tom Hiddleston made the announcement that Loki would be shifting to Wednesdays, noting "Wednesdays are the new Fridays" in a fun video for the fans.
Disney itself hasn't really spoken in depth about the shift other than to acknowledge the "must-watch" nature of Loki and other Disney+ show in a recent earnings call, with Bob Chapek noting about Disney+:
I'm guessing shifting to various weekdays will be the new normal for Disney+ moving forward, but I'm hopeful the subscription streaming will eventually land on at least one big night where it can dominate. We'll have to wait and see. For now, it's certainly one trick from the God of Mischief I'm not particularly fond of.
This poll is no longer available.
Your Daily Blend of Entertainment News
Reality TV fan with a pinch of Disney fairy dust thrown in. Theme park junkie. If you've created a rom-com I've probably watched it.