Incredible Hulk Icon Lou Ferrigno Has Some Advice For Disney+'s She-Hulk Show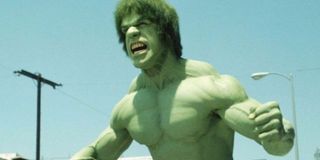 There may have been a number of iconic and memorable renditions of Bruce Banner and The Hulk over the years, with Mark Ruffalo being Marvel's current portrayer of both comic characters, but there never has been a live action She-Hulk to make it out of production. With the upcoming Disney+ series She-Hulk finally bringing the character to life, the OG Incredible Hulk Lou Ferrigno has spoken out and dropped some advice for the new series.
As it stands, Lou Ferrigno is the only actor to have played the Hulk in a live-action TV series (and a number of made-for-television films). Given his vast array of experience, he could certainly help guide Tatiana Maslany in her portrayal of She-Hulk in the upcoming series. Though what he recently had to say about the show was mostly aimed at how Marvel Studios should depict the character and her corner of the MCU. Here is what The Incredible Hulk star had to say in an interview with Too Fab, exactly:
Lou Ferrigno held the title of the Hulk from the late '70s to the early '90s and, if you are old enough to remember when he portrayed the character, you know that there was no CGI involved in his transformation - just some major green paint application. Ferrigno was so jacked that he looked impressive without all the extra CGI so, at the time, that approach actually worked well.
It would be pretty difficult for the MCU to accomplish a fraction of what it has without CGI, and that pretty much goes double for a lot of The Hulk's contributions in the franchise. It would definitely seem that Lou Ferrigno hopes that the upcoming She-Hulk series tries to steer clear of unnecessary use of the technology. Some fans may actually agree with him, as a number of them have criticized some seemingly silly CGI use in the past.
Even though Lou Ferrigno voiced Hulk in early MCU films and even appeared through a live-action cameo, he is not shy about expressing his distaste for some of the choices Marvel has made concerning his beloved character. Even so, he's got to admit that times have changed quite a bit since he played the character and that CGI is sometimes pretty necessary. I mean, Mark Ruffalo isn't as buff as Ferrigno was and Tatiana Maslany is no bodybuilder, either (although Marvel actors tend to become pretty built the longer they are with the MCU). So without CGI, their Hulked out selves wouldn't be as incredible.
While story is absolutely the most important thing to Lou Ferrigno, and really most of us, hopefully he'll be able to see the story through the CGI that will most certainly be present in She-Hulk. The show is currently set to hit Disney+ sometime in 2022.
Constantly thinking about books, coffee, and the existential dread I feel from Bo Burnham's Inside. While writing I'm also raising a chaotic toddler, who may or may not have picked up personality traits from watching one too many episodes of Trailer Park Boys.
Your Daily Blend of Entertainment News
Thank you for signing up to CinemaBlend. You will receive a verification email shortly.
There was a problem. Please refresh the page and try again.