Why The Vampire Diaries Probably Couldn't Be Made Today In The Same Way, According To The Creator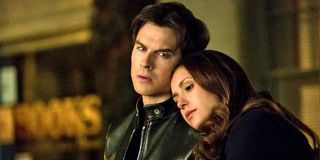 The Vampire Diaries only ended a few years ago but it seems like it's been forever. While the TVD universe is not yet dead, with spinoff Legacies still going strong after the end of The Originals, creator Julie Plec doesn't think the show could be made the same way today as it was.
In an interview with EW, Julie Plec brought up the ever so popular "bad boy trope" that is included in many teen dramas of the past and present. Since Nina Dobrev's Elena and Ian Somerhalder's Damon were a big part of the show, Plec brought up what the characters' relationship was really like and why it wouldn't be as celebrated much if the show was made today:
Delena was one half of The Vampire Diaries' legendary love triangle, with the other half being Stelena, comprised of Stefan and Elena. Even though Damon and Elena weren't exactly the best at times, with Damon's bad boy side, she did bring out the best in him, something that's common among shows. Girl meets bad boy, bad boy falls in love with girl, girl brings out bad boy's sweet side and everything changes.
Though perhaps Julie Plec is right. The bad boy trope is toxic as it presents this type of relationship as healthy and even romantic, when in reality it isn't. The relationships went back and forth, with characters changing for better or for worse. When the show came to an end, there was only one true endgame in sight: Damon and Elena. Even in Legacies they are apparently still together.
If The Vampire Diaries was being made today, and there was no bad boy trope, would there still be some type of Damon Salvatore that is still Damon Salvatore? While so many fall for the bad boy who is just trying to find his way and the one person who gets him, it is interesting to think about TVD without the Damon we all know and love. You can relive his journey as the show's #1 bad boy with all eight seasons of The Vampire Diaries streaming on Netflix now.
Your Daily Blend of Entertainment News
Passionate writer. Obsessed with anything and everything entertainment, specifically movies and television. Can get easily attached to fictional characters.