Could Star Trek: Picard Get A Musical Episode? Hamilton Vet Isa Briones Has A Promising Response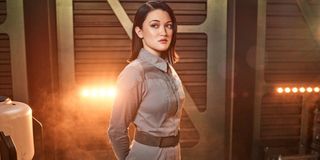 The last several years have proven that Star Trek can be much more than a science-fiction drama, but most fans already knew that. What many fans want to see is Star Trek expanding into new territory, and even attempting some interesting endeavors, such as a musical episode. Given that, it's no surprise fans who attended the 55-Year Mission Tour convention (known as STLV to some) asked about it during a Star Trek: Picard panel. What is surprising, however, is that Isa Briones had some interesting things to say on the matter, as she made it sound as though it's not out of the realm of possibility.
When about the potential of a Star Trek musical, Isa Briones surprisingly confirmed there had been discussions about exactly that. Here's what the Star Trek: Picard and Hamilton veteran had to say about the possibility of a Star Trek musical and potentially bringing in a celebrity (and fan of the franchise) in from the music world:
The idea of Lin Manuel-Miranda doing a Star Trek: Picard musical episode, during what feels like the prime of his career, is just incredible to imagine. Of course, he's also a very in-demand talent in Hollywood right now, so the idea of him stepping aside to direct/write/choreograph a musical episode of Star Trek feels like a big ask. But hopefully, he's a big enough fan that he's willing to commit to something like that. Needless to say, after Isa Briones' comments, I'm really hoping this comes to fruition.
Such an episode could definitely be plausible, especially considering that Star Trek: Picard heads into Season 2 with Q as the main antagonist. Q constructed some incredibly elaborate and unbelievable scenarios for Jean-Luc Picard over the years, so it's not a stretch to think that he'd use his powers to force everyone into a musical for his own amusement. I mean, Star Trek has even done episodes that depict people in the future acting like prohibition-era gangsters. So a musical would hardly be the weirdest thing the series has done.
Alex Kurtzman has talked about his willingness to allow a Star Trek musical episode, though his response wasn't in reference to Picard specifically. During an appearance on The Pod Directive back in June, Kurtzman re-iterated that a musical episode was something he'd like to see happen. His suggestion, though, was that Star Trek: Short Treks would be the ideal home for such a premise, which is hard to deny given each episode is a one-off tale unchained from the other shows. It seems like the pieces are in place for a musical to happen, but it's going to come down to where and when the powers that be pull the trigger.
Star Trek: Picard is expected to air on Paramount+ in 2022. Fans are understandably excited to see the series return, though the recent reveal of another in-development series has led some to wonder how much longer the show might last. Hopefully, long enough to do a musical episode!
Mick likes good television, but also reality television. He grew up on Star Wars, DC, Marvel, and pro wrestling and loves to discuss and dissect most of it. He's been writing online for over a decade and never dreamed he'd be in the position he is today.
Your Daily Blend of Entertainment News
Thank you for signing up to CinemaBlend. You will receive a verification email shortly.
There was a problem. Please refresh the page and try again.