The Wire: Dominic West's Best McNulty Moments From The Series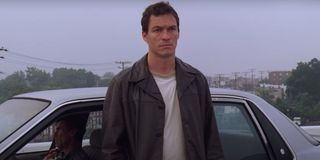 Anyone who has watched David Simon's crime epic The Wire is well aware of all the memorable and fully-realized characters that made it one of the best shows of the 21st Century. Michael K. Williams' Omar Little and Idris Elba's Stringer Bell were involved in some of the show's best moments, but there is one person in The Wire cast that was often at the center of the sprawling drama that encompassed essentially every corner, dock, school, and government office in the City of Baltimore: Dominic West's Jimmy McNulty. Over the course of the show's five seasons, the embattled and sometimes morally ambiguous detective gave audiences plenty of moments to chew on with some of the richest scenes you'll see in an HBO Drama.
McNulty's First Scene (Season 1, 'The Target')
In college, a friend lent me The Wire Season 1 DVD boxset and told me the show would change my life. I popped the first disc in when I got home and witnessed one of the greatest character introductions in the history of television: Jimmy McNulty interviewing a potential witness to the murder of Omar Isaiah Betts, a.k.a. Snot Boogie, who presumably attempted to rob the neighborhood dice game.
This brilliant scene tells us everything we need to know about McNulty's character, The Wire, and Baltimore. When McNulty asks why everyone let Snot Boogie come around if he always robbed them, and the witness says "Got to, this is America, man," McNulty just sits there and looks around with this emotive smirk painted on his face that says, "Welcome to The Wire."
The 'Fuck' Crime Scene Investigation (Season 1, 'Old Cases')
The primary target of The Wire Season 1 is the Barksdale drug-dealing organization and its leaders: Avon Barksdale (Wood Harris) and Stringer Bell. When digging through an old, unsolved murder in the episode "Old Cases," Jimmy McNulty and his homicide partner, Bunk Moreland (Wendell Pierce), gave audiences what is now considered one of the greatest scenes in modern television history (at least by some of us) that is commonly referred to as the "Fuck" scene.
Over the course of this nearly five-minute scene, McNulty and Moreland say "Fuck" and only "Fuck" dozens of times as they dig through the vacant apartment where a woman was shot and killed. It boils down to two detectives using a single expletive with so much emotion, frustration, and subtext, you know exactly what they're saying even though they just say "Fuck."
McNulty Calls Out Rhonda Pearlman (Season 1, 'The Hunt')
As the wiretap operation into the Barksdale organization continues in The Wire Season 1, Kima Greggs (Sonja Sohn) is shot and nearly killed. In the immediate aftermath, Jimmy McNulty and assistant state's attorney, Rhonda Pearlman (Deirdre Lovejoy), visit Barksdale's attorney, Maurice Levy (Michael Kostroff), to get him to convince the gunman to turn himself in. McNulty, being the lovable self-righteous prick he is, calls the ASA out after the meeting doesn't end the way he wanted and unloads on her and all the other career-driven attorneys in the City of Baltimore.
Out on the street, McNulty tells Pearlman that if half of the "fuckers" in the state's attorney's office would be less concerned about the next stage of their career and more worried about actually trying cases, the city wouldn't be in the shape it is in now. Was it the right thing to say? Probably not. But, does Jimmy McNulty care? Definitely not.
Brianna Barksdale Confronts McNulty Following Her Son's Death (Season 3, 'Moral Midgetry')
Following the death of D'Angelo Barksdale (Lawrence Gilliard Jr.), everyone thinks it was just suicide by a depressed prisoner. Jimmy McNulty (being Jimmy McNulty) isn't convinced, and later comes to the conclusion that it was, in fact, a murder, but a murder that would never be solved. With his findings, McNulty calls D'Angelo's girlfriend instead of his mother, who later finds out and is none too happy.
When Brianna Barksdale (Michael Hyatt) confronts McNulty about his findings in the Season 3 episode "Moral Midgetry," the grieving mother asks why he didn't call her instead. After hearing what she has to say, the detective comes out swinging with an impassioned speech about how she didn't help D'Angelo get out of the situation earlier, and that he was "looking for somebody who cared about the kid."
'I'm Tired, Bunk' (Season 3, 'Mission Accomplished')
By the time The Wire Season 3 wrapped up, Jimmy McNulty was a mess of a man. Alcohol problems, issues with members of his unit, and a despondency following the death of Stringer Bell, all help the detective make a decision to leave the Major Crimes Unit and become a beat cop instead working on Baltimore's west side. This path to change really kicks off late one night after the bars close down, and McNulty and Bunk are having a nightcap on the tracks like so many nights before. But, when Bunk says he wants more as he throws down an empty bottle, McNulty says, "I'm tired, Bunk."
Although only three words, this statement sums up how McNulty is feeling about everything in his life and shows that he's ready to make that change, whatever it may be. After this scene, McNulty ties up all his loose ends and starts a new life as a beat cop and one with Beadie Russell (Amy Ryan).
McNulty And Bodie At The Arboretum (Season 4, 'Final Grades')
Preston "Bodie" Broadus (JD Williams) and Jimmy McNulty crossed paths multiple times throughout the first four seasons of The Wire and even though they fell on opposite sides of the law, there was a level of mutual respect shared by the two. In the Season 4 finale, McNulty takes Bodie out for lunch at the Cylburn Arboretum to talk about bringing down Marlo Stanfield's crew.
As a show of respect, Bodie provides him with information to bring down Marlo and his crew but tells McNulty he won't snitch on anyone left from the Barksdale organization. McNulty responds by calling Bodie a "soldier" as a way of saying he's not a pawn in the game but a man who stands and fights for what he believes in.
'Trapped In The Same Lie' (Season 5, '-30-')
One of the major stories of The Wire Season 5 revolves around a fictitious serial killer that Jimmy McNulty created as a way to help his underfunded homicide unit secure additional funding. The entire episode begins to get out of hand when Scott Templeton (Tom McCarthy, who went on to make Spotlight), an over-eager reporter from The Baltimore Sun, is so wrapped up in impressing his publisher that he doesn't take the time to get details right, when not making them up entirely.
When the serial killer story spirals and the series of articles inspires a copycat in The Wire series finale, McNulty comes to terms with his transgressions and role in the matter and proceeds to call out Templeton for being a journalistic fraud, telling him they are "trapped in the same lie." McNulty admits he did what he did for a good reason, but he can't make the same argument for Templeton.
McNulty's Wake (Season 5, '-30-')
In the fallout of from the fake serial killer case, Jimmy McNulty and Lester Freamon (Clarks Peters) retire from the Baltimore Police Department instead of being reassigned to dead-end units for their roles in the scheme. On the night of his retirement, McNulty's fellow detectives hold a wake for him where Jay Landsman (Delaney Williams) runs the retiring detective down for being a prick, not listening to anyone, and never learning from his mistakes. But, in closing his remarks, Landsman admits that McNulty is "good police" and that he wouldn't want anyone else working his case in the event he was murdered.
McNulty barely does any of the talking for a change, but it would be hard to list his best moments without such a touching and hilarious sendoff by the men and women with whom he worked cases for years, in one of The Wire's best episodes.
Jimmy McNulty will probably forever go down as one of the most complicated and beloved characters to carve out a spot for themselves in the history of television. Who knows when we'll see another one like him, but some of the characters featured in the new and returning shows on the fall 2021 TV schedule do stand a chance.
Philip grew up in Louisiana (not New Orleans) before moving to St. Louis after graduating from Louisiana State University-Shreveport. When he's not writing about movies or television, Philip can be found being chased by his three kids, telling his dogs to stop yelling at the mailman, or yelling about professional wrestling to his wife. If the stars properly align, he will talk about For Love Of The Game being the best baseball movie of all time.
Your Daily Blend of Entertainment News
Thank you for signing up to CinemaBlend. You will receive a verification email shortly.
There was a problem. Please refresh the page and try again.