90210 Spinoff In The Works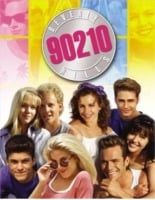 Say the numbers "90210" and you immediately think of Aaron Spelling's popular 1990s teen soap, Beverly Hills, 90210, which aired on Fox from 1990-2000.
Now the CW and CBS Paramount Network TV are developing a fast-track spinoff of the show, with Veronica Mars creator Rob Thomas in talks to write the project. How cool is that?! I love Veronica Mars, and hope this show has the same edgy feel. I might actually watch it.
While details are still sketchy -- and no word on which, if any, of the original characters will make an appearance – the CW will likely decide whether to order a pilot by the end of this month, according to The Hollywood Reporter.
This would be the series' second spinoff, the first being Melrose Place, which ran from 1992-1999 on Fox. Maybe the CW is looking to bolster the popularity of Gossip Girl, which has a similar theme of rich teens, only living in Manhattan.
The CW is also developing The Game, spun off from Girlfriends.
Your Daily Blend of Entertainment News
Thank you for signing up to CinemaBlend. You will receive a verification email shortly.
There was a problem. Please refresh the page and try again.