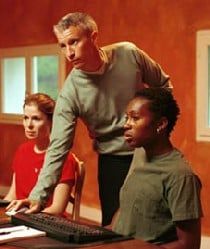 Everything old is new again. From Bionic Woman, to Knight Rider and American Gladiators, many old favorites and not-so-favorites are getting revamped and pushed onto a new television audience. Now ABC has announced that they're bringing back The Mole. In case you're like most people and have completely forgotten that this game show ever existed in the first place, here's the premise: The Mole "follows a group of players as they try to figure out who among them is The Mole, a saboteur trying to keep them from winning money. Players must decide who they think The Mole is and then learn as much about him or her as they can, because, at the end of each one-hour episode, the player who knows the least about The Mole is immediately eliminated from the game. In the final dramatic episode, The Mole is revealed and one of two final players wins a substantial cash prize."
The show's first season premiered in January 2001 and was primarily responsible for introducing the American public to the silver fox that is Anderson Cooper. The second season premiered on September 28th, 2001, but was met with poor ratings due the general mood of the country. Season 2 was restarted in the summer and despite maintaining decent ratings, was not picked up for a third season. In early 2003, an Ahmad Rashad-hosted celebrity version of the show debuted. It also ran for two seasons before being canceled.
The latest iteration of The Mole is apparently already casting, but if you go to molecasting.com, all you get is a splash page. No host has yet been announced, but producers are launching a nationwide search to find a replacement for Cooper's perfect silver coif and piercing blue eyes. The new version will also reportedly contain new challenges, locations and mobile and online interactivity features. Whether The Mole 3.0 will rise up American Gladiator-style or fall flat on its face Bionic Woman-style remains to be seen.
Your Daily Blend of Entertainment News
Your Daily Blend of Entertainment News
Thank you for signing up to CinemaBlend. You will receive a verification email shortly.
There was a problem. Please refresh the page and try again.