ABC Buys New Reba McEntire Comedy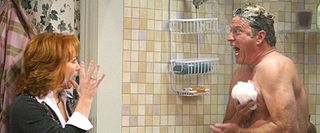 Reba McEntire is set to join fellow TV vets Tim Allen and Kirstie Alley in making a return to television with ABC, as reported by Deadline. McEntire will be an executive producer and star of the pilot, Malibu Country.
McEntire's Reba was a fairly successful show for The WB. Reba went for more than a hundred episodes and five seasons there before moving to The CW for a thirteen-episode sixth and final season. A former executive producer of Reba, Kevin Abbott, will fill that role yet again in addition to writing the pilot. And two more former Reba EPs are set to produce again: Mindy Schultheis and Michael Hanel. This is the first sale from Schultheis and Hanel's Acme Productions. Others involved with the project include McEntire's manager and David Stewart (half of the '80s pop-rock duo, Eurythmics).
Malibu Country begins with a music star couple with three kids. Once again, McEntire's character will be faced with the crisis of a cheating husband. To make matters worse, the husband has apparently also burned through the family's money. This leaves McEntire's character with only a single asset, a little house in Malibu, California. This home will provide the set for the new show. McEntire's character will then begin trying to revive her own singing career. We're still quite short on details, but it seems the show will lean on the country family's culture clash with the "materialistic and rarefied Malibu world". ABC has handed out a put pilot commitment to the project, which means it's likely the new show will at least get a chance to prove itself on the small screen at some point in the near future.
Your Daily Blend of Entertainment News
Thank you for signing up to CinemaBlend. You will receive a verification email shortly.
There was a problem. Please refresh the page and try again.