ABC Family Star Katie Leclerc Heads To Big Bang Theory For Guest Spot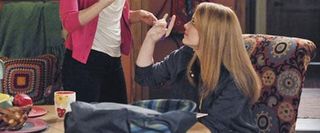 Recently, ABC Family has been all over moving its stars to the major networks. A few days ago, Greek's Scott Michael Foster signed a deal with ABC. Apparently, ABC Family doesn't mind marrying out its stars to networks owned by other companies. Switched at Birth's star Katie Leclerc has found herself a spot on one of CBS's most highly acclaimed shows.
Leclerc is set to guest star on The Big Bang Theory a few episodes into the program's 5th season. Her role will begin October 6. The partially deaf actress will guest star as a girl named Emily who comes into the equation because Penny (Kaley Cuoco) feels she would be a good fit for awkward character Raj Koothrappali (Kunal Nayyar). According to THR Leclerc will play a deaf character in her love-oriented guest appearance.
The spot on the Big Bang Theory may be small, but it is a big step for Leclerc, who, before Switched at Birth, had only held small roles in programs as varied as The Riches and The Naked Trucker and T-Bones Show. It says a lot that Switched at Birth just ended its first season a couple of weeks ago and a major network program has already looked into her. I expect to see more of Leclerc in the future, and I'm not just talking about Season 2 of her ABC Family program. I just hope the young star finds some room for some down time.
Your Daily Blend of Entertainment News
Thank you for signing up to CinemaBlend. You will receive a verification email shortly.
There was a problem. Please refresh the page and try again.