Adults Swim Longer On Cartoon Network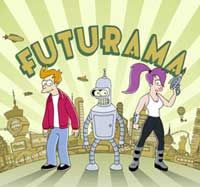 The Cartoon Network is expanding it's for adults programming. Sorry kids, you'll have flip over to the Disney Channel.
The Hollywood Reporter says that Cartoon Network will add another 30 minutes to its late-night "Adult Swim" programming block. "Adult Swim" is the place to go for unfairly cancelled shows like "Futurama" and other weirder programming like "Robot Chicken" and "Harvey Birdman". It's also in some part responsible for the return of "The Family Guy" to television, since "Adult Swim" is where the Griffin's landed after Fox replaced them with an ever changing lineup of short-lived, inferior shows.
The expansion of "Adult Swim" doesn't mean new programming in the Cartoon Network lineup, just more of the great, usual stuff they always air, only now it'll begin at 10:30 eastern instead of 11 Monday - Thursday.
Cartoon Network's other Friday, Saturday, and Sunday scheduling blocks will remain the same.
Your Daily Blend of Entertainment News
Thank you for signing up to CinemaBlend. You will receive a verification email shortly.
There was a problem. Please refresh the page and try again.