Agatha Christie's Poirot Will Hit Blu-Ray For The First Time In January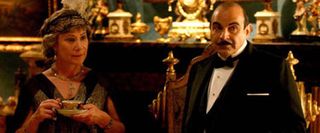 David Suchet's the man. Since 1989, he's been trucking through Agatha Christie's Hercule Poirot canon, playing out nearly every book. Suchet is now 65, and in 2012 he's set to finish out his tenure on the British ITV by fulfilling his goal of playing Hercule Poirot in every available Christie story. As if this weren't awesome enough, in 2012, Acorn Media is putting together two brand new box sets of Agatha Christie's Poirot, marking the first time the series will hit Blu-Ray.
On January 31st, Agatha Christie's Poirot Series 1 and Series 2 will hit DVD and Blu-Ray. Both formats have been remastered for the new release, with the Blu-Ray episodes now appearing in 1080p high def resolution and Dolby Digital sound. Series 1 and Series 2 DVD sets will run at $39.99 and Blu-Ray copies will run at $49.99. Ten episodes of the hit program from 1989 will appear in Series 1, while nine episodes from 1990 will appear with Series 2.
Series 1
The Adventure of the Clapham Cook
Murder in the Mews
The Adventure of Johnnie Waverly
Four and Twenty Blackbirds
The Third Floor Flat
Triangle at Rhodes
Problem at Sea
The Incredible Thef
The King of Clubs
The Dream
Series 2
Peril at End House
The Veiled Lady
The Lost Mine
The Cornish Mystery
The Disappearance of Mr. Davenheim
Double Sin
The Adventure of the Cheap Flat
The Kidnapped Prime Minister
The Adventure of the Western Star
Your Daily Blend of Entertainment News