Alexandra Breckenridge And Michael Landes Join Anne Heche In Save Me Pilot At NBC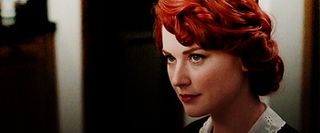 Two cast members have been chosen to join Anne Heche in the pilot for NBC's Save Me, one of whom will be familiar to fans of American Horror Story. Alexandra Breckenridge, who has been co-starring on the FX series is headed over to NBC to try her hand at something a little funnier. She'll be joined by Michael Landes, who will also be popping up on the new series Don't Trust the B---- in Apt. 23 on ABC.
Deadline announced the casting this morning for the pilot, which already has Anne Heche on in the lead role. Save Me is about Beth Harper (Heche), a woman who is involved in a car accident and comes out of it believing she is now channeling the big guy upstairs. God himself, that is. Michael Landes will play Heche's husband Tom, the manager of a fancy hotel. Landes has plenty of TV experience; you might know him from Lois & Clark: The New Adventures of Superman back in the 90's, or if you aren't as old as me then perhaps more recently guest spots on My Boys and Ghost Whisperer.
Breckenridge, who is coming off American Horror Story, also did a four episode arc on True Blood in its recent fourth season, so she's probably ready for something less bloody. She's been tapped to play a hotel concierge wasting her Master's in Psychology after being laid off from her job as a high school counselor. She becomes both a therapist and a lover to Tom; I'm not sure which one qualifies more as therapy.
Your Daily Blend of Entertainment News
Thank you for signing up to CinemaBlend. You will receive a verification email shortly.
There was a problem. Please refresh the page and try again.