America's Got Talent Season Finale: We Have A Winner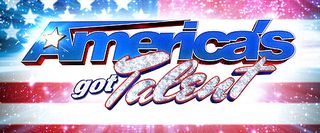 Last night, the four acts deemed the best of the best took to the stage one final time for the chance to grab the prize that they have all sought since auditions began almost a year ago: one million dollars and a headlining act at Caesar's Palace in Vegas. Crooner Landau Eugene Murphy Jr. did it his way, putting on his best Sinatra and his entire heart into his performance; techno-dance troupe Team iLuminate went bigger and grander than they ever had before, proving conclusively why they should win the show; teen band Poplyfe pulled out all the stops by covering a Queen classic but fell just short; and the shadow-dancing Silhouettes fell victim to technical issues and time constraints, but turned in a very good performance just before the show ended.
After Nick introduces the judges for the final time this season, it's time for the extravaganza to begin. Usually, among other things, the finale involves pairing each of the finalists with one of their idols (or whatever celebrity the show thinks pairs up with them well). I wondered who they would get to pair up with Landau. I thought maybe Harry Connick Jr. or someone of that ilk. Actually, it turned out to be Patti LaBelle, and the 67-year-old R&B diva, as shown in their meeting, was just as happy to meet him as vice versa. Together, they hit the stage to perform "You're All I Need to Get By", and it was good, but up-tempos songs sound a bit rushed coming out of Landau's mouth, and besides, Jacob Lusk knocked this particular song out of the park on AI earlier this year. Still, it was a proud, shining moment for Landau, who has idolized Patti since childhood, so that's awesome.
Def Leppard took the stage next, and it's always cool to see a group that you grew up with – like, three decades ago – still rockin' out. Joe Elliott's lost a few decibels on his voice, but "Rock of Ages" and "Pour Some Sugar on Me" still kick ass no matter what decade or venue they're played in, and it was terrific to see them perform. They've endured more roadblocks and brick walls than about any three other bands you could name.
It turns out that the "technical issue" that delayed the Silhouettes' final performance last nice was that the giant onstage rear wall that usually parts to let the acts on failed to open. They got every stagehand to try to open the thing manually, and eventually it opened. But I already talked about the damage that was done… no pre-performance video package, no show recap, no phone number reminders, and only half the judges' comments. Good to know what happened, but it's too late to do anything about it now.
Team iLuminate was paired up with alt-rock band Cobra Starship, a band I'm not all that familiar with. Both acts felt that the talents of both groups were a truly harmonious marriage, similar to Daft Punk fusing with Blue Man Group. So Cobra Starship, along with singer Sabi, took to the stage to perform their hit "You Make Me Feel", and the lights were dimmed so that Team iLuminate could do their thing along with them. The magic isn't quite as intense when you can see the dancers IN their suits, but it was still a cool thing to watch.
Every season, there's always a number on the show where they bring some of the more colorful rejects from the audition round back for one final group train wreck, just for laughs. You know the kind: people that actually think they are hot shit singers, dancers or whatever, but have less talent in their whole body that most auditioners have in their little finger. Last year's "Audition All-Stars" actually went pretty well, because that group had a modicum of talent and picked a good song to perform to (Black Eyed Peas' "I've Got a Feeling"), but this number was one of the most pathetic things I've ever seen. "I've Had the Time of My Life"? Really, show? Thanks a lot…
LeAnn Rimes was the celebrity chosen to pair up with the Silhouettes, and I like the choice. Hard to believe that LeAnn, now 29, has been a top country singer for nearly half her life. The youngest members of the Silhouettes got all giggly when they met her, of course. So while LeAnn and a couple of guitarists play "Give" on the side of the stage, the Silhouettes use their bodies to spell out various words behind the dropped screen. Pretty cool, but nothing awe-inspiring… until the very end, when the screen was raised and the entire company was allowed to take a group bow. I hoped that the group's leader, choreographer and house-mother, Miss Lynn, would join them, but it didn't happen.
After a truly annoying montage of clips that show us – yet again – just how much Howie annoys Piers, how prickish Piers can be, and yada yada blah blah fishcakes, it's the one facet of the show that I simply won't miss, Nick reminds us that we are a mere one month away from starting the whole process over again, as AGT will be holding auditions in New York, Austin, St. Louis, Washington D.C., Tampa, Anaheim and Charlotte. Season Seven is going to have a hard time topping this one, that's for sure. Then One Republic performs, and they're okay, I can take or leave them as musicians.
After the commercial break, Jerry Springer (who, if you remember, hosted the show for Seasons Two and Three) drops in. Like, literally, from the ceiling. He announces that starting on October 28th, Caesar's Palace will be showcasing tonight's winner as its headline act, and then adds that all three of the other finalists will be joining in the fun, along with certain other Top Ten acts and last year's winner, Michael Grimm. And that's really terrific. I hope all of them get tons of offers once their obligation to the show is complete. One piece of news that seems conspicuously missing, however, is notice of a tour like they had last season. Wonder why?
Up next, the ageless Tony Bennett teamed up with Queen Latifah to sing a ballad called "Who Do I Turn To?" I've always admired Queen Latifah, and when you consider what she's done in her career, which outweighs what she HASN'T done about 5-to-1: actress, entrepreneur, model, and, of course, singer, touching on virtually every genre there is. She and Tony are a match made in heaven, and while most hip-hop artists don't continue much past their 40's, I can picture Queen Latifah going on forever.
I was delighted to hear that music legend Stevie Wonder was paired up with Poplyfe, because honestly, I couldn't have picked anyone better myself. They do with a truly funk-tastic rendition of "Higher Ground", and one more time, I just adore Keh'Lani. I hope I see her adorning the covers of teen magazine at my local supermarket very soon.
One more commercial break, and Cirque du Soleil gives one of their trademark terrific performances, and then, at long last, it's time for results. And the act that finished in FOURTH PLACE is… Poplyfe. Not at all surprising. They were clearly the weakest of the four finalists going in, and they had by far the weakest performance on Tuesday. But they've gone farther than anyone thought they ever could, and none could fault them for not winning. They will have a big future.
Immediately following Poplyfe's dismissal, Nick announces that it's time to eliminated someone else as well. So... finishing in THIRD PLACE is… Team iLuminate.
I must pause at this point to do another double-take. Because this is unbelievable to me. Something as new, fresh, innovative, exciting, amazing, awe-inspiring as this, and third place is all they can finish? I was sure last season that Fighting Gravity would win, just as I was sure that Team iLuminate would win this time. And both of them, ironically, finished third. I am stupefied. They delivered perfection every single time, and this is their reward. Oh, I'm sure that they will go on to huge success, but that is a less certain thing now, and I have a sneaking suspicion that I already know who is going to win.
However, before we get to that, we have one last performance, and it's from last season's runner-up, operatic wunderkind Jackie Evancho. What has happened in only twelve months in this little girl's life has been phenomenal. Her first record was the highest-selling debut album of 2010, and with the release of her second CD imminent, I'm sure the accolades will continue to roll in. A year ago she was ten (but looked eight) and now she's eleven (but looks thirteen, and appears to have grown several inches). And, if it's even possible, she's an even better singer, which boggles the mind. Her version of the well-known aria "Nessun Dorma" is just breathtaking.
One final commercial break, and it's time to announce the winner. At this point, I'm half-hoping that the Silhouettes could pull the upset, but I wasn't hopeful. Both acts' respective journeys are shown, the camera pans slowly over their faces, and Nick opens the envelope. And the winner of America's Got Talent, Season Six, is…
Landau Eugene Murphy, Jr.
I am so, so torn, I can't even describe it. I love Landau. I love his voice, I love his humility, I love his personality, and he truly earned this victory. He deserves to have a great career and a great life, and I wish nothing but the best for him. I knew once the auditions wrapped that if there was one singer with a shot at taking the title, it would be him, without a question. I wish in no way to belittle or take away from his tremendous accomplishment.
But…
It's happened AGAIN, and part of me is absolutely livid. For six years, this show has prided itself on its diversity. All ages, all sizes, all talents. We've seen technological brilliance, artistic brilliance, death-defying stunts and forms of entertainment we never thought existed. We've seen performers aged four to seventy-two turn in magical performances, and been entertained every step of the way. And, every single time, a singer has won. Six seasons, six singers emerged victorious. And not only that, this makes FIVE straight years that the winner has been a male solo singer in his 30's (plus or minus a couple of years).
Back-pedaling a little bit, it is truly nice to see that the acts that have performed well on this show now have a really, truly serious shot at some fame and success. When the show started, it was more of a novelty, a distraction that filled the gap between seasons of American Idol and Dancing With the Stars. Season Two winner Terry Fator signed one of the biggest contracts in Vegas history, which is spectacular, but who out there has heard anything recent from winners Bianca Ryan (Season One), Neal E. Boyd (Season Three) and Kevin Skinner (Season 4), never mind the acts that finished in second place or lower? I mean, does anyone know?
Starting last year, however, the talent really started to escalate, and look at the results. Michael Grimm got his headline show and a tour with Stevie Nicks. Jackie Evancho has a platinum-selling record and sells out wherever she goes. And now, Landau Eugene Murphy Jr. will join them, and he will hopefully have an amazing, long career, crooning the classics in a town that was build around the people that originated them. It's because AGT has come of age that I'm not as depressed as I could be, because I still cling to the hope that acts like Michael Grasso, Fighting Gravity, and now Team iLuminate and the Silhouettes will find a place in the entertainment world.
But now, as Season 6 fades to black, I can only shake my head and wonder… what does the future of my favorite television talent show hold? The viewing, voting public of America that watches these talent show has spoken loud and clear: it likes singers, first and foremost. And, it would seem, it does not matter how good the dancers, danger acts or whatever are, because it is the singers that have a clear-cut advantage going in. The judges pushed the non-vocal acts all season long – Howie called it the "season of the dance" on almost a weekly basis – and a singer still won. Two of the most brilliant non-vocal acts to appear anywhere were on the show this season, and they couldn't beat the singer. Will this dampen the spirit of any non-vocal act that dares to try out for Season Seven? Probably not, but it will probably be like a tick that keeps burrowing in the back of their brain.
When all is said and done, this was easily the best, the most entertaining, the most talent-laden season thus far. Season Seven has a nigh-impossible job to do even better. But I'll be there, watching it, and I hope you'll be here, reading about me watching it. Come hell or high-octave voices, I'll do it.
Thanks for your continued readership, and thanks again to Cinema Blend for continuing to allow me to do this for you.
Signing off.
Your Daily Blend of Entertainment News
Thank you for signing up to CinemaBlend. You will receive a verification email shortly.
There was a problem. Please refresh the page and try again.