America: The Story Of Us Breaks Ratings Records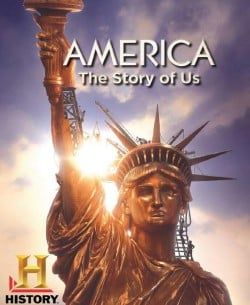 It's not that unique anymore to hear a cable network touting record-breaking ratings. It seems they're all tripping over themselves with growth, while the broadcast networks stumble. But, America: The Story of Us is a non-traditional type of show; more something you would see in a classroom. And yet, History is proudly proclaiming the debut as the highest-rated special in network history at 5.7 million, and a 4 household ratings.
NBC would be thrilled with those numbers. It will be interesting to see how the series holds up as it progresses. It's a little odd that History's press release called it a special since it's more like a mini-series, but that could be marketing spin. "We're thrilled by the launch of America: The Story of Us," History's president and general manager Nancy Dubuc said. "Ultimately there's no story more dramatic and gripping than the story of America itself. We've tried to present this incredibly diverse narrative in a way that is engaging for people today. We're very pleased with the response and look forward to sharing the upcoming episodes with the American public."
While it's content and narrative structure is like something you'd see in history class, the extensive use of actors and costuming to bring the different eras of our past to life really engages the viewer in a way that's far more effective than static artwork, photos and maps. A hybrid of drama and documentary, its success could be a sign of a change in the way educational films are put together.
America: The Story of Us airs on Sundays in two-episode blocks starting at 9 PM ET.
Your Daily Blend of Entertainment News
Your Daily Blend of Entertainment News
Thank you for signing up to CinemaBlend. You will receive a verification email shortly.
There was a problem. Please refresh the page and try again.