American Crime Story: Why The People V. OJ Simpson Dropped That Huge F-Bomb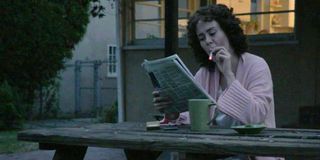 American Crime Story: The People v. OJ Simpson already has a healthy audience over at FX, but even if you haven't been watching the fictional version of the famous court case, you probably heard the show dropped an f-bomb. Not just any f-bomb. In fact, prosecuter Marcia Clark, played by Sarah Paulson, actually said "motherfucker" on the air. Recently, FX President John Landgraf revealed why the network let American Crime Story drop the word. Here's what he had to say in a recent interview:
During the episode in question, Marcia Clark was reading the newspaper when she learned that OJ Simpson had hired famed attorney Johnnie Cochran to represent him. She was hanging out and smoking a cigarette while she thought about the prospect, and then she sat back and said, "Cochran… motherfucker." The f-bomb did come a little out of nowhere, but it certainly made the moment memorable, and Landgraf's comments to Slate indicate that's exactly why the show left the line of dialogue in.
While network TV shows can't say "fuck" on the air, cable doesn't have to play by the same rules. But because cable channels often still want to make sure not to offend advertisers, there's usually not a ton of foul language on cable shows. Even when there are f-bombs, they are often bleeped out. Occasionally, during an honest conversation on TV, FX has opted to use an f-bomb, so American Crime Story is not the first instance of the network making that choice. Most memorably, during Louie's fourth season, Louie was being pursued by a funny but overweight waitress named Vanessa who brought up "fucking" the fat girl when Louie seemed ashamed to be spending time with her. It was one of Louie's most brutally honest moments, and FX thought it was better served with the word intact.
FX isn't the only cabler to drop an f-bomb in its day. During Breaking Bad's tenure on AMC, several "fucks" were stated, usually when the stakes were particularly high. The ability to say "fuck" might also be useful when popular comics villain Negan is introduced on AMC's other late night series The Walking Dead in the coming weeks.
Obviously, American Crime Story: The People V. OJ Simpson is a series for adults that has been totally geared toward adults. It also airs in the 10 p.m. timeslot (although that's technically 9 CST) on the network, and Landgraf says that the show really hasn't come under any flack for using the term "motherfucker." Still, don't expect to hear a whole slew of bad language from now on. American Crime Story still has advertisers to please, after all.
Catch new episodes of American Crime Story: The People V. OJ Simpson on Tuesday nights at 10 p.m. ET on FX. Here's what else the networks have coming up.
Reality TV fan with a pinch of Disney fairy dust thrown in. Theme park junkie. If you've created a rom-com I've probably watched it.
Your Daily Blend of Entertainment News
Thank you for signing up to CinemaBlend. You will receive a verification email shortly.
There was a problem. Please refresh the page and try again.